Today at the Diamond Retailer Breakfast, it was announced that the showrunner of Arrow and DC's Legends of Tomorrow, and writer of Marvel's X-Men: Gold comic book Marc Guggenheim will be writing brand-new Swords of the Swashbucklers comic books for 2018.
Swords of the Swashbucklers first appeared in the Marvel Graphic Novel range. Epic Comics, a division of Marvel Comics, began publishing it as a 12-issue miniseries between March 1985 and March 1987. The series was created by Bill Mantlo and Jackson Guice.
Swords of the Swashbucklers is set in an alternate dimension to Earth in which the inhabitants resemble Earth's pirates of old. A powerful, evil race of aliens known as the Colonizers controls the dimension while rebel "Swashbucklers" rob and pillage their oppressors so that they might survive.
In one battle, The Admiral of the Colonizers' armada, J'Rel discovers Earth and kidnaps two humans. The couple's daughter, Domino Blackthorne Drake, finds the Swashbucklers and agrees to use her unique powers to fight the Colonizers if the Pirate Queen, Captain Raader, and her crew should help her to rescue her parents. The series chronicled the ensuing battles and the adventures of the Swashbucklers and their two charismatic female leaders.
In 2017 Dynamite Entertainment announced plans to publish a complete collection of the original graphic novel and 12-issue series, partly funded by a Kickstarter campaign. That is now coming to fruition, as well.
Revenue raised from the publication of the comics will go to help treat Rocket Racoon-creator Bill Mantlo who needs constant care after he was the victim of a hit-and-run accident in 1992 while rollerblading. Mantlo suffered severe head trauma and has been in institutional care ever since.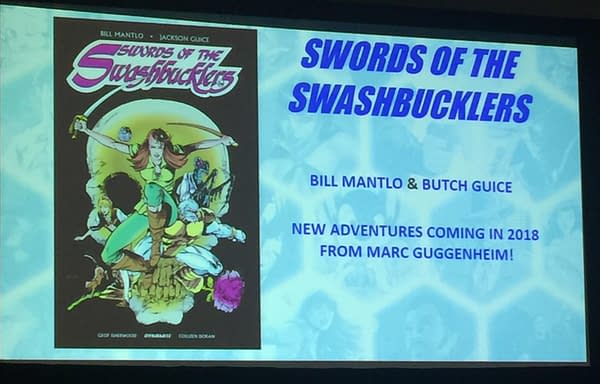 Enjoyed this article? Share it!