Marvel Crisis Protocol: Playing the Game
Atomic Mass Games' latest release, Marvel Crisis Protocol, will be hitting game stores everywhere (mostly) on Friday, November 15th. It's an exceptionally fun game, with plenty of twists, turns, and massive fights breaking out all over the place. Marvel Crisis Protocol also has some of the coolest miniatures that I've had the pleasure to set eyes on this year, too!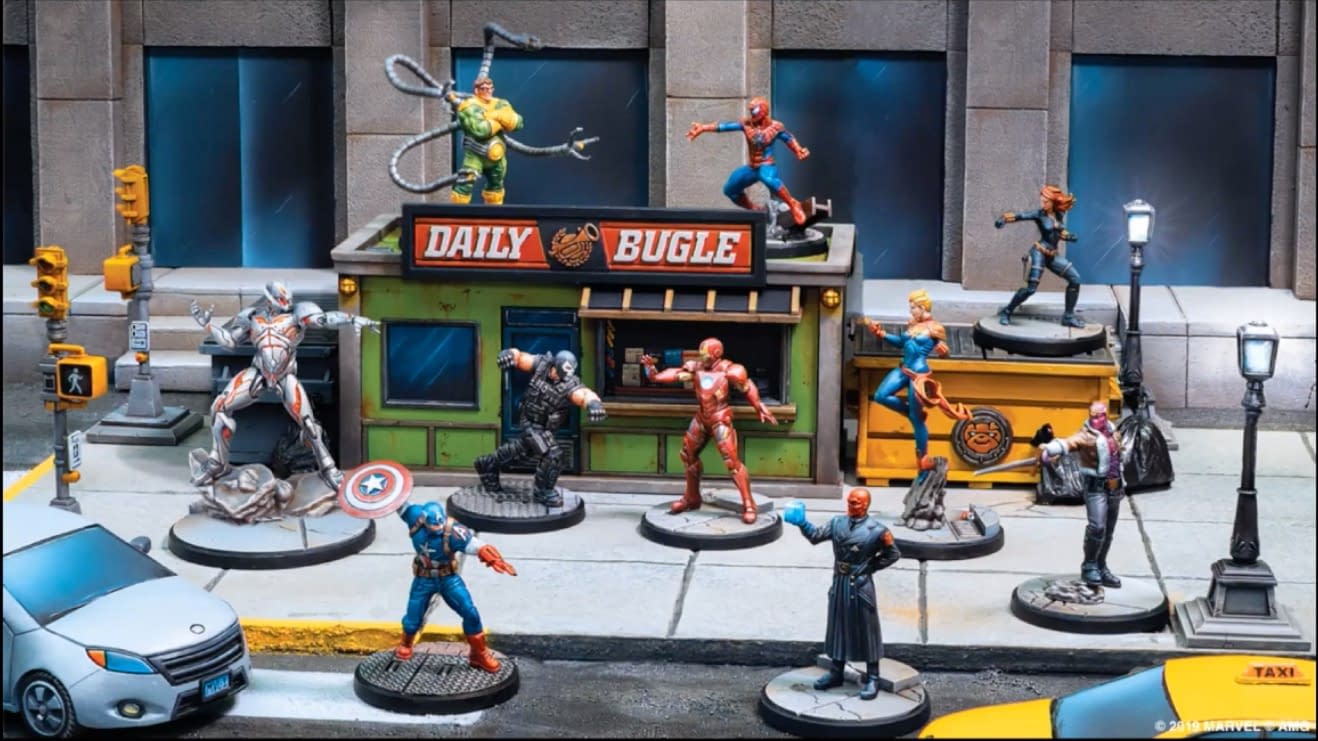 One of the best things about Marvel Crisis Protocol is that you won't need an advanced engineering degree or a slide rule to play the game. My friend Stu and I ran close to a dozen demo games with the core box set, and most of the players took to the game mechanics pretty quickly. If you have any experience with table-top skirmish games, you should be able to pick up Marvel Crisis Protocol pretty easily. It also helps that Atomic Mass Games has had the full rules available on their website since August, absolutely free of charge.
The core mechanic to Marvel Crisis Protocol is brought to life with opposed die rolls. The game comes packed with 10 red 8 sided dice, which have symbols on most of the sides showing hits, critical hits, wild effects, blocks, and critical failures. Each character has a two-sided stat card that shows the number of dice they need to roll to attack with several different types of attacks, and how many dice they need to roll to defend themselves.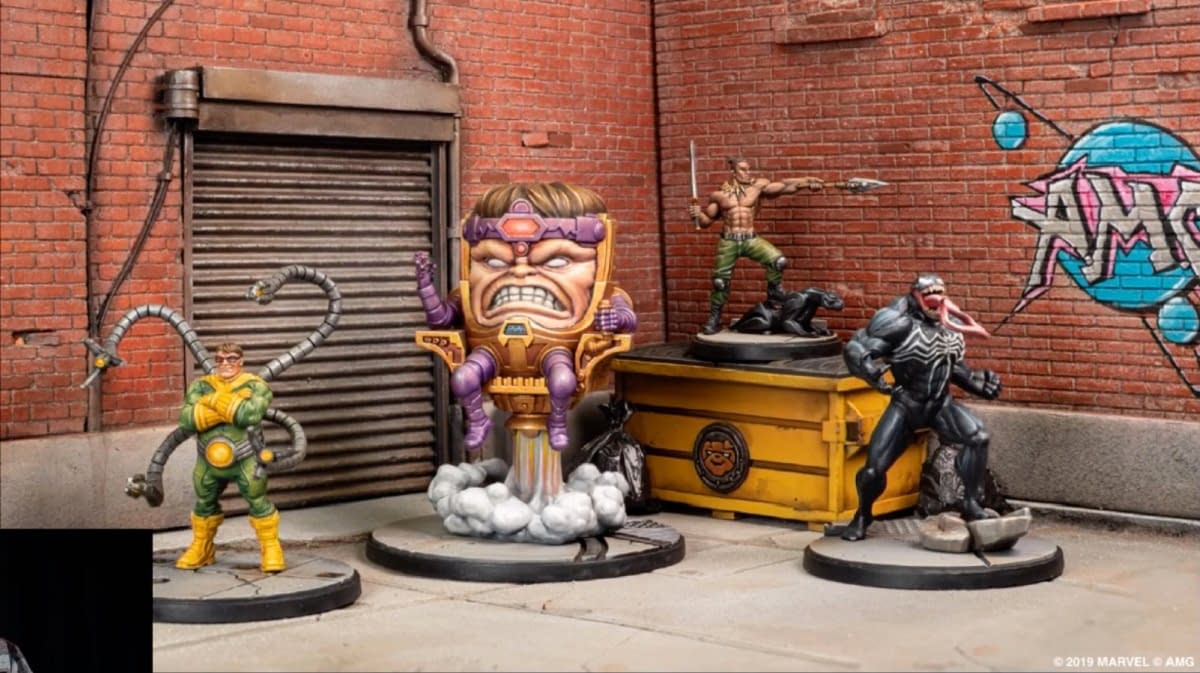 One of the most entertaining aspect of this dice mechanic comes into play with the wild symbol, which is a little swirl. The wild symbol counts as a success with either attack or defense rolls, and often times that wild symbol will trigger a special effect, like Captain America being able to ricochet his shield from one opponent directly into another.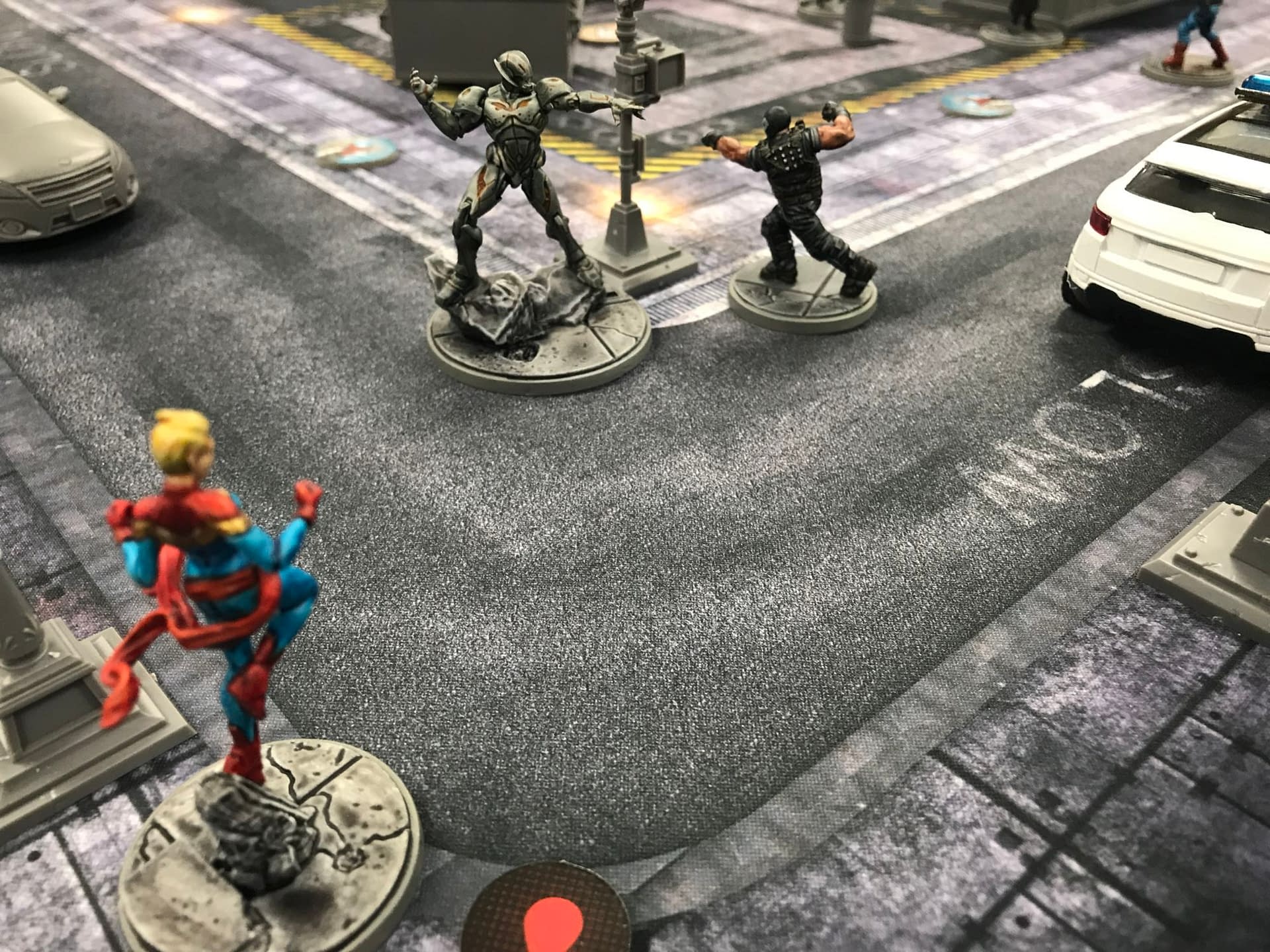 Combat is fast, with the rules being clear enough to avoid a lot of time looking them up. Several times in our early demos, we found ourselves spending a lot of time trying to figure out the rules, but it turns out we were over thinking things, and that the rules should be interpreted exactly as written.
That's not to say that the game lacks any depth— far from it. Each character in Marvel Crisis Protocol has a distinct play style. Black Widow is hard to hit from a distance, and triggers a lot of defenses against attacks. She's really good at securing objectives, as opposed to Captain Marvel, who is really good at blasting enemies with heavy energy bursts.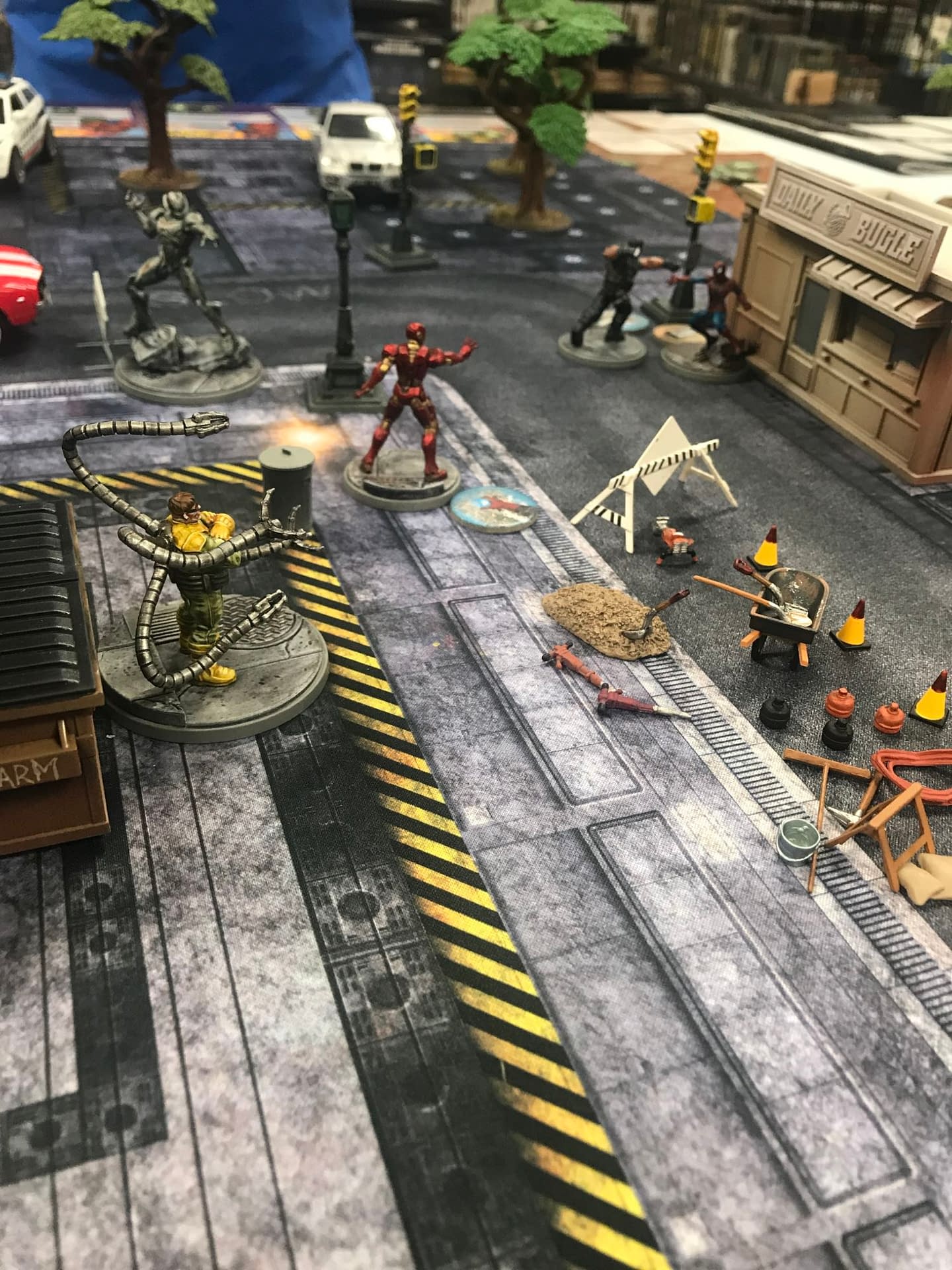 Another mechanic that I completely love is the double-sided stat card. The front of the card is the character at full health: once the character loses all of their stamina on that side, they are dazed until the next turn, at which time the "damaged" side of the card is revealed. Sometimes, the changes to the character are minimal. Others are incredible.
Captain America activates a passive defense on his damaged profile called I Could Do This All Day. Once that defense goes into play, Cap is really hard to hurt, and becomes a major defense character in the later stages of the game.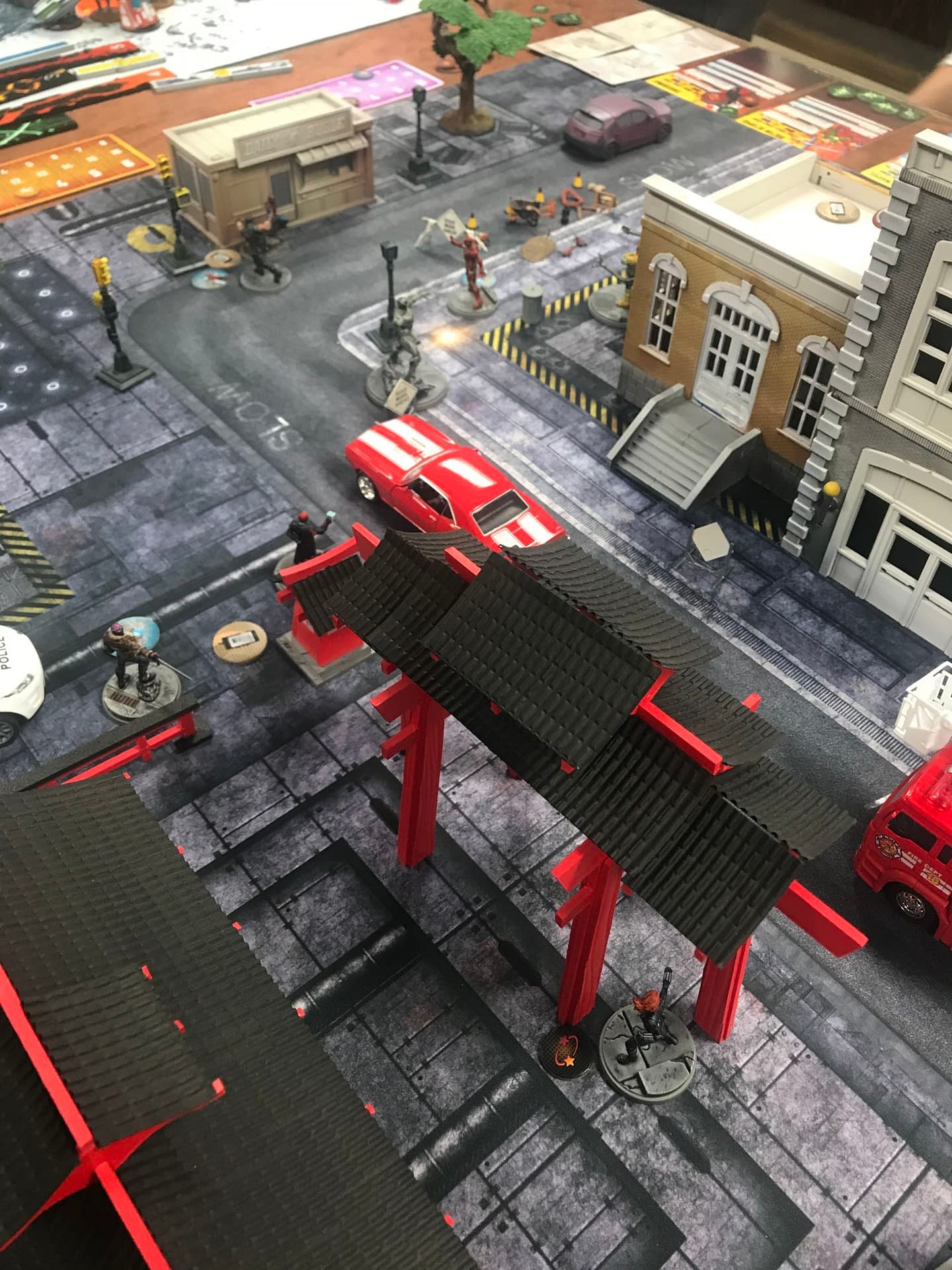 Some team powers are baked in to the game, too, like the Ricochet Blast attack, which allows a player to bounce one of Iron Man's repulsor blasts off of Captain America's shield. It's a pretty powerful attack, so you can only use it once per game.
Another unique aspect to Marvel Crisis Protocol is the terrain, which is largely interactive. Many of the characters have powers and talents that allow them to interact with different terrain, which is how I ended up playing a game where Captain Marvel hit Ultron over the head with a fire engine.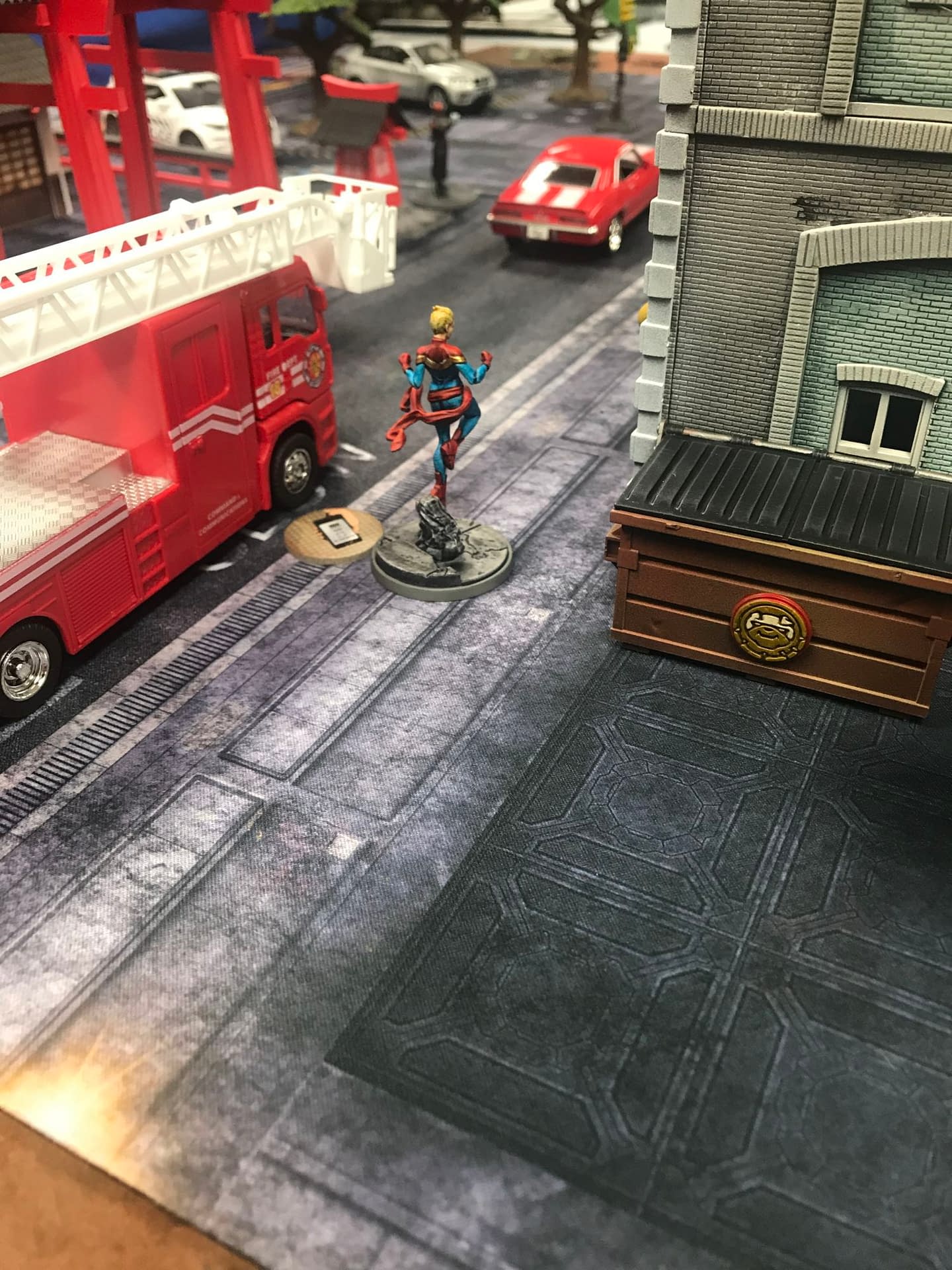 Another neat element is that your team for Marvel Crisis Protocol is made up of whoever you want it to be. You might really want to team Doc Ock up with Spider-Man, and there is nothing prohibiting you from doing so. This can lead to some seriously fun team dynamics, too.
If you're looking for a table-top game that really delivers on super-powered mayhem, Marvel Crisis Protocol should make you pretty happy! I'll be back with the official Bleeding Cool review of the game soon! For a detailed look at the miniatures from the core set, check them out here!