Marvel To Remove Tea Bag Gag From Captain America, Reports Fox News
Fox News has quoted Ed Brubaker on the Captain America furore that Bleeding Cool picked up on this morning.
The latest issue of Captain America features a protesting crowd, that appears to be part of the "Tea Party" organised protests in the USA, against the current adminstration. The character Falcon, a prominent black superhero comments that he wouldn't be welcomed in such a crowd, and Cap observes that it's an "anti-tax" event. And the signs are quite specific – and one is a little on the explicit side.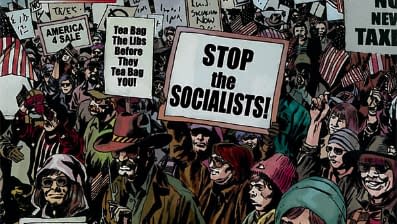 Ed Brubaker told Fox he didn't write the protest sign "Tea Bag The Libs Before They Tea Bag YOU!" that has caused some concern and that Marvel will be removing it from subsequent prints of collections of the story. He blames the lettering and production process of the book. Brubaker is quoted as saying;
I don't know who did it, probably someone who thought it was funny. I didn't think so, personally. That's the sign being changed to something more generic for the trade reprint, because I and my editor were both shocked to see it.
But it's the conflating of allegations of racism and the anti-tax movement in the comic book that is continuing to cause issues amongst the kind of people who like whipping up such issues. Fox News also quotes a number of anti-Tea Party and anti-Republican tweets by Ed Brubaker over the last few months.
Memo to Bachman and the rest of the tea crowd — We had a revolution already, it's called an election
What did we learn this week? That Sarah Palin is a lying idiot. Hey, welcome to 2008 again.
Brubaker is quoted again as saying;
I was simply using them to show the mood in the country in various places outside Captain America and the Falcon's usual home, New York City. It's very similar to other things we've done in the comic, showing leftwing protest crowds back during the election season in 2008.
A Disney-bought Marvel is of course an even easier target now, and the fact that this was a Captain America comic that seems to demonstrate a specific political bias is like a red rag to a bull. Especially when said news source has been accused of repeatedly publicising this movement and exaggerating its impact.
Me, I think I'm just going to buy a few copies and put them on eBay…
UPDATE: Editor-In-Chief Joe Quesada has responded on Twitter saying;
Old news, @richjohnston we removed it from the art files two weeks ago. Explanation forthcoming, stay tuned kids.
It may be old news to Joe, but it seems to have been new news to everybody else – in that no one had reported it until now. It does smack a little of the Earth X: Spidey controversy when longtime Bullpenner Al Milgrom added an insult to departing EiC Bob Harras in the comic. Despite the art files being changed before print, the original page saw publication, the issue was pulped and Milgrom was fired and indeed blacklisted for a time. Then when the trade paperback was published, it included the original page once more.
UPDATE UPDATE: JamieB in the Comments adds a photo that might illuminate where the offensive phrase came from – at one of the Tea Party rallies.