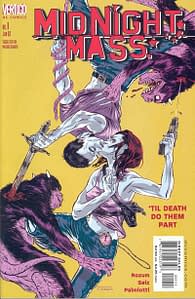 Midnight, Mass, the little Vertigo comic that couldn't, has been picked up as a TV show, Midnight, by NBC from Warner Bros.
The original comic was published in 2002 with a tumultuous birth. Green lit as an ongoing series, by John Rozum, Jesus Saiz and Jimmy Palmiotti and it was suddenly reduced to an eight issue mini-series before the first issue was solicited, and on publication sales weren't exactly stellar. A second mini-series, Here There Be Monsters, would return a couple of years later.
Originally edited for Vertigo by Heidi MacDonald, her strike rate, she was fired from DC for not bringing in enough hits. However, her series Y The Last Man would see publication after her departure and Midnight, Mass has always drawn interest from Warner Bros producers – making Heidi look more and more prescient in hindsight.
The series has been a long time coming, with a number of attempts to get the project to the small screen. It focuses on the husband-and-wife team Adam and Julia Kadmon solving supernatural mysteries and crimes around the world. The TV series will be written by Gretchen Berg and Aaron Harberts of Pushing Daisies and Women's Murder Club.
It is likely the original two series will be made available in trade paperback to coincide with the new show, but there is no word as to whether the original series will be revisited at Vertigo. Writer John Rozum, best known for his work on Milestone Media's Xombi and Topps' The X-Files, now working on DC Comics' The Web, wasn't exactly shy about his dissatisfaction over the cancellations at the time.
The title change may be necessary to accomodate certain religious concerns of a broadcast audience. It seems to get a mass audience, you have to lose the Mass…
Enjoyed this article? Share it!