Tonight, we got the second episode of BBC One's Dracula adaptation, based on Bram Stoker's classic novel, from Steven Moffat, Mark Gatiss and Sue Vertue. But how 'based' is it? Certainly, there is plenty taken from the original novel, rearranged a bit, and with a few notable and broadly welcomed – and squeed over – changes in the first episode. The second eschews Dracula's castle and the convent of Sister Agatha for the Demeter, the famous boat that took Dracula from Transylvania to Whitby, Dracula transported into a crate containing soil of his motherland. And right from the off, that gets subverted, Dracula is out of the box and one of the passengers. Commenting, almost Fleabag-style, on how this way is much more fun – and he's right, it is. He also almost tells us not to get too attached to any of the passengers. But he uses the journey as a chance to practise the social etiquette and skills of England before murdering everyone in sight. So pretty much like England then. And for ninety minutes we get this entertaining take on the original voyage, with its own twists and turns, but ending up in the kind of place you might have expected.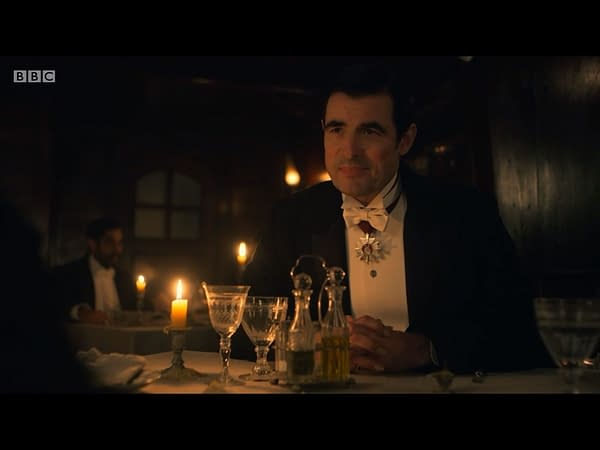 Only for in the final minutes to be given something very different indeed, exploding the spin that this adaptation was pretty faithful to the original novel by going on a very different journey indeed. Leaving an audience reeling (yet again) but hungry for more. And thankfully we only have to wait until sundown tomorrow before we can gorge for a final time, but that at least gives us a little while to savour the experience. Netflix viewers who get the whole show on January 4th will most likely binge the whole four-and-a-half hours in one sitting, guzzling the life blood of the entire show in one gulp.
We are all vampires when it comes to BBC's Dracula… and Moffat, Gatiss and Vertue can all be damned for giving us such a feast.
Oh and yes, it's got the new Master in it. He's pretty good too, especially when holding a crucifix while exclaiming to Dracula that he is a man of science. A knowledge that the Count says that he 'has an appetite for'… Final episode on BBC 1 tomorrow at 9pm, and you can be adamant about that. After which we will all have to go into withdrawal…
Enjoyed this article? Share it!