KidWatch: Novo Nordisk has supported the creation of a new educational comic designed to inform UK paediatric patients about haemophilia.
The company has allied with medical education publisher MediKidz to create the superhero-themed comic, which will be distributed by clinicians in order to raise awareness of the blood disorder.
BiographyWatch: Stan Lee on Harry Stonewell, the man who claimed to own the Philippines and sued the US Government for decades.
"Actually, he's a guy I knew when I was in the Army. After the war, he said to me, "Hey Stan Come to the Philippines with me." I said, "Why?" And he said, "I found out that they don't have Christmas cards there. I'm going to buy a batch of Christmas cards and start a business." I said, "I love ya, Harry, but you're a lunatic." And I went back to my comics and he went off to the Philippines. To make a long story short, a few years later, he was the wealthiest man in the Philippines. He was a billionaire. He started with the cards, but that was just nonsense. He ended up owning an import/export line with god knows how many steam ships, I think he had the American Tobacco franchise, he started glass factories – he was the biggest thing in the Philippines. At some point, the government fell because of him – there were accusations of graft and corruption – and he claims that the CIA or the FBI or some government agency wanted to get him out of there because he had become more powerful and influential than the United States government. And he started suing the United States government, and the lawsuit – as far as I know – is still going on. They had to get him out of the Philippines by submarine – he thought they were going to kill him – and he ended up Switzerland and England and all over."
SupermanWatch: Action Comics #2 was reduced to 20 pages of story. Brent Anderson and Gene Ha are drawing scenes for issue 3 and 4. Now Andy Kubert has been announced as drawing issues 5 and 6 with the appearance of the Legion Of Super Heroes. The supposed-28 page length of each issue of Action Comics appears to be playing merry hell with the monthly schedule right now, but DC also promise the regular artist Rags Morales will return with issue 7.
I really need to start packing my bags. This is Computo the Comic Link Conqueror speaking. I come for your women. But for now I merely collate comic-related bits and pieces online. One day I will rule. Until that day, read on.
They say I am a work in progress. The fools.
Paul Gravett | 1001 Comics Database
Even with 960 pages, I couldn't squeeze all the material I had into my book 1001 Comics You Must Read Before You Die. This mini-site is designed to supplement that book with updates, additional information and links… but obviously you'll still need a copy of the book!
'Dark Knight Rises' Set Video: Did Bane Break The Bat? » Splash Page
Ever since Warner Bros. announced Bane as the bad guy of "TDKR," the biggest question in the air has been whether he'd do some serious damage to the Batman. As those of you who are familiar with Bane from the comics already know…
FANTASTIC FOUREVER! Pledge Allegiance To The Street Art Of Doctor Doom
Above, while Doom makes people in Brighton think twice about not returning their overdue books, elsewhere in England he can be seen knocking Batman on his butt in Stoke, thanks to Graffiti artists eight bit vs ghostpatrol. Now that really would be a crossover!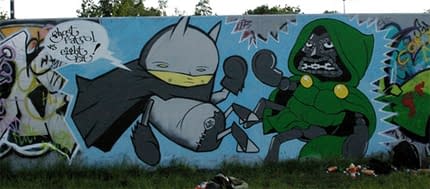 Enjoyed this article? Share it!