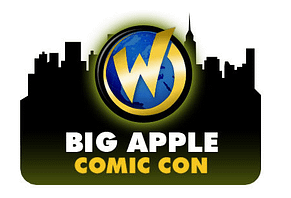 Today saw the news that one of Wizard World's shareholders, Greg Suess, founder of talent management company ROAR, has joined their Board of Directors. Look for people on his books like Julian McMahon, Ken Watanabe, Chris Hemsworth, Cobie Smulders and Yeardley Smith to start appearing at Wizard World events.
But for now, here's a look at the programming for the upcoming Wizard World Big Apple Comic Con at Penn Plaza Pavilion in Manhattan on MAy the 21st and 22nd , with a heady mix of actors and comic creators from Neal Adams to James Marsters, Greg Horn to Tom Felton, Christos Gage to Morena Baccarin, Jimmy Cheung to Chandler Riggs, thgere should be plenty for even the most cynical comic con goer.
Okay, possibly not the most cynical comic con goer. But then they'll never be happy will they?
Saturday
11:00-11:45AM
Comic Book Club Panel
12:00-12:45AM
Digital Art School With Greg Horn
Superstar Marvel and DC artist Greg Horn ("Blackest Night") leads a discussion on digital art and takes you through his creative process.
1:00-1:45PM
Wizard World Writing School With Christos Gage, Matt Kindt, Brian Wood And Kevin Colden
Get your questions together for this all-star writer's panel, with Christos Gage ("X-Men," "Superman"), Matt Kindt ("Revolver," "Pistolwhip"), Brian Wood ("DMZ," "The New York Five") and Kevin Colden ("Fishtown," "I Rule the Night").
2:00-2:45PM
James Marsters Q&A
Best known for his role as Spike, the platinum blonde vampire on hit shows "Buffy the Vampire Slayer" and "Angel," James Marsters answers questions about everything from his evolution from acting to music and back, and the projects he plans to conquer in the next few years.
3:00-3:45PM
Moca Panel
4:00-4:45PM
Tom Felton Q&A
Best known for his portrayal of "Draco Malfoy," the villain and arch-nemesis of Harry Potter in the series of blockbuster films, Tom Felton makes a rare appearance at Big Apple Comic Con for a special Q&A session to answer all of your fan questions.
5:00-5:45PM
Morena Baccarin Q&A
Whether you know her as Inara Serra in "Firefly," Adria in "Stargate SG-1," or Anna in the newest remake of "V," Morena Baccarin is undoubtedly one of the female superstars of sci-fi. Join her for a special Q&A session with fans, as she answers all of your questions and shares her thoughts on the future of sci-fi television.
6:00-8:00PM
Wizard World Adult Costume Contest
Get your best costume together and come on down to Wizard World's Big Apple Comic Con costume contest for fun prizes and some of the craziest outfits you'll see this weekend.
7:00-9:00PM
Wizard World Drink & Draw
Wizard World's original Drink & Draw is back! Join some of your favorite comic artists for a fun-filled night as they drink and draw for a cause. (Jack Demsey's @ 36 West 33rd St. between 5th & 6th Ave.)
7:30-9:30PM
Cocktail Reception With James Marsters
Be one of 85 lucky guests to mingle with James Marsters and enjoy small group and one-on-one conversations in a private setting. James will rotate around the room throughout the two hour cocktail reception. Event is held exclusively for James Marsters Saturday VIP Ticket Holders. Photography will be allowed. (Location TBD)
Sunday
10:00AM-12:00PM
Bard Seminar With James Marsters
James Marsters will conduct a seminar on one of his favorite subjects – Shakespeare. He will perform some of Shakespeare's sonnets and discuss his interpretations. This will be an open forum where the audience may also ask questions and share their thoughts. Event is held exclusively for James Marsters Sunday VIP Ticket Holders. (Location TBD)
12:00-1:00PM
Special Presentation: Stan Lee, Neal Adams And Disney Take On The Holocaust
Comic book legends Stan Lee and Neal Adams have teamed up with Disney Educational Productions and Holocaust historian Dr. Rafael Medoff to create "They Spoke Out: American Voices of Protest Against the Holocaust," a series of motion comics that are changing the way the Holocaust is taught in the United States. Dr. Medoff and Neal Adams will present the first episode of this remarkable new series, narrated by Lee and illustrated by Adams. "Messenger from Hell" tells the amazing story of a Polish courier who smuggled himself into a Nazi death camp, and then made his way to the U.S. to alert Americans about the genocide.
1:00-1:45PM
Wizard World Kids Costume Contest
Bring kids 10 and under for this special event with fun prizes just for families and the youngsters.
2:00-2:45PM
Chandler Riggs Q&A With "Walking Dead" Behind-The-Scenes Footage
AMC's ambitious horror series, based on Robert Kirkman's ultra-hot zombie series from Image, now comes to life from director Frank Darabont ("The Green Mile")! Check out amazing behind-the-scenes footage and extended clips along with a Q&A with star Chandler Riggs.
3:00-3:45PM
Breaking Into Comics With Luke Ross, Jim Cheung And Kaare Andrews
Superstar artists Luke Ross ("Captain America," "Amazing Spiderman"), Jim Cheung ("Avengers," "Uncanny X-Men"), and Kaare Andrews ("Astonishing X-Men," "Iron Man") assemble to give their tips on refining your art, pitching to Marvel and DC, and any other advice they can give on breaking into comics.
4:00-4:45PM
How To Make A Comic From Script To Print
The Kubert School presents "How to Make a Comic From Script to Print." Archie Comics artist and Kubert School instructor, Fernando Ruiz, walks you through the process of making a comic – from story, to pencils, inks, colors and then finally lettering – this a great introduction to all the different disciplines that go into creating a comic.
The Penn Plaza Pavilion is located at 401 Seventh Avenue at 33rd St., in the historic Hotel Pennsylvania. Big Apple Comic Con Spring Edition is the fifth stop on Wizard World's 13-city 2011 North American tour. Hours are Saturday, May 21, 10 a.m. – 7 p.m.; and Sunday, May 22, 10 a.m. – 5 p.m. Tickets are available in advance online at http://www.wizardworld.com/newyorkcity.html at up to a 15% savings over tickets purchased at the door. Advance adult single-day tickets are $20; two-day weekend tickets are $35, and tickets are free for children age 10 and under when accompanied by a paid adult (limit two children per adult). VIP packages with special entry and exclusive items are also available.
Enjoyed this article? Share it!