Posted in: Comics, Recent Updates | Tagged: Comic Con International, comic scholarship, Comics, comics studies, entertainment, It Happens at Comic-Con: Ethnographic Essays on a Pop Culture Phenomenon, Matthew J. Smith, sdcc, The Experience at Comic-Con
---
Now Is The Time To Sign Up For A Field Study Course In Pop Culture At SDCC – The Bleeding Cool Interview With Matthew J. Smith, Ph.D.
Dr. Matthew J. Smith, a Professor in the Department of Communications at Wittenberg University in Ohio, has taken a passion for the relationship between academic study and Pop Culture to a new level by pioneering a field study college course in Pop Culture held at San Diego Comic-Con. During the course, entitled "The Experience At Comic Con", Smith leads a team of intrepid college students deep into the maw of the biggest comic con in the USA and they emerge – well, as highly successful and forward-looking pop culture scholars, by all accounts. Many of the students who have taken the field study course embedded in the biggest hub of Pop Culture in the country have gone on to pursue graduate degrees in the emerging area of study and even contributed to an academic essay collection edited by Dr. Smith and Ben Bolling: It Happens at Comic-Con: Ethnographic Essays on a Pop Culture Phenomenon from McFarland Press.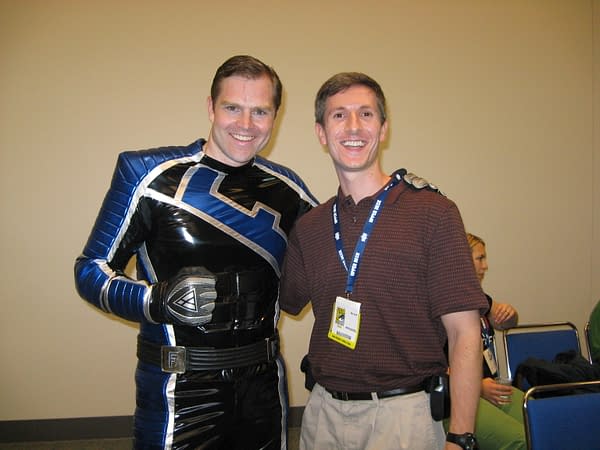 [Matthew J. Smith on site at SDCC]
And it's that time of year again: sign up for the course is now open and seeking applicants who want to experience first hand the trials and triumphs of talking with comics and film creators, fans, and industry professionals, as well as benefiting from the wide range of programming SDCC offers from the more popular panels to the academic Comic Arts Conference that runs in tandem with SDCC. The con is a gold-mine of information on fandom, that's for sure, and these brave souls are hitting the ground running every year to gather information, observe, and attempt to codify what makes fan culture tick, and maybe even predict where it's all headed. Dr. Smith and two of his former students agreed to answer questions for Bleeding Cool about this unique course and their experiences at SDCC.
Hannah Means-Shannon: What gave you the idea to run the course? What steps did you have to go through to have it approved as an academic credit course?
Matthew J. Smith, Ph.D.: The idea of the course came to me during my own first visit to Comic-Con International in 2006. Prior to that I had taught a course in Media Literacy, which examines the intersection of media marketing and consumer behavior, and Con puts those dynamics in a fresh, immediate perspective for me. I thought to myself, "What a great place for students to see these relationships up close!"
The more I thought about the nature of what Con could allow us to investigate, the more that participant ethnography seemed like the ideal method for students to apply in this context. I wrote up a proposal for a one-week field study program thereafter.
My proposal was not immediately embraced by my colleagues on campus. Some did not understand how one could go about studying a convention. Others said that field studies had to be longer—and take place in a foreign culture—to be worthwhile. I found that I had to educate my peers before I could start educating students. Thankfully, I had some administrators who understood what I was aiming to do and with their support, the course got the institutional approval it needed to be credit-bearing.
However, the true heroes of the initiative are the program planners for the Comics Arts Conference. Peter M. Coogan, Randy Duncan, Kathleen McClancy and Travis Langley created a space for the program to present its findings. Without them, the program would be unable to access the Con or give voice to the students' efforts.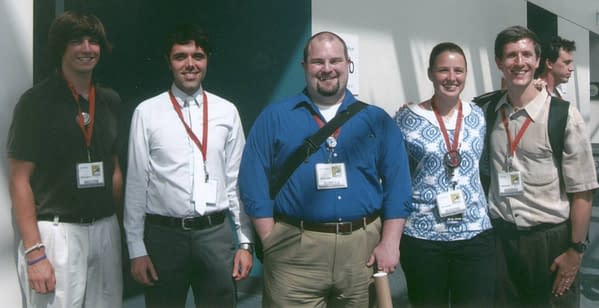 [2009 Participants]
HMS: San Diego is undoubtedly the craziest con in the USA and for that reason it's a gold mine for research, but it can also be a very difficult con for newbies because it's chaotic. Did you have any reservations about choosing SDCC as the location for this course?
MS: After eight years, I think I may have lost newbie status and I still find it overwhelming at times. Still, Comic-Con International is the most energetic convention of them all, and, as I like to say with tongue firmly in cheek, the "epicenter of popular culture." It's the place where trends start.
Other Cons certainly offer research opportunities, but this is the Super Bowl, Mecca, and Christmas morning all wrapped up in one. The lure of that cultural richness makes it undeniably attractive, in a way no other convention can quite compete.
I do attempt to prepare students for the experience in advance but there's only so much one can say about the power of the wave before the tide comes in. Sometimes, the best preparation is just being willing to go with the flow.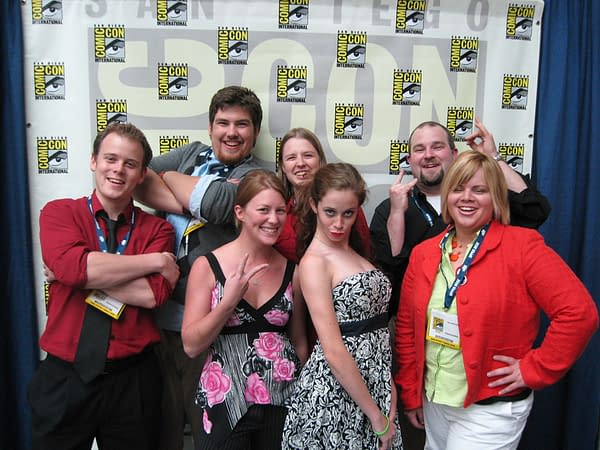 [2008 Participants]
HMS: How do you prepare students for the vast numbers, large complex of the con, and frustrations that they may face in navigating the con? Do you prefer students to have prior experience of attending SDCC as fans?
MS: Participants do not need to have prior experience. In fact, I get about equal numbers of first-timers and convention-going veterans along for the program. For many, they have heard about Con (and more recently seen it in the news media) and they are genuinely curious to experience it firsthand. For seasoned fans, it can be like finally getting to the promised land after attending other, smaller conventions. Either way, I'm pleased to create a space where the intellectually curious can get access to Con.
As for preparing them for the immensity that is Con, well, verbal warnings only go so far and sometimes it just has to overwhelm you before you can adapt to it. I certainly encourage students to dress warmly (what is up with that air conditioning?), eat food regularly, and pace themselves. Even so, I usually end up with some very tired participants by Sunday—but also some very happy ones.
HMS: What kind of resources do students take advantage of at SDCC? How important a component is attending programming, or is it more about interviews with pop culture figures or gathering statements from attendees?
MS: In addition to our readings and the instructor's guidance, the students also encounter a number of guest speakers who help shed light on different aspects of the Con. In the past, I've hosted experts in marketing, comics history, and fan culture, including folks like Bob Beerbohm and Henry Jenkins.
Students have a degree of flexibility to tailor their study to work with both observation and interviewing to one degree or another, although I ask them to explore a little of both. For instance, a student named Brian Swafford (now a college professor at Northwest Missouri State University) did a project on the interaction between panelists and the audience. Most of his data was based on observations he gathered while sitting attentively in panels. Another student, Regina Gasser of Wittenberg University, did a study of line culture that included observations but also numerous interviews with people waiting in line.
HMS: What sort of structure supports the course? Do students meet regularly with instructors outside of con hours to help sift data, get advice, plan their activities?
MS: Students have some fairly thorough reading assignments to complete prior to Con. These works orient them to fan culture and the process of conducting and writing ethnographies.
We then meet the day of Preview Night for an on-site orientation and thereafter each morning prior to the opening of the Con for a breakfast briefing. Here we review concepts, assignments, and engage with guest speakers. Students are then free to experience Con in all its glory from the opening of the doors each morning until the close each night.
I'm available throughout the sessions for consultation, and I seem to do a good deal of texting with students over their questions. I've also seen a number of students over time partner up when their interests overlap, so they become confidants for one another, too.
Sunday is probably our most intensive day, as we meet in the morning to plan our afternoon presentation. This is a public presentation made at the Comics Arts Conference and draws an audience of academics and the public of 80 or more people. (Great numbers for any academic program!) Here we share our preliminary results and seek public input for their accuracy. We then process this input in the evening with an eye on writing up the experience. Student then have the following week to complete their ethnographic accounts and submit them for final evaluation.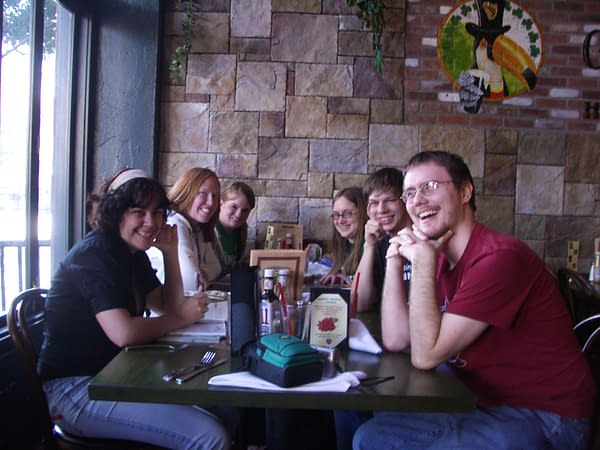 [A breakfast briefing before the con]
HMS: How do the findings that students have gathered so far alter your own perceptions of comic cons and pop culture? What significance do you think these findings have for the academic study of pop culture?
MS: The students I have encountered always expand my own perceptions of pop culture. Early on, I had a student introduce me to the world of machinema and last year another brought Disney pin collecting to my attention. More substantively, though, are the ways student discover how fans and marketers communicate their passion.
I think I am privileged to get to interact with—and maybe even nudge along—the next generation of fan scholars. I'm waiting for great things to come from them, and if our week in San Diego contributes even the smallest amount to their momentum, then that is a job well done.
And here's what some former students had to say about taking the plunge into pop culture study at SDCC:

HMS: I know from experience that attending SDCC can be a life-changing experience. What were your perceptions of comic cons before taking the course and how did taking part in the course change your assumptions and views on pop culture in society?
Kane Anderson, Ph.D.: I've been a con-goer for some time but this course really helped me discover what I wanted to study for my PhD. Working with Dr. Smith and examining Comic-Con as a place for building culture rounded out my research on superheroes and performance. I looked at the cosplay communities facilitate the creation of the fantasy-like environment that is such a draw for con goers.
Regina C. Gasser: I had very positive perceptions of Comic-Con before I went. I have always known that I wanted to go there, I just didn't know when or how I was going to go! Then, I took the course and was amazed. It exceeded my expectations, and somehow being a participant and an academic at the convention made it a thousand times cooler. I know so much more about all sorts of fandoms that I would have never gotten to know, like the bronies, and that is great. Fans are some of the best people in the whole world. It is super crowded and hectic at the con, but everyone is so friendly and happy because they get to be fully immersed in what they love surrounded by others doing the same. [Students still love Pop Culture]
HMS: Did it take away from your own personal fandom to see the more commercial and business-driven aspects of geek culture? What are the pros and cons of seeing both sides of the equation—the celebration of culture, as well as the machinery that keeps it in motion—of cons?
KA: Becoming a scholarly researcher on popular culture means turning a critical eye to what I love most. When I started, I feared I might lose my own fan passion for superheroes. But Dr. Smith turned me onto his work as well as the scholars at the Comics Arts Conference at Comic-Con. I discovered that fandom is also a way of seeing comics culture. If anything, the field study course took me outside of my own fan circles. It's to attend cons and stay focused only on the properties I love and looking at the larger structures supporting cons reveals how inclusive fan culture really is at Comic-Con. That said, the biggest negative was taking a step back and realizing the commercial excess of some cons. The swag and hand-outs become seductive for many, but seeing the leftover trash and discards disturbs some of us. But this discovery also allowed me to theorize that fandom exists experientially as much as materially.
RCG: Seeing all the sides of Con did not take away from my love for my fandoms. We all have things that we indulge in, and for us fans that is often the Con or merchandise from our fandoms. These "Artifacts" help remind us what we are apart of and make us happy, and that's not a bad thing at all. One of the cons of seeing the other side was seeing how San Diego and some of the vendors view the fans in such a negative way. Just watch the local news when the Con is going on and you will see what I mean.
HMS: What was your most rewarding experience or biggest revelation in the field when taking the course?
KA: While studying cosplayers at Comic-Con, I conducted ethnographic research by interviewing and observing various attendees dressed as superheroes and supervillains. However, after my first year of study, I suspected that I wasn't really getting at the core of my informants' experiences. So for my second year, I started attending in costume as Captain Marvel (DC) and then Mr. Incredible. (I'm plus-size so I wanted non-perfect superhero roles.) In any case, it was an ENTIRELY different experience. My autoethnography brought me face-to-face with the inclusive cultures of the different cosplay communities (DC, Marvel, Disney, Manga, etc.) and provided firsthand experience of what cosplayers encounter like the sense of celebrity that exists inside the con. I also showed up on a now-defunct website under "A Collection of the Saddest Cosplayers of 2011." This sort of thing is invaluable for an ethnographer! It showed me how conditionally cosplay celebrity operates.
RCG: The biggest revelation that I took away was that I could get a job studying, making, and being what I love. Fans often go on to be involved in the creation of the things they love, or they create art based around it or other things. When I first got to Con, I thought, I COULD DO THIS. I could live my life immersed in pop culture, and get paid for it, and make other fans happy as well! Whether that be through the business side of it, the artistic, or the programming, it is possible. And even if I never get to have my own booth or panel, I can always go and come away happy and having learned something valuable.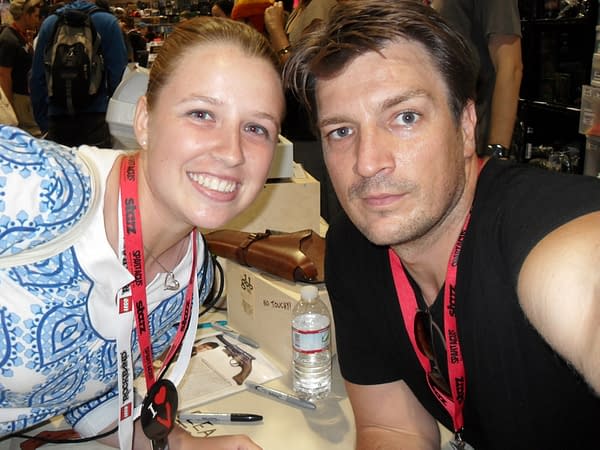 [A student with Nathan Fillon]
HMS: What advice would you give to students thinking of participating in the course?
KA: Let your passions guide you. Your fandom is not a deterrent to scholarly inquiry; it is the sparking impetus for discovery. The key skill is a willingness to question not only what we love, but why we love it. Also: pack some water, some snack bars, and really listen. The greatest thing about Comic-Con is how it brings fans together in a collaborative celebration. Listen to where people are from, what they care about, and how the interactions shape our understanding about fans and between fans. Oh, and if you cosplay, plan ahead for bathroom breaks when you construct your costumes…
RCG: Even if it is just a passing thought, check it out! I cannot express how great this course is. Talk to any one of the past participants or Dr. Smith and you will hear the same thing. Even if you originally sign up just so you can go to the Con, you will soon love all the things you learn about pop culture as well. This is one of those rare classroom experiences where you are allowed a lot of freedom in what you learn and what you do. Seize the moment! If you want to talk to someone about it, because you are unsure if you want to go do something this awesome, you can email me any time at ginabean373@gmail.com and I would be more than happy to tell you what The Experience at Comic-Con could do for you!
"The Experience At Comic-Con" is currently accepting applications and you can find more information here about the course. You can also contact Dr. Matthew J. Smith with questions about the program at msmith@wittenberg.edu.
---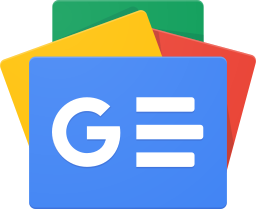 Stay up-to-date and support the site by following Bleeding Cool on Google News today!