'One Dollar' Proves a Deadly Price to Pay in First CBS All Access Teaser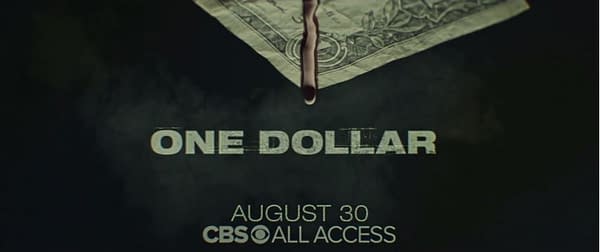 If you thought CBS All Access' turn at the Television Critics Association's (TCA) summer press event was only about Star Trek, fairy tales, Murphy Brown, and The Big Bang Theory, then you almost missed out on your first look at what could be the surprise hit of the session: mystery-drama series One Dollar. Set to premiere exclusively on the streaming service on August 30, the ten-episode season is produced by BS Television Studios in association with Anonymous Content. Craig Zobel (Compliance, The Leftovers) serves as the season's director; and executive produces alongside Matt DeRoss, Alexandre Dauman, Graham Gordy, and Jason Mosberg.
Here's your first "teaser" trailer for CBS All Access' One Dollar; and while the series creators are playing their cards close when it comes to giving away too much about the storyline, one thing is clear from the video below: that dollar's going to pass through a lot of hands – and see a lot of blood – before it gets to its "final resting place":
https://youtu.be/W3c5ZGR4d9c
One Dollar is a mystery set in a small rust belt town in post-recession America, where a one-dollar bill changing hands connects a group of characters involved in a shocking multiple murder. The path of the dollar bill and point of view in each episode paint a picture of a modern American town with deep class and cultural divides that spill out into the open as the town's secrets get revealed.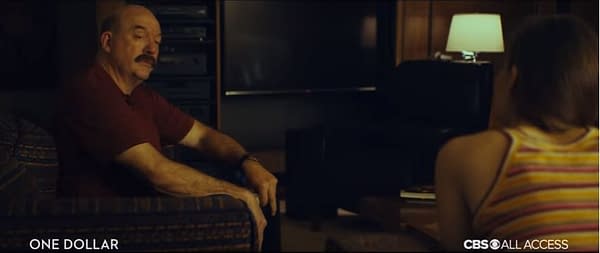 CBS All Access' One Dollar stars John Carroll Lynch, Nathaniel Martello-White, Chris Denham, Philip Ettinger, Kirrilee Berger, Gracie Lawrence, Joshua Bitton, Nikẹ Uche Kadri, Hamilton Clancy, Greg Germann, Sturgill Simpson, Aleksa Palladino, Jeff Perry, and Leslie Odom Jr.
Available exclusively to subscribers of the streaming service; CBS All Access' One Dollar will premiere episodes beginning Thursday, August 30th.