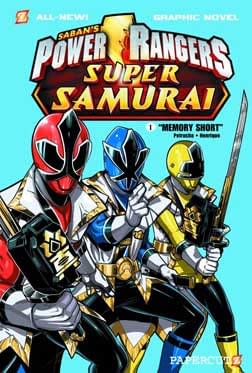 Peter S. Svensson writes for Bleeding Cool about a show he's writing a book on.
Papercutz is the young readers imprint of NBM responsible for releasing the Smurfs comics in English, and creating original Nancy Drew and Hardy Boys comics. They have just gotten the rights to release comics of the long-running Power Rangers franchise. Specifically, they will be releasing a series of graphic novels based on the current season airing on Nickelodeon: Power Rangers Super Samurai. Not the original Mighty Morphin' Power Rangers show that began in 1993 and has the iconic characters that most of you remember. These graphic novels by the team of writer Stefan Petrucha (who has written some Nancy Drew and Hardy Boys books for Papercutz) and artist Paulo Henrique (who most recently drew the Lego Ninjago graphic novels.) aren't aimed at the adult fans, but at the kids who are watching their favorite color-coded superheroes on TV.
The comics will not be adaptations of existing episodes of the show, but original stories featuring the Samurai Rangers who use their totally-not-Japanese-calligraphy-based powers to fight off a demonic invasion by the evil Lord Xandred. The roughly 50-page graphic novels will be released quarterly in both hardcover and softcover simultaneously. The first volume, Power Rangers Super Samurai Vol 01 Memory Short, is in the current Previews catalog for ordering and has an estimated release date of June 27th. In that first volume, the Rangers will be attending a concert in their civilian identities but have to deal with the entire audience being mind controlled to attack them. Can they manage to win without slaughtering hundreds?! Probably, I mean this is a franchise aimed at elementary school kids.
This will be the first Power Rangers comic released in the US since 1997, when Acclaim did a one-shot. There have been comic strips released in Europe for over a decade, including a year where it was written by Simon Furman, but those got no release in the US. Sadly.
Papercutz currently has no plans to release comics based on the original Mighty Morphin' Power Rangers, much to the dismay of the adult fans reading this as well as myself. There might be some references or call backs to them in their comics adapting next year's show, which will be an adaptation of the Japanese original "Pirate Squadron Gokaiger." And now for a gratuitous plug for the Official Power Morphicon, which I'm involved with.
(And stay tuned next year for the release of "Twenty Years of Color-Coded Teenagers" by yours truly.)
Enjoyed this article? Share it!