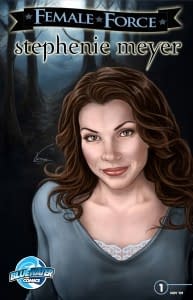 Notice. No use of the Twilight logo. The font, yes. The logo, no.
A lawyer might try it on, but Bluewater Productions have taken a lot of care with this comic book not do do anything too lawyer-baiting but still to all eyes appear to be a Twilight spinoff. It's a heady balancing act, moving away from politicians and dogs to media celebrities who are a brand in their own right and protectful of bandwagon jumpers.
Even the choice of vampire storyteller, Dracula, nicely sidesteps the issue and also slides in nicely with all the other Dracula comic books coming out right now.
Oh go on. Have a preview of what is likely to be the best selling independent comic book in October. Coming out just before a certain film, too.
Okay, that bit is slightly lawyer baiting I suppose…
Enjoyed this article? Share it!