Rise of the Teenage Mutant Ninja Turtles at SDCC
Words and photos by Madeline Potts:
The 2018 Rise of the Teenage Mutant Ninja Turtles panel at SDCC was pure fun from start to finish. From a brand new trailer to a surprise from the Turtles themselves, fans were treated to a wonderfully energetic hour of turt-acular fun that would make any fan scream "Kowabunga!"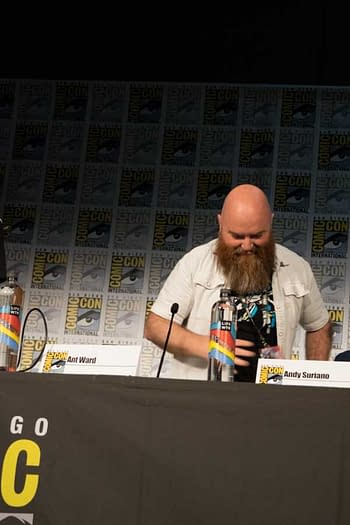 The panel began with a countdown and an epic trailer for the new Nickelodeon reboot of TMNT: Rise of the Teenage Mutant Ninja Turtles. Followed by a Q&A with the cast including; Omar Miller (Ralph), Ben Schwartz (Leo), Josh Brener (Donnie), Brandon Smith (Mikey), Kat Graham (April), Eric Bauza (Splinter), Andy Suriano (Producer), Ant War (Producer), Rob Paulsen (Voice Director), and moderator Keely Flaherty of Buzzfeed.
Questions ranged from the audition process to the cast's favorite childhood memory from the Ninja Turtles cartoon. Ben Schwartz proved his love of Nickelodeon cartoons by showing off his epic Reptar socks.
Showrunners Andy Suriano and Ant Ward discussed how they decided to approach the Turtles in the new reboot:
"One area that we never tapped in on was this sort of fantastical element. The whole notion of the Ninja and the Ninja honing this supernatural force in folklore."
The new fantastical element even extends to new weapons for our beloved Turtles.
"Every single one of their weapons is for the character. We felt like it was entirely natural to extend their abilities into a sort of supernatural, ninja playspace and that included their weapons."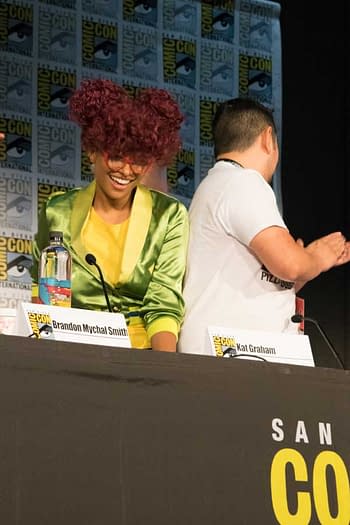 Michelangelo: "Michael, as you know, is very energetic and agile that's why we gave him a plate."
Raphael: "Raf is more tactile, he's a streetfighter, a brawler, and so the tonfas are the perfect weapons."
Leonardo: "Leo, he's a showboater, at least early on in this early stage. […] When we were working on his personality type, we gave him a bit of a swagger… and we thought, 'how does that play into his weapon?' So giving him a six-foot Odachi as opposed to a katana, I mean, he can't even hold that thing without looking like he's posing with it."
Donatello: "Donald does not have a stick. Donald has a tech bow which is kind of the Swiss army knife. Donny with our iteration is very, very confident in his skills and his abilities and he takes that to fantastical levels with his swiss army knife of weapons. It's the first weapon that needs Wi-Fi."
After meeting the shows heroes and a surprise appearance from the turtles themselves, the audience was treated to an announcement of the shows brand new villains including:
•Barren Drazen – John Cena
• Meat Sweats – Johnny Rotton
•Hypno-potomus – Rhys Darby
•Huggin – Tim Simmons
•Muninn – Sam Richardson
•Warren Stone – John Micheal Higgins
•The Foot Clan – Rob Paulson and Maurice LaMarch
•Alberto – Tom Kenny
•Ghostbear – Jorge Gutierrez
•Repo Mantis – Fred Tatasciore
Finally, fans were treated to a brand-new clip from the show showing the brothers and April fighting villain Barren Brazen.
Rise of the Teenage Mutant Ninja Turtles will premiere on Nickelodeon on September 17th.