 I've just read Grant Morrison and Chris Burnham's Nameless #1. And now I get to talk about it.
I'm trying not to read it again right now. I'm looking at the very recent memory of it out of the corner of my mental eye. Good, it's not going away. We begin with our "nameless" lead jumping from occult-based dreams within dreams with purpose, a man with an aim and opponents, with a plan that involves being caught (so fashionable in Hollywood action films these days) and where the memory of something is as good as the real thing in the world of 3D printers. I remember once when Neil Gaiman despaired of Hollywood types trying to make Sandman into an action adventure, well this is a Hollyweird version of that. There are real horrific deaths, and we explore the dream landscape that are the cause or the effect of that, driven by unknown horrific creations and no idea whether any of it is true. Which also inspires Chris Burnham to draw some mind-breaking panel structures, finding new shapes, directions and ways of telling comics, with competing realities. And a wonderful companion comic to both Morrison's other current titles, Multiversity and Annihilator. Indeed, I'm still waiting for someone from on of those realities to walk into the other.
It may have already happened.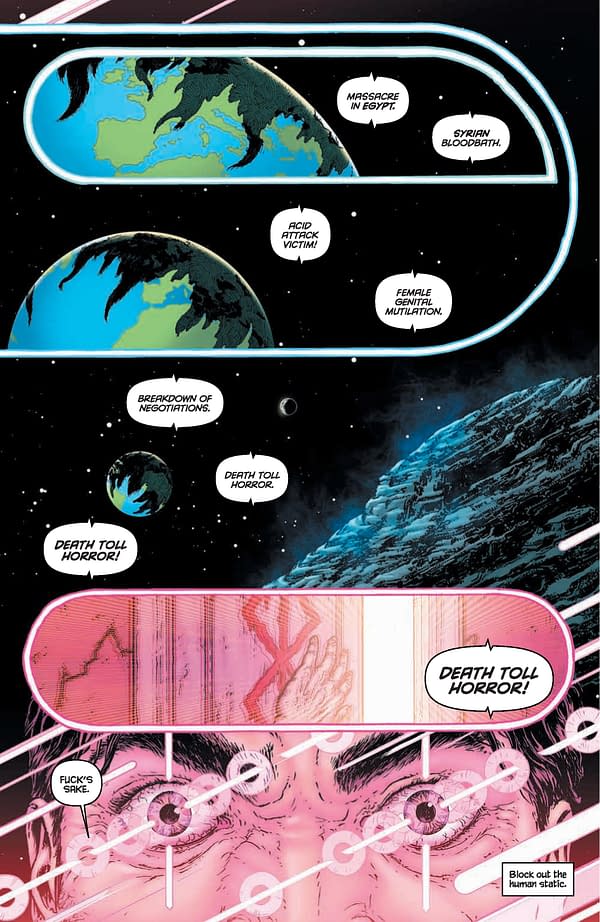 Except people with billions of dollars and an impending asteroid collision think it's all real, all connected and have the evidence, as a bunch of astronauts go up to stop the impending apocalypse. Which suddenly brings me closer to remembering Fred Hoyle's novel The Black Cloud. That's the problem with Morrison, any book you've read, he read first, dissected its themes and stripped it for parts. As well as as many ancient cultures, civilisations and philosophies as he can get his oily hands on. Which means everything he conjures up from the ether feels incredibly authentic… Morrison has always excelled at taking a pulpy action plotline and then infecting it, not just giving it a surface covering of oddness as some might, but to have that oddness infect the trope and twist it in weird and beautiful ways. Doom Patrol was always a good example, an ordinary superhero story given a surreal texture map, but then spinning off into different directions as that map summoned Danny The Street. And so it is here, the real life manifestation of sigils from occult dreams twist the initial genre of the comic book into a completely different one – while still retaining the flavour of the original. Which has a tendency to lead to unpredictable plot twists, audience satisfaction and, in me, a gnawing hunger to keep reading. Creating a far more mainstream title than it may appear at first glance. And probably getting in a race with Letter 44 to get adapted as a movie first. The cover image alone feels like it could get all manner of folks excited, and is a perfect summation of the genres being mashed up here.
And, let's be fair, it's a beautiful comic book. For all it's complex detail, mysterious names, magical societies and general feeling that you haven't a clue what is going on, it has a couple of principle strengths. Whether you get any references or not, your gut does, you get the general shape… which then twists your gut in a rather entertaining way. And secondly, the comic is incredibly easy on the eye, with a considerable contribution from Nathan Fairburn. The combination of Morrison and Burnam is such a powerful one, it's a privilege to be a witness to it again. Which helps a lot until you get an inkling of what is going on here. And once you do, you'll join me in the hunger… Nameless #1 by Grant Morrison and Chris Burnham is published by Image Comics on Wednesday, alongside Annihilator #5 from Legendary.
Enjoyed this article? Share it!