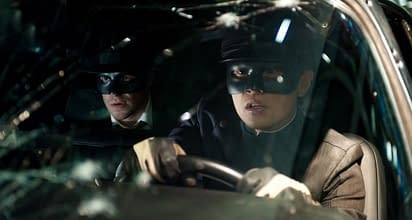 Seth Rogen, star of the upcoming Green Hornet movie, has told the LA Times how he's a Marvel reader – but just can't do DC. "I like Marvel, I've kind of given up on DC at this point." His favourites are Punisher and Deadpool – and was repulsed by the way the character was treated in the Wolverine movie.
When I was watching this last X-Men movie, at the end they sewed up his mouth and I was like, 'What the hell are they doing?' Evan [Goldberg, my writing partner] and I will still talk about that; we'll be driving and just say, 'I can't believe they sewed up Deadpool's mouth.' I mean, why would you do that? 'We'll take a character known for his wisecracks and saying funny stuff and we'll just lose that entire aspect of him.' He's called the 'Merc with the Mouth.' I mean, that's what they call him.
He also geeks out over meeting Ed Brubaker. Is this a cue for DC to send the man a stack of trade paperbacks in an attempt to convince him? Maybe some Gotham Central?
In related news, Edgar Wright, director of Scott Pilgrim Vs The World, cosplayed as Kato at San Diego Comic Con, so he could walk around the show floor without getting mobbed. He joins a long tradition of celebrities who have done the same, Daniel Day Kim as V For Vendetta, Simon Pegg as The Joker and Bruce Willis… with a black pillow case over his head.
Enjoyed this article? Share it!