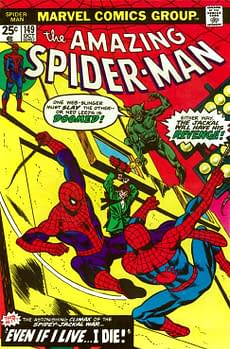 Two Spider-Men plus the first Marvel Universe / Ultimate Universe crossover? Yeah, that'll be big. But actually, I'm even more pleased to see that they're tying a major event to Spider-Man's 50th Anniversary. Because as we noted here last month, Hulk's 50th seems to have been largely forgotten, after a pretty big deal was made of the FF's 50th last year.
And after that? Let's see… it'll then soon be time for Iron Man and Thor's 50th.
Most-Read Comic Stories Today:
The First 616/Ultimate Crossover – "A Spider-Man Story That Matters"
The New York Daily News has reported that in June, the touted Spider-Men series from Marvel will be the first official crossover between the Marvel Universe and the Ultimate Universe.
An Open Letter To Geoff Johns About DC-Iranians | Bleeding Cool Comic Book, Movies and TV News and Rumors
This is a letter from Dara Naraghi addressed to Geoff Johns. A similar letter has been sent to Aquaman editor Pat McCallum.
Absolute Final Crisis To Have Seven New Pages And Batman Issues… And Be A Lot Later
If you were still waiting for February's Absolute Final Crisis oversized hardcover volume from DC Comics, you may have to wait a little longer. In fact, you might as well add it to your Christmas list.
Most-Read TV/Film Stories Today:
Seven Thoughts About This New Hi-Def Catwoman Shot
Comic Book Movie have scored the first Hi-Def image of Anne Hathaway as Selina Kyle as Catwoman and the result is, well, very Christopher Nolan. It's an image that raises more questions than it answers and gives one pretty honking great indicator of a moral choice Miss Kyle makes at one point. Thoughts about shoes, ears, armour and other things after the image itself.
Battleship: The Bleeding Cool Review | Bleeding Cool Comic Book, Movies and TV News and Rumors
It's a film where almost all the action takes place inside the bubble of a strange alien forcefield. One where if anyone tried to introduce any scientific rigour, narrative logic or good old-fashioned common sense the bubble would collapse, taking the entire movie with it.
Gary Ross Releases A Statement As To Why He's Leaving The Hunger Games Behind… And Lionsgate Respond
So it's finally shaken out like this: Gary Ross has decided not to direct Catching Fire, the second film in the Hunger Games series. And his reasoning won't exactly fill you with confidence about Lionsgate's plans.
Enjoyed this article? Share it!