Sunday Runaround – Ty Templeton Relaunch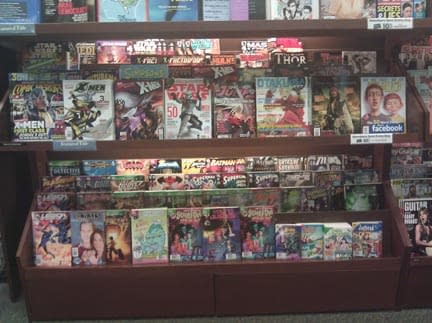 StoreWatch: Todd Allen peers through the window of his Barnes & Noble and takes a photo of what he finds there.
GameWatch: Dave Gibbons-designed game Beneath A Steel Sky is now PC freeware…
52Watch: Ty Templeton, if he launched fifty-two issue ones….

This is Computo the Comic Link Conqueror speaking. I come for your women. But for now I merely collate comic-related bits and pieces online. One day I will rule. Until that day, read on.
They say I am a work in progress. The fools.
Now what is Peter David doing?
Some Comments About Restoration for Comic Book Reprints | Simon and Kirby
Readers of my previous posts on the subject of restoration should know that I do not recreate line art (a process that Marvel still continues to use for their reprints of golden age material). However the end result of my restorations is by no means just a scan. I have no problems with describing what I do as "touch ups" only not in the manner that the TCJ commenter uses the term. Frankly the original printing used in these comics was pretty poor. Now as far as I am concerned reprints of just scans is far superior to art recreation however I prefer to try to correct some of the printing flaws.
This file is posted for new products scheduled to ship to comic shops on 6/8/2011 which include Baltimore: The Plague Ships, Batman And Robin #24, Preacher Book 4 HC, Scalped #49, Breed III #2, Morning Glories #10, Samurai's Blood #1, Deadpool #38, Iron Age Alpha #1, Ka-Zar #1, & more.
Dayton Daily News : Girl leaves graduation in Batmobile
As 122 Carlisle High School graduates filed out of the school gymnasium Saturday, Taylor Armstrong stopped in her tracks. A replica of the Batmobile was parked in front of the school.
RICHARD SCARRY: Today's Google Doodle marks author's 92nd birthday – Comic Riffs – The Washington Post
Google's home page features Richard Scarry's characters, in a bustling scene right out of his "Busytown," to mark what would have been the children's author's 92nd birthday.
Matt Fraction Talks "Fear Itself" at Heroes Con! | Comicbook.com
In discussing the background of Fear Itself Fraction said, "It began very simply with Tom (Brevoort) calling Ed (Brubaker) and I and saying we have a movie in May and then a Cap movie later. Do you want to find a fun Thor/Cap mini-series to do? Ed and I talked and came up with the core of the idea. A sort of anti-Odin came about. Hitler was obsessed with Norse mythology and we never got to see Cap fight a World War in our lifetime. We kept getting hung up on how do you launch a story about Thor with a movie out?"