Surviving 15 Shows in 15 Weeks (Part 1 of 3) – Write or Wrong By Dirk Manning
Dirk Manning writes: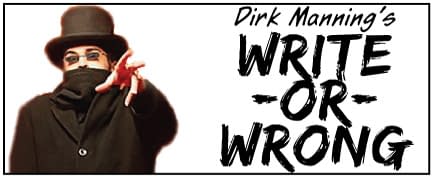 Towards the end of 2013, I decided to do something that would either exponentially help my writing career or kill me: I decided to conduct a "13 Shows in 13 Weeks" book-signing tour.
As I've discussed in earlier installments of this column (and the book/collection Write or Wrong: A Writer's Guide to Creating Comics, which can be purchased with one of those Amazon gift cards you got for the Holidaze right here), when you get to a certain point in your comic-creating career, attending comic conventions and book signings can prove to be very productive (and potentially lucrative) business move in regard to promotion, awareness-building, book sales, and networking.
During the last quarter of 2013 I had several book releases take place, including my Love Stories (to Die For, a one-shot from Image Comics/Shadowline, the first three issues of my four-part story-arc in Big Dog Ink's flagship title The Legend of Oz: The Wicked West (Issues #12, #13 and #14, if you're interested in hunting them down), the Dia De Los Muertos TPB collection (featuring my story "Te Vas Angel Mio," illustrated by Riley Rossmo, also from Image Comics/Shadowline).
On top of these book releases, I also decided to run my first Kickstarter campaign to help, well, kickstart the release of the Tales of Mr. Rhee Volume One: Procreation (of the Wicked), a graphic novel collection from the recently resurrected Devil's Due Entertainment.
With all of this going on, well, why not strike while the iron was hot, right?
But 13 shows in 13 weeks? Really?
Last year (Spring 2013) I did five shows in five weeks, and while that experience physically decimated me (keep in mind, like most comic creators, I also work a full-time "day job"), I enjoyed the experience enough that I decided to try and trump my previous accomplishment – and, admittedly, that of creator and friend Victor Dandridge, who boasted that he once did eight shows in eight weeks.
Because, hey, what's life without a little gamesmanship between friends, right?
My initial plan was to schedule 10 shows in 10 weeks, but this would of course be contingent on whether or not there would actually be 10 consecutive comic conventions to attend, and/or comic shops willing to let me hang out there for a full day of signings and writing panels in order to "bridge the gaps" of such an audacious – and borderline
suicidal – plan.
Much to my pleasant surprise, scheduling the shows proved a lot easier than I thought it would due to both a good smattering of comic conventions taking place in the Midwest during the fall combined with the support of several great comic shops that were willing to have me in for a day of shenanigans.
So, with surprising ease, 10 shows in 10 weeks were booked… but then a little voice surfaced in my head, whispering "C'mon Dirk… horror is your shtick… do a 'spooky' 13 shows in 13 weeks" signing tour."
As is often the case when I talk to myself (even nonverbally), I laughed at the notion of such an insane idea… and then, as is also often the case when I talk to myself about insane ideas, I started to figure out not if, but HOW such a feat would be possible…
The notion of doing 13 shows in 13 weeks, as it turns out, was not only possible, but exceedable, ultimately extending to an amazing stint of 15 conventions and signings in 15 weeks.
We'll get to how it grew to that level, and how you can go about not only surviving, but thriving, should you decide to try something this insane… but to do that, let's start at the beginning of the tour with…
Cincy Comicon (Covington, Kentucky; September 6-September 8, 2013):
As most Midwest-best comic creators know, there's a bit of a battle going on right now involving two different comic convention promoters simultaneously attempting to lay claim to the Cincinnati, Ohio area.
(For those of you who may have noticed that that Cincy Comic Con actually takes place in Covington, Kentucky, keep in mind that and the two cities are right next to each other, separated only by a river.)
While major cities (or even only "semi-major" cities, depending on your classification) hosting competing comic conventions from different promoters is nothing new (see: Detroit, Chicago, etc.). What has continued to make the Cincinnati scenario a bit more volatile than most (especially for potential exhibitors and guests) has been the… chronological proximity… of the shows, with the two competing shows taking place within one week of each other this past year.
(For those of you interested in the details, the situation was discussed by Bleeding Cool as it initially unfolded here.)
While I know and like the promoters of both shows, I couldn't justify doing two major comic conventions in the same town in two consecutive weeks, which ultimately led me to attend the Cincy Comic Con created and hosted by Tony Moore for reasons of scheduling as much as anything else.
As far as debut shows go, Cincy Comic Con is a very impressive convention. It has a very attentive and helpful staff, draws a good crowd (in terms of fellow creators, vendors and attendees) and fosters an intimate vibe that harkens back to the casual feel of the old Mid-Ohio Con days.
With a very strong (and very creator-centric) lineup of guests and an equally comic-centric crowd of attendees, Cincy Comic Con definitely got off to a phenomenal start and could quickly become a staple of the fall convention circuit for creators who want to connect with both current comic fans and new readers alike.
As if the show wasn't good enough on its own merits, though, the after-party/drink-and-draw at Cincinnati Museum Center was an amazing experience equal to the fun of the show itself. I mean, really, if there's a cooler place to socialize and network with fellow professionals than amongst dozens of dinosaur fossils and exhibits, I've yet to experience it.
Oh… and as an added bonus, the architecture of the building was also the inspiration for the Hall of Justice from the Super Friends.
Yes… really! Look!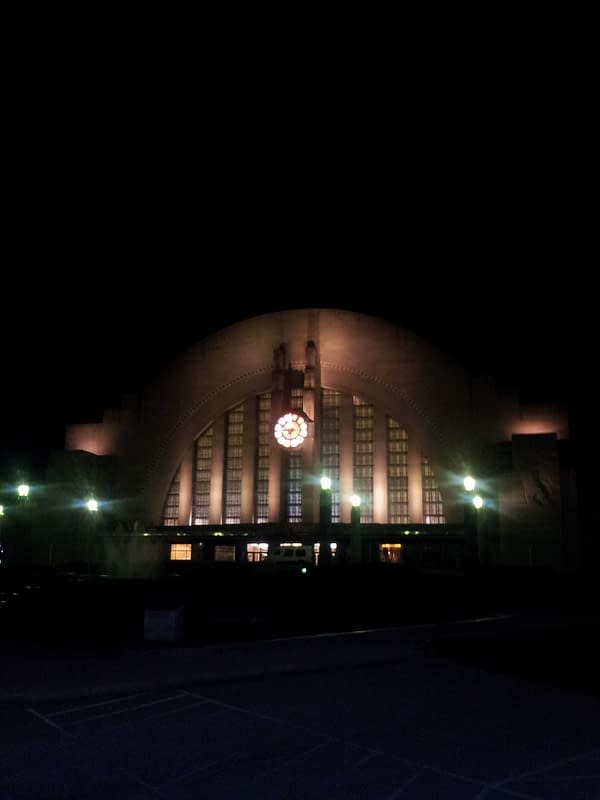 Wonderworld Comics (Taylor, Michigan; September 14, 2013):
While I've known Wonderworld Comics store owner Dennis Barger for several years via his Detroit Fanfare convention, this was the first time I did a signing at his comic shop… and in true Detroit-area fashion, Dennis made a party of it.
Literally.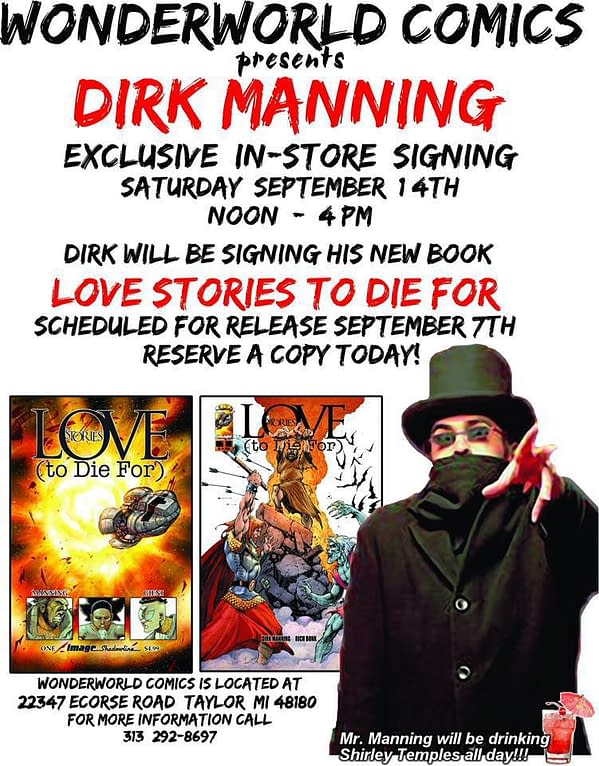 Along with this event being the release party for my Love Stories (to Die For) double-sized one-shot from Image Comics, Dennis and his staff also hosted a "Shirley Temple" party all day – everyone who came in to get books signed was served a convention beverage of their choice.
Because, hey, Wonderworld Comics is a classy establish like that.
Along with a number of the store's regular customers (including one who, with a sick kid at home, called the store to talk to me and have me sign some books for her to pick up later!), several of my Detroit-area comic-creatin' friends came out to this appearance to hang out… and place bets on whether or not I would survive long enough to return for Detroit Fanfare a little over a month later, let alone the whole tour.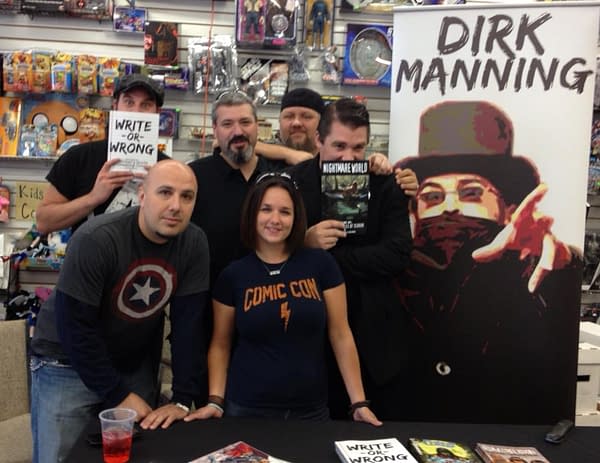 Remember that bit about "gamesmanship" between friends and fellow creators I mentioned earlier? This time I was on the receiving end of it… and kept trying to reassure them (and myself) that I could do this.
Wizard World: Ohio Comic Con (Columbus, Ohio; September 20-September 22, 2013):
Pretty much anyone with more than a passing familiarity with the "politics" of the comic industry – let alone the comic convention circuit – can tell you that, whether or not it's deserved, there's always a certain amount of grousing concerning Wizard World conventions from a small but vocal percentage of (especially) "indie" comic creators.
These complaints usually revolve around the opinion that, as far as at least some up-and-coming comic creators are concerned, Wizard's table prices in Artist Alley are too expensive for a show that caters just as much to celebrity autograph seekers as it does comic fans.
While I've yet to reach a place in my own career where I can justify setting up at all of the Wizard shows, I have noticed that this "grousing" phenomenon seems especially prevalent in Columbus due to both its very strong (and very wonderful) independent comic creator scene as some residual ill-will from those creators still bitter (for whatever reason) about how Wizard World bought Mid-Ohio Con several years ago.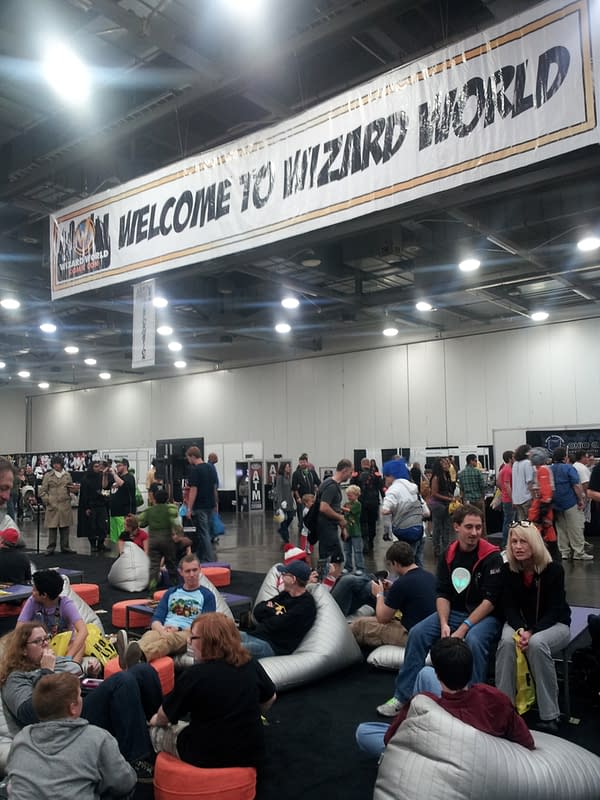 Before I get to my own experience with Wizard World: Ohio Comic Con (spoiler: it was very positive), allow me to say this regarding this whole situation:
1) Wizard World Conventions are, by their own admission, pop-culture conventions just as much as they are comic conventions. Continuing to criticize Wizard World for bringing in a large contingent of celebrities along with a large contingent of comic creators does not make you (should you be one of those grousers) a rebel who's raging against some sort of "evil empire." Rather, it does nothing more than show that you want to be recognized (and commended?) for loudly declaring the obvious for seemingly no other reason than a desire to be heard. If you're one of those people, I might suggest, in the name of professionalism, that you grow up for your own sake, if no one else's.
2) Mid-Ohio Con was a good show for many up-and-coming creators in the Midwest (myself included) for several years, but it's gone and it's not coming back. Nostalgia also tends to sometimes make things seem better than they really were. Either way, move on… or at least join the rest of us living in the present.
3) The celebrities hosted by Wizard World shows bring a lot of non-comic-fan attendees to their shows, introducing them (at least) to our work and our industry. This is not a bad thing, whether they're spending their money in Artist Alley or not.
4) If you're an artist, writer, or comic creator whose sales can't cover the cost of setting up at a Wizard World convention (yet), then you shouldn't be setting up at a Wizard World convention (yet), unless you want to chalk up the expense to the cost of exposing yourself and your work to the crowds that Wizard World attracts. Sometimes you have to spend money to make money, folks… but Wizard World has the right to charge as much as they want for their tables. If you can't justify the cost (or cover it via sales), that does not make them your enemy, not does it make them enemies of the comic industry.
5) Wizard World does not owe you, the up-and-coming (or even established) comic creator anything. This is especially if you're one of those people (up-and-coming or established) who routinely badmouths them online and to your friends and peers, only to then try and get free or reduced tables at the shows when they roll into your region. If you want to be able to afford setting up at bigger "pop-culture" based shows, earn your place in word and deed.
That little mini-rant aside (I assure you, that's a very compressed version of my feeling on this issue), whether it's about Wizard World or any of the other "bigger" shows such as C2E2, New York Comic Con, San Diego Comic Con, Emerald City Comic Con, etc.), one of the things that took me aback about Wizard World: Ohio Comic Con (in a good way) was how many attendees I spoke to who said it was their first time ever at a comic convention.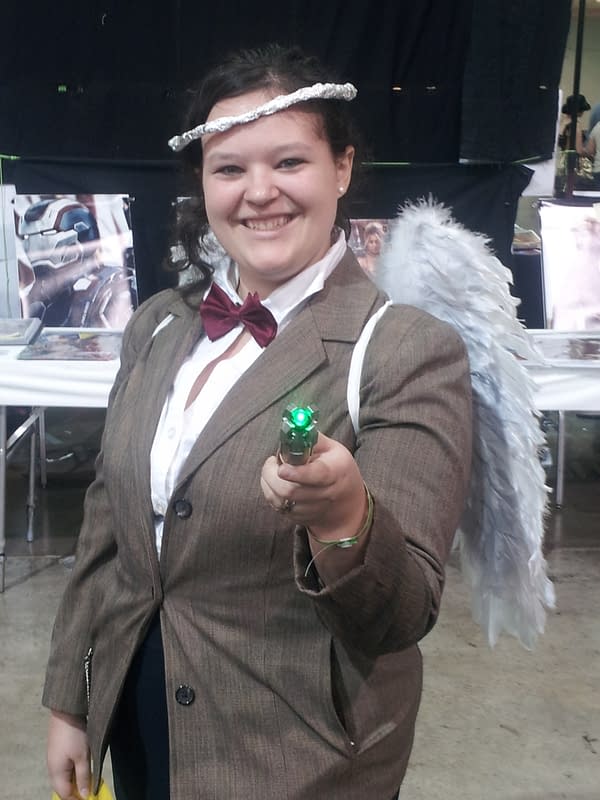 Ever.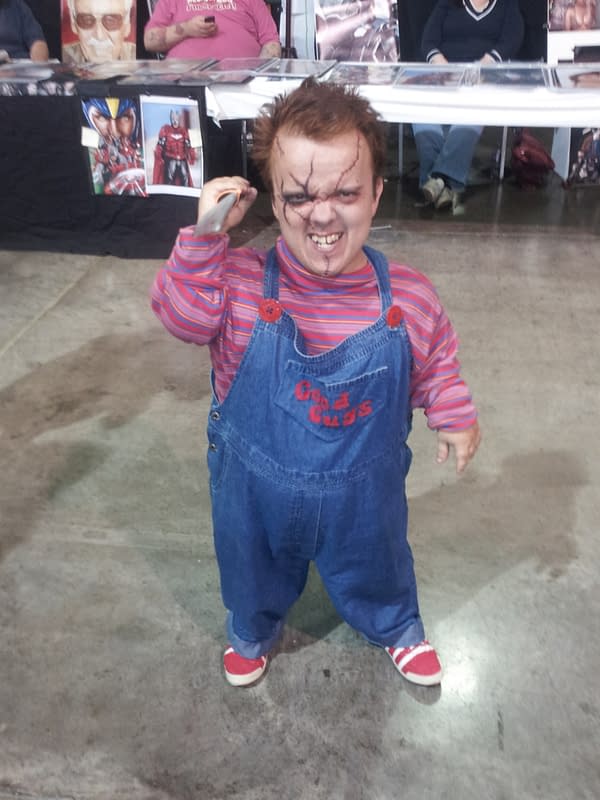 Additionally, the amount of children I saw at this show was unlike any I've seen at a convention in quite some time… and, yes, for a lot of them it was their first time at a comic convention, too.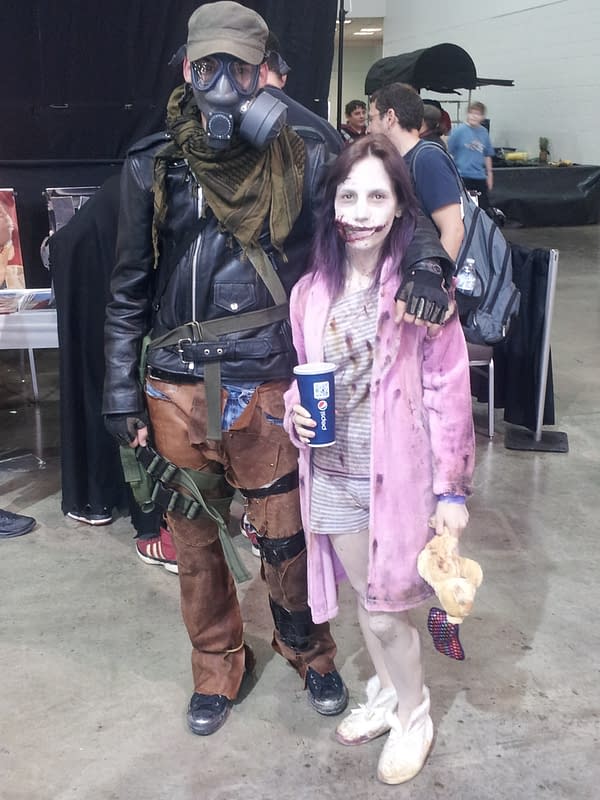 A lot of naysayers will tell you that blockbuster films like The Avengers and/or Man of Steel do not result in any major upticks in comic sales, and, honestly, I think they're right. However, what these films do accomplish is awareness of comics as a living and thriving medium. Because of this, when people hear that a comic convention is going to be in their area, they're oftentimes more likely to spend a day (at least) coming out to the show.
If you're set up in Artist Alley at such a convention maybe these new attendees will buy your work… or maybe they won't. Either way, this says just as much about what you're offering them as it does about what they want to spend their money on.
I had a great time at Wizard World: Ohio Comic Con both personally and professionally, selling a good amount of books (oftentimes to people who haven't read a comic in years) and hanging out with several of my favorite friends and fellow comic creators both during the show and afterhours (one of the con highlights was taking Big Dog Ink publisher Tom Hutchinson to a party with The Walking Dead's Norman Reedus ), and as such I'm already planning on attending this show again next year on Halloween weekend.
Naysayers and celebrity autograph hunters be damned, some of us up-and-coming comic creators do just fine at bigger shows like the ones Wizard World offers, thank you very much.
Seann's Anime and Comics (Sylvania, Ohio; September 28, 2013):
Having grown up near (spoiler alert!) Toledo, Ohio, whenever I do a signing tour to promote a new book or comic I always make it a point to schedule an appearance in or near Toledo, Ohio so the people I grew up with can come visit with me (and pick up my latest work) should they choose to do so… and for the last few years my location of choice has been the always wonderful Seann's Anime and Comics.
In fact, I've done so many signings there that I now even have my own category in the computer system: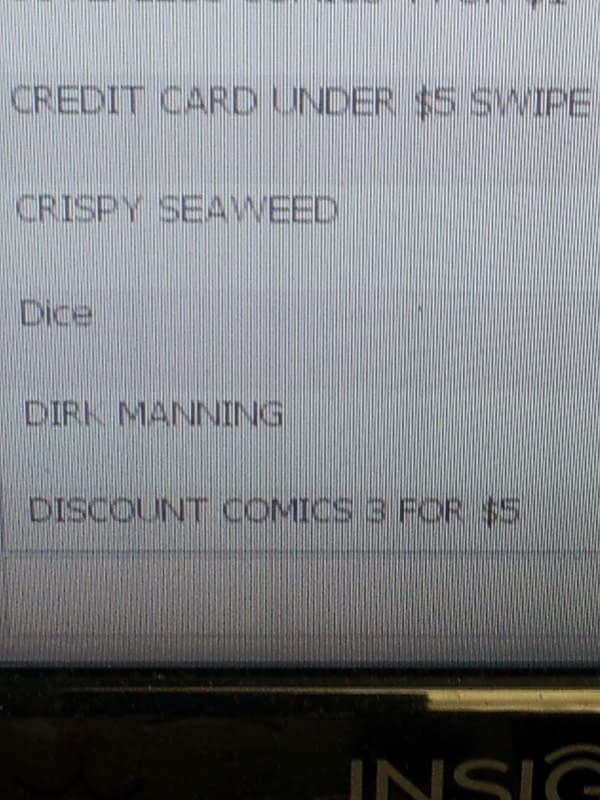 That's right, folks: "Crispy Seaweed," "Dice"… and "Dirk Manning."
Sing it with me, my friends: "Movin' on up… moooooooooooovin' on up!"
In the last few years I've reached the point where my hometown's local media is willing to cover my happenings (as long as I don't abuse the privilege), with this appearance (and tour and smattering of book releases) being promoted via interviews with two of the local newspapers, a local radio station, and one of the local television news programs.
(And, yes, for the television interview I was interviewed in the studio basement,
concealed in shadow, of course).
As is usually the case with my hometown signings, many of my old-school friends were able to come out to visit and pick up books, including a friend who, despite some limited Facebook contact, I hadn't seen in person in almost 20 years.
Aside from the chance to see so many old friends (and, of course, sign and sell a lot of books for both the store and myself), what struck me most about this appearance was the epiphany before my signing started.
Whenever I set up at a show or signing I take a picture of the table. For someone who's not a huge fan of actually being in photos, this is a nice way for me to "keep track" of where I've been in the past, you know?
Well, here's the picture of my table at Seann's Anime and Comics: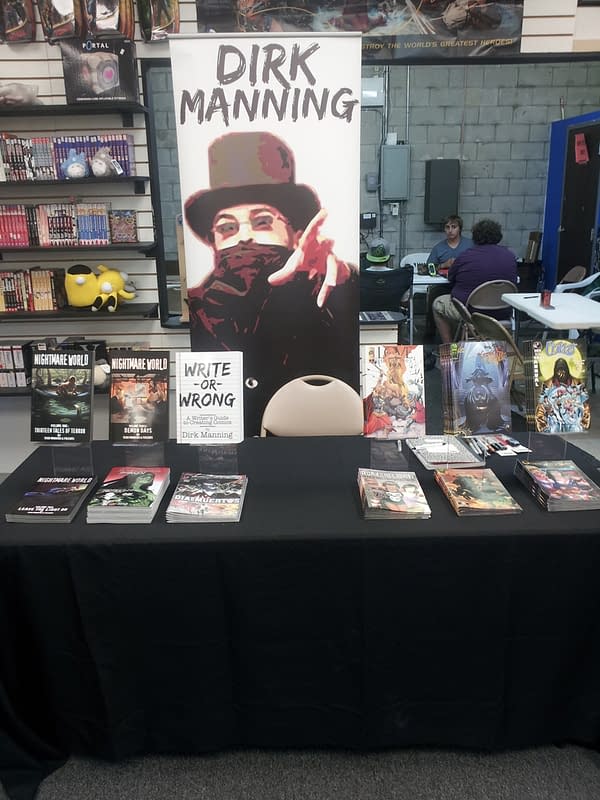 As you can see, there's twelve books on the table, yes?
Well, eleven of them are mine.
Eleven… published… comics.
Admittedly, this isn't as much as, say, someone who has a monthly work-for-hire contract from someone like Marvel or DC , per se… but that picture represents over 440 pages of published comic material, and that doesn't even include the 216 pages of prose work contained in the Write or Wrong book, the 108 pages of the Tales of Mr. Rhee graphic novel (the book on the table is a sampler) or the other 66 pages of content I'd already written for the next three issues of The Legend of Oz: The Wicked West.
As I sat there looking at that table, I thought back on the ten (or so) years of my journey that had brought me to this point. Sure, dividing approximately 440 pages of comic work over ten years (again, not including the prose work for Write or Wrong) averages out to only 44 pages – or approximately two standard comic books worth of content – a year… but that wasn't the reality of the situation, either.
That table does not encompass all of the comic work I've created to date (not everything I've written has been published in print yet, with close to 200 pages of my work available exclusively online for the time being), but this wasn't a year-by-year journey as much as it was a cumulative one about effort and momentum.
Heck, the "oldest" book on that table wasn't even published in print until 2009, meaning the table represented, as of that moment, only the last four years of my career.
Looking at that 440+ pages of comic work (and 200+ page prose book) and realizing that it had all only been published in print in the last four years… well… it took me back a bit, honestly.
The journey has been long– just as I'm sure the journey has been for a lot of you – but some of the biggest keys to success, as that last photograph demonstrates – are perseverance and momentum as you take the multi-year journey towards reaching "critical mass."
As of this appearance I had four shows consecutive weeks of signing appearances behind me and what would ultimately become eleven more to go… but I felt more confident than ever that I could complete this challenge…
And, after joining me thus far, I hope that you, too, are finding a renewed faith and purpose in your own struggles as you take your own journey.
NEXT WEEK: Next week we'll return with Write or Wrong #81 and discuss the second leg of the tour, which features rock and roll, murder, Free Masons and a girl with a skeleton face. Yes… really!
***
Dirk Manning is the writer/creator of the Nightmare World trilogy of graphic novels and the Love Stories (To Die For) (all from Image Comics/Shadowline and currently available to order from your local comic shop) as well as Write or Wrong: A Writer's Guide to Creating Comics (from Transfuzion Publishing and available exclusively through Amazon.com either in print of as a Kindle e-book). If you enjoy this column – or Dirk's work in general – he'd love for you to support the Tales of Mr. Rhee Kickstarter. Along with this aforementioned comic-related work, he has also written several short films for BlackBox TV and some other cool projects, all of which are detailed on his newly minted website www.DirkManning.com. Dirk lives on the Internet and can usually be found lurking around Facebook, Twitter and now even www.DirkManning.com on a fairly regular basis… when he's not busy writing, of course. Feel free to follow him at one or all such locations if you're into that sort of thing. Cthulhu is his home.