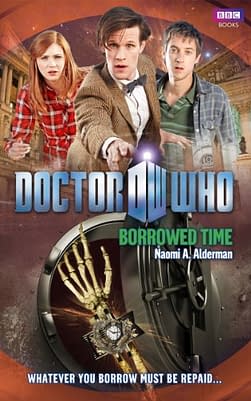 Neil Gaiman has written an upcoming TV episode. Michael Moorcock has written a novel. And now Orange book prize winner for The Lessons, Naomi Alderman is writing a new Doctor Who novel, Borrowed Time.
Set in the 2007 credit crunch, the story sees aliens trading in temporal credit cards, in which you can borrow time, if you pay it back again with interest. And what happens if you end up owing more than the remaining length of your lives.
On BBC Radio 4's World At One just now, Alderman justified the rather-close-to-home storyline said  "The Doctor travels around the universe trying to help people. Why wouldn't he trying to help out with the credit crunch?" She also delights in a kid-friendly explanation of the dangers of compound incident, using the metaphor of a car with icing, where the icing grows and grows, destroying the cake.
And when asked about any dangers to her reputation writing such a novel, Alderman said "I am torpedoing my literary career my doing this. But Kingsley Amis write a James Bond book…"
Enjoyed this article? Share it!