Swiping And Biting The Hand Of The Year – The 14th Annual Rumour Awards
So who did most to attack their own employers, co-creators, retailers or readers in comic books this year?
Biting The Hand That Feeds You Of The Year
Well, there was cosplay wars. Whether Pat Broderick or Denise Dorman – the many headlines their posts generated seemed to start from those two articles, as cosplayers were described in the least flattering terms, and all that was wrong with comic cons seemed to be placed upon their shoulders. Cue cosplay wars… And some cosplayers found themselves under attack from the self same comic cons, it seemed.
Certainly Peter Bagge seemed to see cosplayers as purchasers, if also fellow-oglers. Cat Grant in Superman, written by Scott Lobdell, seemed to have a word or two for DC editors and executives…
While in Teen Titans, he was more concerned about the people who comment about his comics…
Ghost Rider really doesn't like his own movies…
While Guardians Of The Galaxy saw Brian Bendis criticise the motivation behind All-New X-Men… by Brian Bendis.
A Deadpool Gauntlet giveaway sent to retailers to promote digital comics that retailers couldn't sell and slag off print comics in the process, even with a jokey asterisk, caused a number of retailers to just dump them, unread, in the trash.
While Loki looked at the Marvel Machine as a story crushing force that has to be resisted.
But there's been relatively little of the kind of attacking-your-employers commentary that has often defined the comics industry. We had to look to the movies for this little gem…
… when Joss Whedon stood in solidarity with Edgar Wright against his Marvel Masters, after Wright felt he had to leave Ant-Man.
The best may be this little back and forth between Joe Keatinge and Will Dennis over the Vertigo CYMK comic book that Keatinge wanted his name off…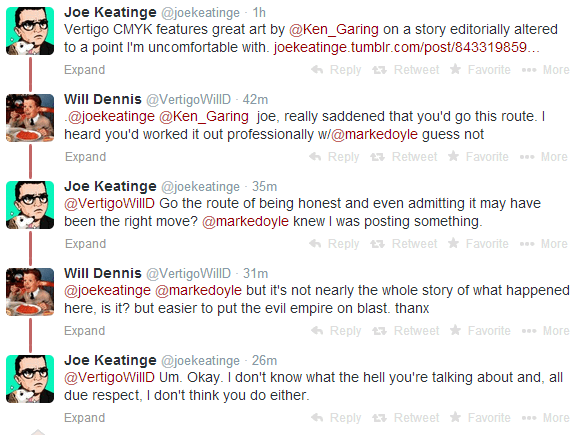 Thankfully you can always rely on Alex De Campi to say something chewy, this time about working on Lady Zorro for Dynamite…
AdC: Since the character has so little background/history, I assumed I'd been brought in to do something very creative. So I originally pitched something quite leftfield and innovative that I thought could be fascinating (and, incidentally, be a great movie) but the licensor really wants a straight-up swashbuckling book. Also, necrophilia jokes are out. I learn a new thing about work for hire every day! NO SCREWING DEAD PEOPLE. (Insert own Jerry Siegel joke here.)
De Campi also had a go at Kelly Sue DeConnick over the similarities between Grindhouse and Bitch Planet, but DeConnick had some other hands to bite, speaking out about her lack of inclusion at Marvel Writer Retreats, egged on by her husband Matt Fraction. Who did not attend the next retreat either.
Though Yanick Paquette did a fine line in shaming DC Comics to pay royalties to colourists and credit them on the cover. It worked. Scott Snyder did similar with the $4.99 price point for Batman.
And Hart Fisher ensured he'd never be employed by Dark Horse. Or have My Chemical Romance play at his nephew's wedding.
It could also be argued that Diane Nelson's decision to move DC Comics from New York to Burbank, it biting New York itself, a state that has fed the comic industry for 75 years.
But there was one biting-the-hand moment that stands out above all, which doubled as a cutting-off-nose moment too The decision by Marvel CEO Isaac Perlmutter to reduce the exposure of Fantastic Four and X-Men in licensed work, so as to deny Fox Studios the oxygen of publicity for their films. No toys, no sketch cards and no comic. It seems inconceivable that Marvel execs could see Marvel's products as promoting the film, rather than any film promoting Marvel's products. But that's what happened. And everyone who worked at Marvel (apart from Tom Brevoort) seemed to want to tell me. It was even more biting-the-hand than the decision to let everyone else make Big Hero 6 comics – Disney Publishing, Yen Press and Joe Books – but not Marvel Comics themselves.
Swipe Of The Year
So many swipe files, so much time. But here's a look at some of the Swipe File items that weren't homages, weren't coincidences, weren't tricks of the light and weren't jokes. Time for those that are so close, it doesn't seem unreasonable to see a little lightbox going on…
While 2013 was the year of Shia LaBeouf's great plagiarism of Daniel Clowes comic books, 2014 is when he was copying apologies. Including for our big interview…
We start with IDW Ghostbusters artist Salvador Lavarro was happy to swipe from 88MPH Ghostbisters artist Steve Kurth… including… Then we have Crossed and Axe Chick…
The Bingo Bash app from BitRymes Inc.
And Supergirl by Michael Turner. From Marat Mychaels' new issue of his comic, Blindside.
Compare with Ivan Reis in Green Lantern #17 The Nottinghamshire speed-dating evening "Bag A Slag" caused all sorts of media controversy, but its poster was also swiped from Chamber Of Chills.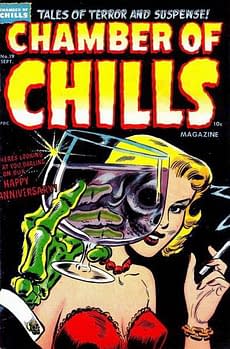 J Bone found his work being "heavily referenced" by Edward Wihnan) to sell t-shirts and apparel on his RedBubble site.
There were some knockoff Obama viagra pills being sold in Pakistan… I'm sure Phil Jimenez is proud. The final scene from the finale of True Detective was totally taken from an issue of Alan Moore, Gene Ha and Zander Cannon's Top Ten.
There's just one story. The oldest.

What's that?

Light vs dark.

Well, I know we ain't in Alaska but, it seems to me that the dark has a lot more territory.

Yeah, you're right about that….
….
You're looking at it wrong, the sky…

How's that?

Once there was only dark. If you ask me, the light's winning.

LAUGHTER (PAN UP TO THE NIGHT SKY)
And from Top Ten #8, another twosome, bound together by a teleporting accident, looking at the night sky, facing mortality.
Jeff Koons created a six-and-a-half foot, two thousand pound, stainless steel statue of Popeye, auctioned for $28,200,000 by Sothebys to casino owner and art buyer Steve Wynn. Ripped off from a Dark Horse-produced Popeye PVC figure. Rob Liefeld swiped from himself, a solicited cover for Bloodstrike #35, and a rejected X-Force cover from October 2010.
To celebrate the 115th anniversary of the Portguese mineral water, Agua Castello, illustrator Rui Fazenda, stole the work of Charles Burns, for new bottle livery. Mark Millar and Gorlan Parlov's Starlight continued to find influence in The Incredibles. Robert Rodrigez' mock posters for Red Sonja were swiped for DVD covers for Red Reaper.
Happy Birthday, Happy Obituary by Jefferson Costa and Rafael de Oliveira published in 2005, a short story featuring a man who dies every year on his birthday with his obituary printed at the bottom of the page bore a stunning resemblance to Daytripper by Fábio Moon and Gabriel Bá.- and they were the more famous pair's students for a time when they were creating the work as well.
All a bit of a car crash.
There was the Bud Light Vanilla Ice ice cream van promotion that looked like this… Stolen from artist Ben Douglass. Kamiya Yuu of No Game No Life just seemed to take work from everywhere… Alberto "Laff" Berroa Jr drew Dwayne Wadeas The Flash…. But he needed some help from a cover by Art Thibert Then there was Punisher artist Mitch Gerads finding how Marco Checchetto draws Rachel Cole-Alves or how Paul Azaceta draws Electro.. On the left, an 1971 Esteban Maroto illustration from Eerie #38, a story called "A Stranger In Hell. And on the right from a couple of years later, an appearance of Jim Starlin's Gamora for the Warlock comic series… Blatant theft by Chris Harris, for the promotional posters he makes for other people's events…. using DeviantArt images, such as this by Jozef Szekeres, and comic book covers. There was also the Italian superhero movie The Invisible Boy, and its graphic novel spinoff.. …looking remarkably like…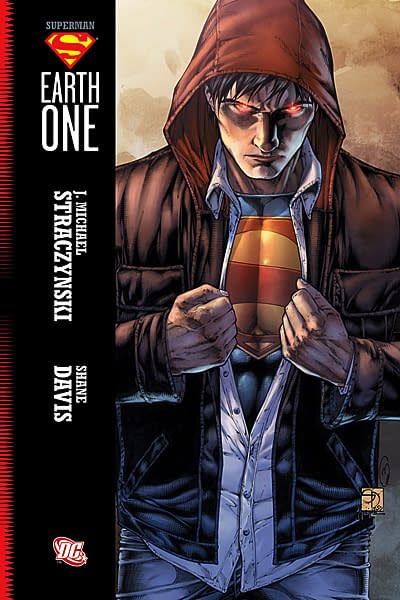 But the winner for me, getting Swipe Of The Year was this double entry.
This is a Prometheus poster, licenced piece for Mondo by artist Marko Manev and a previous Tim Bradstreet's Punisher image.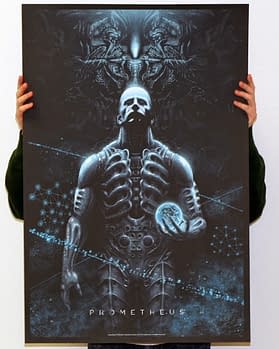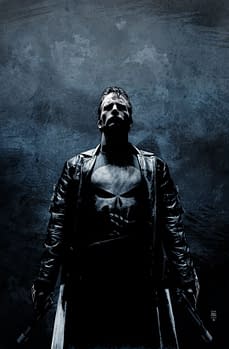 But then Manev saw one of his X-Men inspired pieces "Mutants" from from 2011 turned up as a DVD cover…
Karma sure is a bitch…