'Teen Titans GO! vs. Teen Titans': Let Reasoned Discussion, Debate Begin!
History is filled with bitter rivalries and struggles that have spanned The Sands of Time: The Hatfields and The McCoys…Snoopy and The Red Baron…The Doctor and The Master…Trump and the truth. But only one rivalry stands heads, shoulders, and capes above all others…reaching such a fever pitch that DC Entertainment, Cartoon Network, and Warner Bros. could no longer turn a deaf ear and a blind eye to the inevitable.
With that, we present…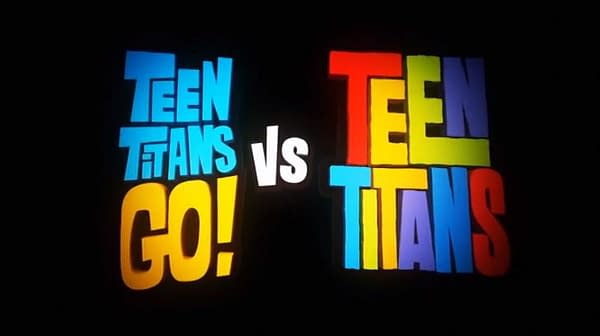 So what do we know about it? Not much, except that you can find the teaser as an extra on the Teen Titans GO! To The Movies DVD, which is set to unleash its selfish-yet-well-intended destruction upon the population on Tuesday, October 30. Expect to get some more information sooner rather than later – but until then? Start brushing-up on all the reasons why Teen Titans GO! ruined the very concept of "Teen Titans" for the next seven generations of Teen Titans fandom. And Teen Titans GO! fans? You can start listing out all the ways liking that show makes you so much "cooler" than those who miss and want the "old" Teen Titans back.
But remember…play nice!
When the Teen Titans go to the big screen, they go big! "Teen Titans GO! to the Movies" finds our egocentric, wildly satirical Super Heroes in their first feature film extravaganza – a fresh, gleefully clever, kid-appropriately crass and tongue-in-cheek play on the superhero genre, complete with musical numbers. It seems to the Teens that all the major superheroes out there are starring in their own movies everyone but the Teen Titans, that is!

But de facto leader Robin is determined to remedy the situation, and be seen as a star instead of a sidekick. If only they could get the hottest Hollywood film director to notice them. With a few madcap ideas and a song in their heart, the Teen Titans head to Tinsel Town, certain to pull off their dream. But when the group is radically misdirected by a seriously super villain and his maniacal plan to take over the Earth, things really go awry. The team finds their friendship and their fighting spirit failing, putting the very fate of the Teen Titans themselves on the line!