The Bleeding Cool Top 100 Power List 2018 Countdown: #16-20
Every year, Bleeding Cool runs its Top 100 Power List of members of the comics industry. And every year we get told how wrong we are. Somehow, it's always for completely different reasons and from completely different directions. Why was X in when Y was not? Why is Z is high when W is so low? And neither U or T should be on this list after that incident involving V… and condemning us for being either infested with SJW virtue signalling or providing platforms for fascists – and sometimes simultaneously. Man, I don't know how Time Magazine manages.
But that's part of the process. This attempt to list the most powerful people working in the English-speaking comic book marketplace is, of course, flawed. It is judged by all manner of attributes, the ability to influence what comics exist and sell, but also the willingness to use that power in the industry to affect things, and the ability to retain said power if a job is taken away. Which is why you will see a number of people on a higher spot than their bosses.
The Power List rewards those who combine roles, creator, publisher, distributor, retailers, those who are double and triple threats, and also where power is concentrated in one person rather than being spread out among many. Some powerful organisations or groups, where power is diffused amongst several individuals, may drop down or drop out altogether.
It does not measure talent or likeability, respect or fairness, and it does not intend to represent diversity or balance. All it does is note power, used for betterment — or detriment — in the English speaking comic book world.
The list was created in consultation with a number of senior figures in the comics industry, and I thank them for their help. Although because they all disagree, they'll all think the final list is wrong, too.
If you really hate this list, then do the obvious thing. Write your own. Otherwise, watch for new batches every day…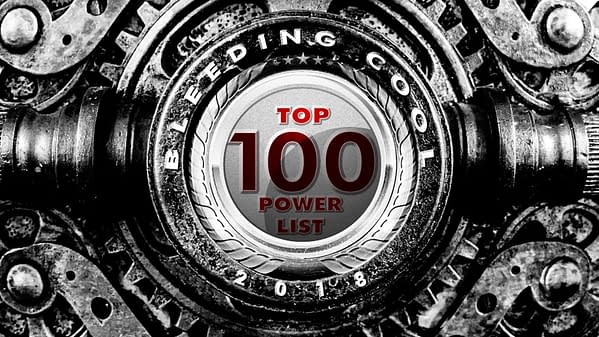 16. Kevin Feige. Head of Marvel Studios, and while how may not be talking to the comics side of the publisher, they follow his lead, his whom, his instinct. Which is why the current Marvel lineup is now full of Captain Marvel, Skrulls, Infinity Wars and Avengers. Expect a bump for Spider-Man to come through the year. And all the people on the mutant books wondering what the Disney buyout of Fox is going to mean for the comic books they will get to publish.
17. John Nee. Publisher of Marvel Comics. A low public profile for a man in such a position, Nee has a long experience as Publisher of Wildstorm, SVP of Business Development at DC, CEO of Cryptozoic, he ha an unmatched breadth across disciplines, media and brands – especially in comics – and seems to know everyone as a result. A strong political player he oversees the health of the comics line, keeping up quality, managing budgets and guiding marketing.
18. John Cunningham. SVP of Sales, Trade and Marketing at DC Comics. Still getting massive coverage of DC Comics in the mass media, though Courtney Simmons may have taken a few opportunities for herself here. A very political operator, he is adept at playing folk off against each other and keeps his cards well hidden until he pulls them out, mid-meeting.
19. Steve Geppi. President and sole owner of Diamond Comic Distributors. He'd be higher on this list if he behaved like the censorious Steve Geppi of old he seems to allow the invisible hand of the marketplace to do most of that work now. He has been taking a stronger hand on the tiller with less distraction from his museum and other business interests this year. He has recently allowed more publishers into his Premier Publishers club, with Boom and Dynamite joining the throng, with Oni, Valiant, Action Lab and Lion Forge looking on from outside wondering what on earth they have to do…
20. Donny Cates. Marvel's wunderkind, he was snatched from the smaller and creator-owned press and has had a glorious year as he gave Marvel a best-selling Thanos and Venom series, burning through multiple printings without the aid of any anniversaries, as well as being trusted by Marvel to lead their Marvel Knights book, something that will have had a lot of importance for CCO Joe Quesada.. Now he looks set to do it again with Guardians Of The Galaxy, all the time while keeping his creator-owned books at AfterShock, Image and Vault spinning and selling the TV and movie rights. The hottest writer in comic books right now.
See you again later today. And keep up with this handy-dandy Top 100 Power List tag.