The Death of Tony Stark at the Hands Of Captain Marvel That Never Got Reversed (Tony Stark: Iron Man '#19 Spoilers)
In the Tony Stark: Iron Man series written by Dan Slott, the series has woven plotlines with the emergence of Arno Stark, Bain Industries, Jocasta and Machine Man, all elements of the original Machine Man 2020 series from thirty-five years ago, that introduced Iron Man 2020. It has done so while also involving itself with the idea of rights being granted to sentient beings, organic or artificial, with the slow realisation that, given Tony Stark's history, that this would include Tony Stark as an artificial intelligence, a machine copy of the original Tony Stark.

Who is dead. As he is in the movies, so he is in the comics. And has been dead for quite sometime, after he was killed…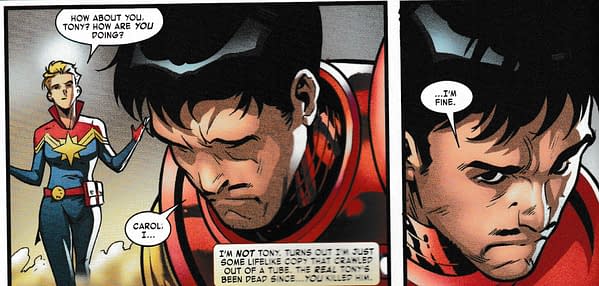 …by Captain Marvel. And not just in the pretend way that her current series has. To paraphrase Robert Downey Jr, 'I am not Iron Man.' Which means that the Beast's promise way back when…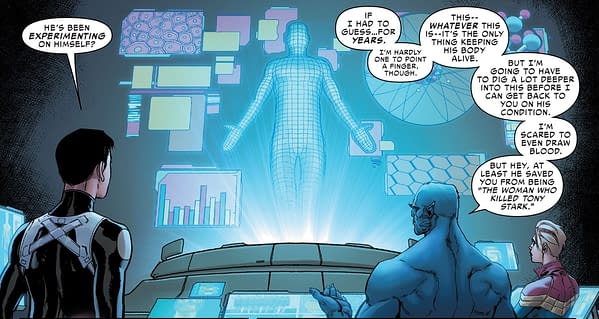 … now rings hollow. And if Tony Stark is dead, and his artificial intelligence version has no official rights, then all his property, ownership and control goes away and gets picked up by….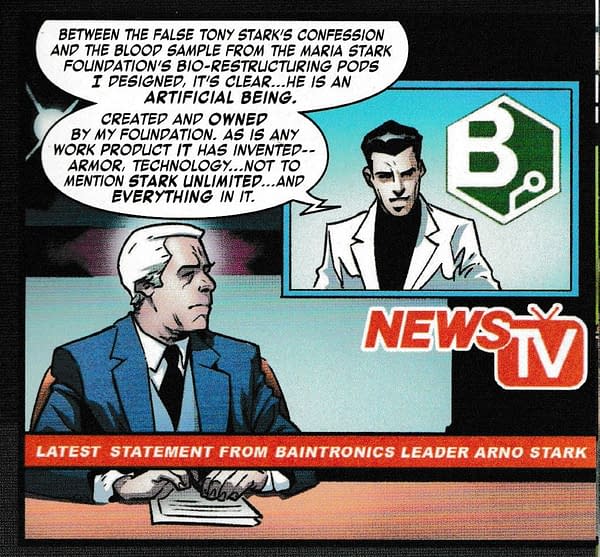 Step-brother Arno Stark and Bain Electronics. Iron Man 2020 here we come, with a battle for artificial sentience rights. Man, has anyone told the Fantastic Four's H.E.R.B.I.E?
TONY STARK IRON MAN #19
(W) Dan Slott, Christos N. Gage (A) Francesco Manna (CA) Alexander Lozano
THE ULTRON AGENDA FINALE!
What if there is no Tony Stark? What if there is only the Iron Man? At the end of 2019, the boundaries between man and machine are blurred and broken… and the Marvel Universe will be a very different place in the year 2020. A new Iron Age is coming… and you do NOT want to miss this pivotal issue.
Rated T+In Shops: Dec 18, 2019
Tony Stark: Iron Man #19 is published today from Marvel Comics. I bought mine from Piranha Comics in Kingston-Upon-Thames. Piranha Comics is a small south London comic store chain with a small south-east store in Kingston-Upon Thames's market centre, which runs Magic The Gathering nights on Fridays, and a larger south-west store in Bromley, which also runs Magic nights and has an extensive back issue collection and online store. If you are in the neighbourhood, check them out.