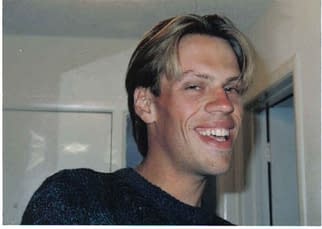 Okay, this is shocking.
Josh Hoopes is one of the biggest con artists in comics. Although to call him an artist is a bit of a joke in itself. I've followed his career for a while now and he seems to have a modus operandi that he rarely deviates from.
He solicits for work on varous forums, showing wonderful artwork at very low rates. He then accepts a job – and finds his own artist, offering very high rates. The artist does the work, Josh takes the money and then disappears. The publisher believes they have paid for artwork, the creator remains unapid. And a few months down the line the artwork is published and a storm ensues, with the creator asking why unpaid artwork has been published. Often however Josh only provides a few pages of artwork, all the artist will do before payment, but then accepts and and all paymnt and advance payment he can get.
In a wrinkle, he once posed as the artist Art Adams offering his services at very low rates and fooled a number of companies and individuals , including Penny Farthing, Tokyo Pop and Desperado out of thousands of dollars before Bleeding Cool busted his operation.
One of his victims was Indian artist Lalit Kumar, who was commissioned by Josh to draw work for writer/publisher Ibrahim Amin, delivered a number of pages for a number of projects, and was then left unpaid.
But now it seems that Josh Hoopes is not only using Lalit's work again, but is actually posing as him. This Image Shack page under Lalit's name is nothing to do with the man, though it includes the artwork Josh scammed off him, and also includes work by Michael Turner, Ryan Benjamin and others, in an attempt to get work.
If that wasn't enough to prove his identity, one of his customers who sent him a $200 advance spoke with him on the phone, and confirmed that it's the same voice that was recorded in this phone call with Josh Hoopes. Hoopes also asked for Paypal money to be sent to a Giovanna Luna.
The customer asked for a character design sketch with 3 girls in Asian school uniforms. If you know any young artist who was asked for that very recently, get in touch, they may have been scammed too.
Enjoyed this article? Share it!