Things to Do In Birmingham This Summer If You Like Comics
By Olly MacNamee

With the summer finally here and the holidays only around the corner, thoughts may very well turn to summer holiday excursions and days out. For me, the highlight of Birmingham's summer is the welcome return of the much-lamented Birmingham International Comic Expo on Saturday August 2nd. Although, for those of us in the teaching profession during the month of August every day is a Saturday, I look forward to the arrival of this con because it is one of the only Midland cons that remains focused on comics and their creators with less of the hullabaloo and dog and pony shows that can surround bigger cons appealing to a wider demographic. This convention does what is says on the tin, and then some. Currently working with Mark Millar on the stellar Starlight, Goran Parlov will be making his first ever UK appearance here alongside the titanic Steve 'The Dude' Rude (co-creator of Nexus), who will be also appearing at Nostalgia and Comics for a VIP meet and greet on July 31st, but if you want to get to that one and meet the man and spend an evening with him get in quick. Tickets will be limited to only 100 and I find it hard to believe these won't go sooner rather than later. These two alone, for me, are the highlights of the Saturday, but not the be-all and end-all. From a rising star to a living legend, I'm not sure when I could ever get the chance to meet these two again, certainly not in the UK at least. This is a huge coup for the Birmingham International Comic Expo and part of a great line-up from both abroad and closer to home.
Hailing from the UK come fan fave comic book artists David Roach (2000AD), Dylan Teague (2000AD) and Ireland's own Declan Shalvey (Moon Knight), as well as an assortment of indie publishers. Birmingham's very own Time Bomb comics will be launching their new publication Longship there as well adding to the great atmosphere of the day. But, that's not all, folks. At its sister event, Comics Uncovered, would-be comic book artists and writers will be able to hear from some of the comic book professionals and legends that will be sharing their knowledge, skills and experiences with those of us wishing to follow in the collective dream of working in the industry we all love so much. These include Bryan Talbot (Alice and Sunderland), DC Comics Group editor Joey Cavalieri (The New 52: Future's End), colourist Marie Javins and writer Ian Edgington (Warhammer). If you want to get the chance to have your portfolio critiqued or learn how to ink from James Hodgkins then this is where you need to be on the day.
Frankly, I can't wait. You never know who you will see and I find, particularly with shows I've been to in the past in Birmingham, everyone is friendly, considerate and more than willing to give their time.
And, if you still find yourself in Britain's Second City the following Wednesday, well you can always join the regulars from Nostalgia and Comics (customers and crew) as no doubt we share stories of the expo over a few pints or two.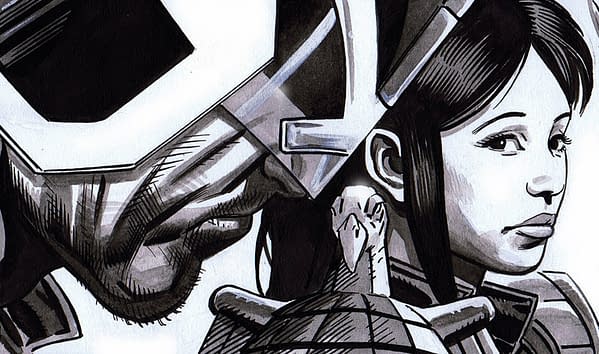 Olly MacNamee teaches English and Media, for his sins, in a school somewhere in Birmingham. Some days, even he doesn't know where it is. Follow him on twitter @ollymacnamee or read about his exploits at olly.macnamee@blogspot.co.uk. Or don't.