Things to Do In New York This Week If You Like Comics
Monday, March 3rd
A Will Eisner Week event, "Will Eisner, Champion of the Graphic Novel" will be held in conjunction with the New York Comics & Picture-story Symposium at Parsons, The New School, 2 West 13th Street, New York, NY, in the Bark Room (off the lobby) from 7PM to 9PM. Writer Paul Levitz (former president/publisher of DC Comics) will read from "Will Eisner: The Dreamer and the Dream," Levitz's work-in-progress about Eisner's unique role in the evolution of the American Graphic Novel, to be published in 2015 by Abrams ComicArts. This event is free and open to the public. Since this is a "special event" for the New York Comics & Picture Story Symposium, the Symposium will not be meeting otherwise this week.
Tuesday, March 4th
This free and open to the public event "Celebrating Al Jaffee" will be held in room 523 of the Butler Library at Columbia University in New York at 7PM. The event commemorates Al Jaffee's donation of his papers to Columbia University's Rare Book and Manuscript Library as well as Jaffee's long career as a comics artist. Paul Levitz will moderate a panel with Al Jaffee, joined by Sam Viviano and Peter Kuper. A reception will follow the talk.
Wednesday, March 5th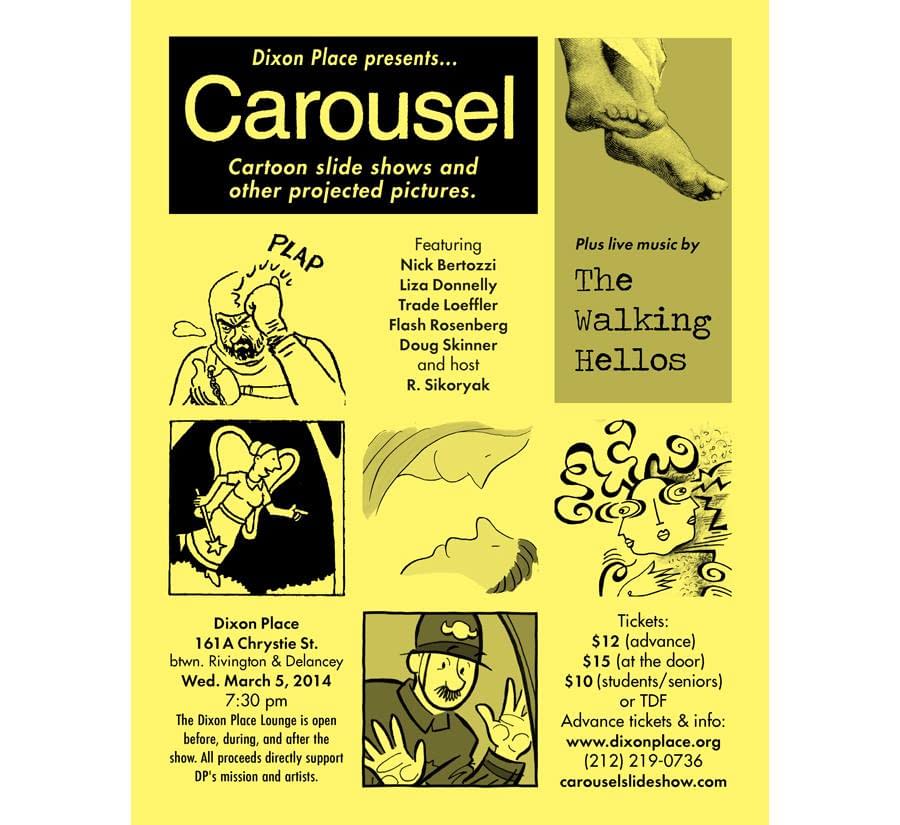 At 7:30 PM, Dixon Place presents CAROUSEL: Cartoon Slide Shows and other projected pictures, a live performance of comics event featuring live music by the band The Walking Hellos, with readings and drawings by Nick Bertozzi, Liza Donnelly, Trade Loeffler, Flash Rosenberg, Doug Skinner, and host R. Sikoryak. Dixon Place is located at 161A Chrystie Street (between Rivington & Delancey), in New York City. Tickets are:
$12 (advance), $15 (at the door), $10 (students/seniors), or TDF.
For advance tickets & info:
www.dixonplace.org
(212) 219-0736
For more info on Carousel:
www.carouselslideshow.com

Thursday, March 6th

There will be a Paper Rocket & Friends Birthday Release Party, honoring Paper Rocket Mini-Comics founder Robyn Chapman's birthday, the one year anniversary of the imprint, and the release of the latest book from the imprint, Characters by Jess Ruliffson. Jeffrey Lewis is also celebrating several releases: Lewis is debuting Fuff #9 (his latest comic), Jeffrey Lewis & The Jrams (his latest cd), and Sonnet Youth: Daydream Nation (his latest zine). Ruliffson will do a live portrait painting and Lewis will do a slideshow reading. There will be cupcakes. The event will be held at Desert Island at 540 Metropolitan Ave in Brooklyn, New York, and run from 7 to 9PM.

Thursday, March 6th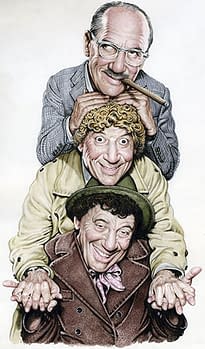 The Society of Illustrators is hosting the Opening Reception for "Drew Friedman's Old Jewish Comedians" from 7-11 PM. Refreshments will be served and there will be a cash bar. The suggested donation for the event is $15 and you can RSVP@societyillustrators.org
The exhibit will be on display from March 5 – May 3, curated by Monte Beauchamp. The Society of Illustrators is located at 28 East 63rd Street (between Park and Lexington Avenues) in New York.
Saturday, March 8th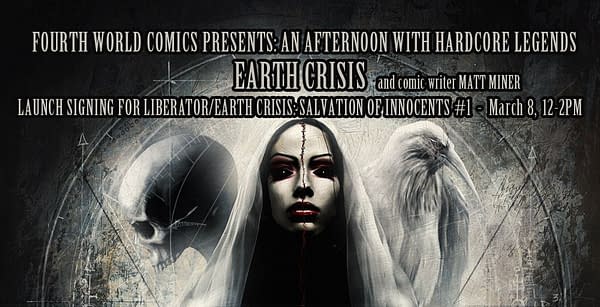 At "An Afternoon With Hardcore Legends" see the band Earth Crisis and comic creator Matt Miner (of Black Mask Studios) in store at Fourth World Comics at 33 Route 111, Smithtown, Long Island, New York, from 12 noon until 2PM where they'll be signing their new collaborative comic book, Liberator/Earth Crisis: Salvation of Innocents #1, the companion comic to Earth Crisis' new album "Salvation of Innocents" four days before it comes to any other comic shop.