Volunteers Are The Heart And Soul Of MSP Comic Con In Minnesota
By Jason Strangis From the humble beginnings of a small one-day spring comic book show in Maplewood, Minnesota, the MSP Comic Con (formerly "Springcon") has now become a popular show attracting thousands of fans to the Minnesota State Fair Grandstand facility. This year's spring show was held the weekend of May 16-17. Popular writer/artist and hometown hero Dan Jurgens made his usual appearance at the Minnesota show, and other featured guests included artists JK Woodward, Aaron Lopresti, Ben Templesmith, Peter Gross, Pat Gleason, and Gordon Purcell. A good number of comic book dealers were at the show, proving that Golden Age and Silver Age comics still have a presence at local conventions. Other exhibitors sold comic book art, posters, and rare nostalgic items. There were also panels held throughout the weekend.
"It's a hometown show for me," said Bill Nereson, a longtime comic book dealer and mainstay at the Minnesota shows. "For a show of its size it probably has the most reasonable booth price and admission price for the fans".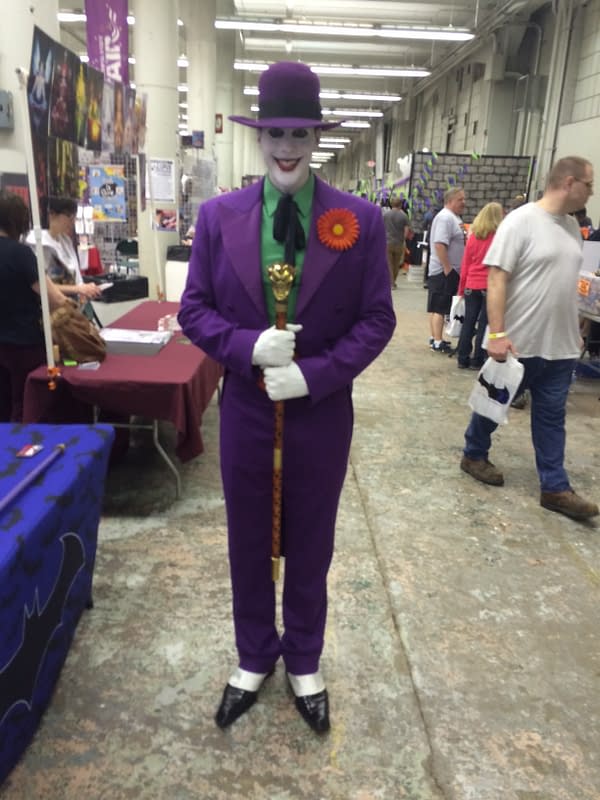 The MSP Comic Con is run by a small group of loyal and dedicated volunteers.
"We're a very comic-centric, comic-focused kind of show," said Mike Frigon, one of the leading volunteers who helps with organizing the Twin Cities show. "Because we are all volunteers, we really want to bring a sense of fun. When the people running the show are having fun, I'd like to think that translates to patrons having fun."
Unfortunately, the Minnesota spring show lost its leader when local comic book enthusiast Nick Post passed away last year at the age of 53.
"It was an enormous loss," Frigon said. "He was a huge part of the comic industry and the community here. No one is going to be able to replace him. All we can do is keep it going and do our best." The Twin Cities spring convention, which started as a one-day event in the late 1980s and was changed to a two-day show several years ago, has gone through a lot of growth just over the past few years. The event seems to be bigger and more popular and last year drew an estimated 6,000 fans to the State Fair grounds in St. Paul. It is organized and run by the Midwest Comic Book Association (MCA), with a one-day show in the autumn. Getting to this year's spring show was a bit difficult with road construction throughout the Twin Cities, but dedicated fans made it anyhow.
Jason Strangis is a freelance writer who enjoys superheroes, sci-fi, and attending comic book conventions. He can be reached at jwstrangis@gmail.com