The Weekly Static (9/1/17): A Look Back At Our Week In TV Land Happy September, people! We're entering my favorite time of the year: September, October and a wee bit of November — after that, I pretty much check out mentally for the holidays and run on auto-pilot fumes until around, say, January 3rd? Sounds about right.
But you didn't come here to talk about something best left between me and a quality therapist; you're here for our all-video edition of The Weekly Static, my adorably sincere attempt at comedy (fingers, toes, and every other available and crossable body part crossed) thinly disguised as look-back at the week that was in the land of television. The goal of The Weekly Static? Why, let me lay that out to you with my handy-dandy, simple three-point answer:
● To offer a blunt, honest perspective on a handful of random TV news posts from the past week that also highlights your relentless team of news-thirsty Bleeding Cool writers and the quality work they do.
● To spotlight a news item we might've missed that you might find interesting.
● To feed my ego with waves of praise, adulation, social media shares, pizza, Superman Funkos, and a plethora of Eisner Award nominations.
So before I drink up all the Hennessy ya got on ya shelf, I'm gonna introduce myself…by gettin' started.
Orlando Bloom Heads To Amazon For 'Carnival Row'
One Million Moms Runs 'Preacher' Spoilers In Attempt To Get AMC To Take It Off The Air
The Teen Titans Go! Bump: 'The Night Begins To Shine' Rocks The Billboard Charts
Netflix Wants To Get You High With Marijuana Strains Based On Original Programming
Bill Nye Sues Disney Over $9 Million In Science Guy Royalties
Arrow Season 6: A Hint At Michael Emerson's Mysterious Role
'Heathers' Teaser: Different Generation, Same High School Horrors
John Cena To Star In Animated YouTube Red Show 'Dallas & Robo' With Kat Dennings
(NOTE: I know I screwed up in this one — it was Sisters, not Trainwreck. I lower my head in shame.)
'The Simpsons' Fires Longtime Composer Alf Clausen, Wants To Go In Different Direction After 27 Years
Rick And Morty's Dan Harmon Did NOT Like Adult Swim's 'Game Of Thrones' Dig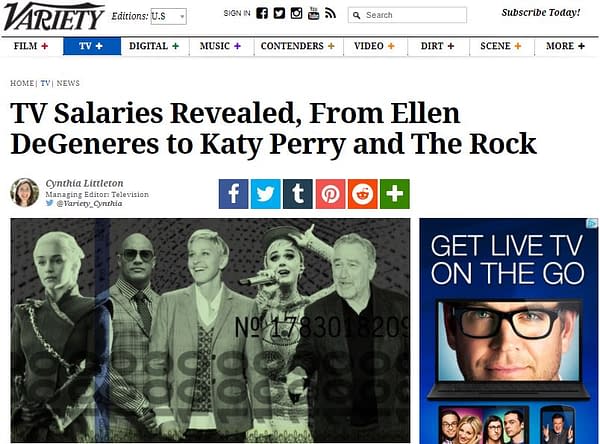 TV Salaries Revealed, From Ellen DeGeneres to Katy Perry and The Rock
"The explosion of demand for high-end TV series and the emergence of deep-pocketed new buyers such as Netflix and Amazon has been an enormous windfall for marquee talent. Just ask Robert De Niro, or David Letterman, or Katy Perry.

Stars with brand names are more in demand than ever as dozens of competing outlets search for anything that will help a show stand out from the pack. The new business models that govern streaming services have also had the effect of raising upfront payments to top talent because traditional forms of generating a profit from a hit series — through international sales and off-network syndication — are no longer an option."