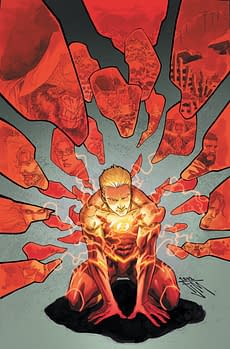 Next week, DC Comics ships a bunch of Issue 15 comics, even though ideally they should have been published in December. I made comment that they were late, before being schooled by a prominent retailer.
They are not late. Said retailer explains;
Regarding the DC #15's being late for next week, they are not. They were actually scheduled from the get-go to come out on Jan 2.

Because of the holidays, instead of cramming week 3 (Dec 19) and what would have been week 4 (Dec 26) books into one week before the holidays (Dec 19), DC took the smart route (in my opinion) of making the first week of Jan, which happens to be a five Wednesday month, into the 4th shipping week for Dec books. This keeps each week nice and balanced (other than 26th of course), and Jan, starting with the 9th, is a normal month, on a week by week basis, for DC.

On the other hand, Marvel crammed those two weeks into one (Dec 19), which is why they were so top heavy that week . And since Jan is a five Wed month, they will look light, compared to their normal shipping schedule, on a week to week basis.
Enjoyed this article? Share it!