When Wonder Woman Exposed A Nipple And Everyone Somehow Just Got On With Things
There's been a fair amount of fuss regarding Batman: Damned #1 – and not the fuss the creative team of Brian Azzarello and Lee Bermejo were anticipating, they were all prepared for the Joker Christ image on the final page to be the one that set everyone off. And no one batted an eyelid about that one.
Talking to retailers at MCM London Comic Con, their only regret was that DC Comics hadn't reprinted the first issue in the wake of all the fuss. And that everyone there appreciated Batman Damned #1 as an excellent, perennial comic book that they will be able to sell for decades – censored or uncensored – that's if DC lets them.
We talked yesterday about the severe embarrassment that DC Comics – and Warner Bros – had experienced when the fuss hit Stephen Colbert and Seth Meyers, there was a history of this behavior. With the new DC President taking firm action regarding currently published comics that portray valuable IP characters in states of undress, what about previous ones?
In the light of the Batman Damned fuss, some people asked what was next, would Wonder Woman be showing off her nipples?
Well, we've been there and done that. Also from Brian Azzarello, with Frank Miller and Andy Kubert, was this scene from mature readers title Dark Knight III: The Master Race in which Wonder Woman nursed her and Superman's son, Jonathan. A character who will be the lead in an upcoming series Dark Knight: The Golden Child by Miller and Rafael Grampa.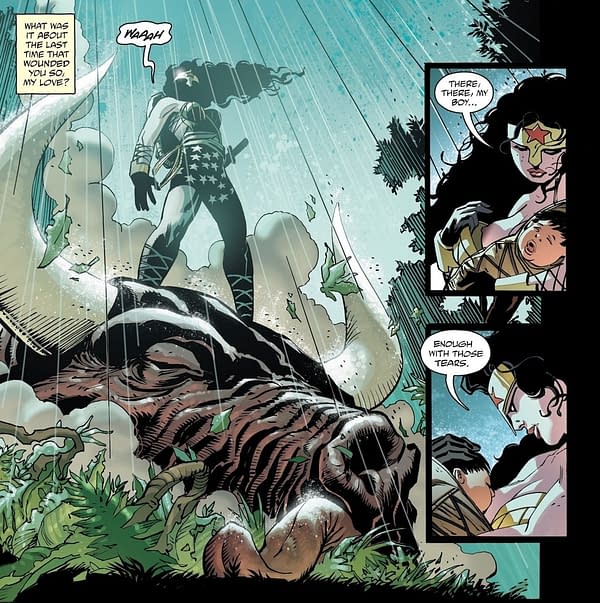 And horror of horrors, showed one of her nipples on the panel, so that Jonathan could suckle. Utterly non-sexual. But then, that was true of those scenes in Batman: Damned. So, to answer the question asked above, hardly anyone cared.
So, DC Comics, your move. Another wrenching of publication, pulping of printed comics, purging of the digital version and holding creatives, editors and publishers to account for a mature readers labelled comic from three years ago?
Or maybe the realization that the Mature Readers label covers this sort of thing. That no branding damage was done to Batman or Wonder Woman. And while some people – including at Bleeding Cool – may find it funny, others a moment of curiosity, and others embarrassment, it's just a blip. The overreaction is exactly that.
And currently, the only effect in play is Streisand's…