The new American English translations of the Asterix volumes from Papercutz were meant to be published in May and June, but were delayed by the publishing shutdown. Understandably, Papercutz changed the official date its Asterix launch from June 17th to July 15th.
However, it seemed that was too late to tell Diamond Comic Distributors, who distributed copies of Vol 1 and 2 to comic stores for the week of June 17th. Having noticed such, they have told stores to hold copies until July 15th. However, it appears that stores have been happily selling them without realising that they are not to. Oops.
The most recent Asterix volume Asterix: The Chieftain's Daughter was published in British English last year, and globally the best-selling comic book of 2019, will also be available in American English on July 15th, and the next Asterix Omnibus volumes will be offered in the August Previews catalogue. That date will also see the Free Comic Book Day version of the American English Asterix released as part of Free Comic Book Summer.
This is all part of an aim to bring the best-selling comic book in the world to the one nation that has never taken to it, the USA. Strangely the story of the remaining Gaulish holdouts against the Roman Invasion of France in 50BC, fuelled by a magic potion and an indomitable attitude, as they defend their way of life and travel the world making mock, has never taken off in the US. Maybe this time will be the charm?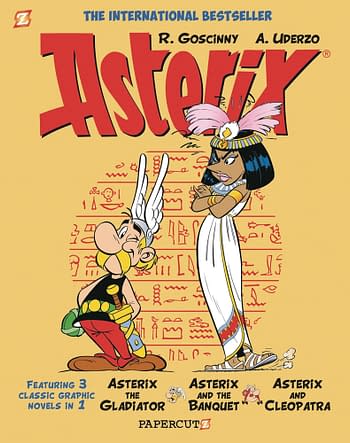 As to the new translations, it means that Anthea Bell and Derek Hockridge's original French-to-English translations have been bottomed drawer. Bell was famously one of the most skilled and accomplished literary translators in the world, who was skilled at rewriting work in other languages to preserve the same sense, tone and ideas, even when French puns or references didn; work in English – and generally writing better jokes to replace them. Bell's translations have been praised as an artform in and of themselves, and throwing the baby out with the bathwater to modernise a few references or make them easier for an American audience is going to be hard sell for Asterix purists, or those with a respect for the form.
Which means that the chief of the village Abraracourcix, previously translated in British English as Vitalstatistix is now Fisticuffix. Translation aside, it doesn't work as an ix. The druid Panoramix returns to his original French name, but loses the comedy of the more transgressive British translation Getafix. I am told that Papercutz have not bought the rights to use the chosen names from the British translation and had to use new ones. Which is why the Roman camp Totorum is now Butterdrum. It feels like a work of artistic vandalism, even when that includes restoring names to the original French version.
The original Asterix comic, and its British translation, were also steeped in a tradition of schoolkids learning Latin and many of the jokes play up on that. I didn't learn Latin at school, but I still got the jokes were when I read them, from context, and didn't feel left out. You'll see similar jokes made by the centurion in Life Of Brian, or reading Molesworth, it still works. The new translation rips a number of those jokes out, or adds copious footnotes when it has no choice to maintain them.
The original British translations are still available. You'll just have to buy them from British (or Canadian) stores…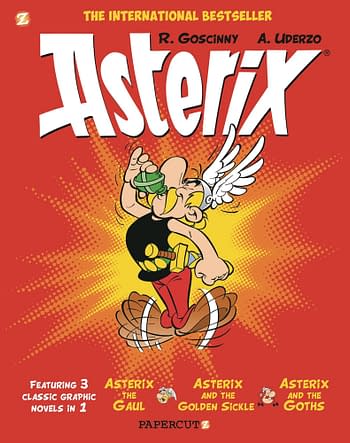 Enjoyed this article? Share it!