Return to Li'l Gotham with Batman Tales: Once Upon a Crime
Derek Fridolfs and Dustin Nguyen were on hand at the American Library Association meet for the launch of the DC Ink and DC Zoom line for younger readers.
With an audience familiar with their Li'l Gotham work, Nguyen mentioned that he told his editor Hank Kanalz that he was going to draw this comic anyway, whether DC Comics published or not.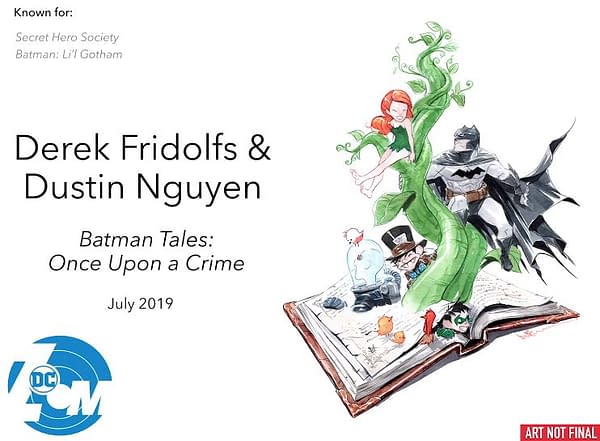 Derek took us through the stories in Batman Tales: Once Upon a Crime, to be published in July 2019.
With a Damian Wayne sick at home not able to join his father, reading and envisioning himself as Pinocchio — but not just as one who wants to be a Boy Wonder, but to be his own father.
Poison Ivy and Harley Quinn retell the Princess And The Pea in amongst the other prisoners of Arkham Asylum
Alfred in Wonderland with the Batfamily as prisoners of the Mad Hatter and Alfred must save them.
And a Batman in the Snow story, guided by a spirit in a Snow Queen story,