Rick Remender's Rejected Silver Surfer Pitch Explored Evil of Humanity
In a rejected pitch for a Silver Surfer story set in the future, Rick Remender would have revealed that Mephisto is behind Humanity's most evil tendencies.
The comics industry is more or less shut down due to coronavirus concerns, which leaves the comic book media with a big problem: what do we write about when there are no new comics? Thankfully, Rick Remender has come through as a one-man comic book media stimulus package, providing us with a near-limitless supply of articles about comics that might have been, even as we wait for the comics that hopefully one day will be.
So far, we've learned about his plans for taking over the X-books that never came to be after he told Marvel to drown in hobo piss in 2014 over the corporately-mandated Inhumans vs. X-Men. We've looked at his rejected pitch for a Spider-Man story bursting with bug-themed baddies and saw a veritable crap ton of artwork from his various creator-owned Image Comics series and the same from his Marvel days. We even got to read part of a Namor pitch that was basically Frank Miller's Daredevil: Born Again meets The Little Mermaid, and a wild Hearts of Darkness sequel pitch that would have seen the invention of Cosmic Ghost Rider, Doctor Strange in a polyamorous relationship with Clea and Brother Voodoo, and vampire Wolverine and werewolf Captain America doing their own version of Twilight, and a Ka-Zar pitch that saw the Savage Land relocated to Central Park.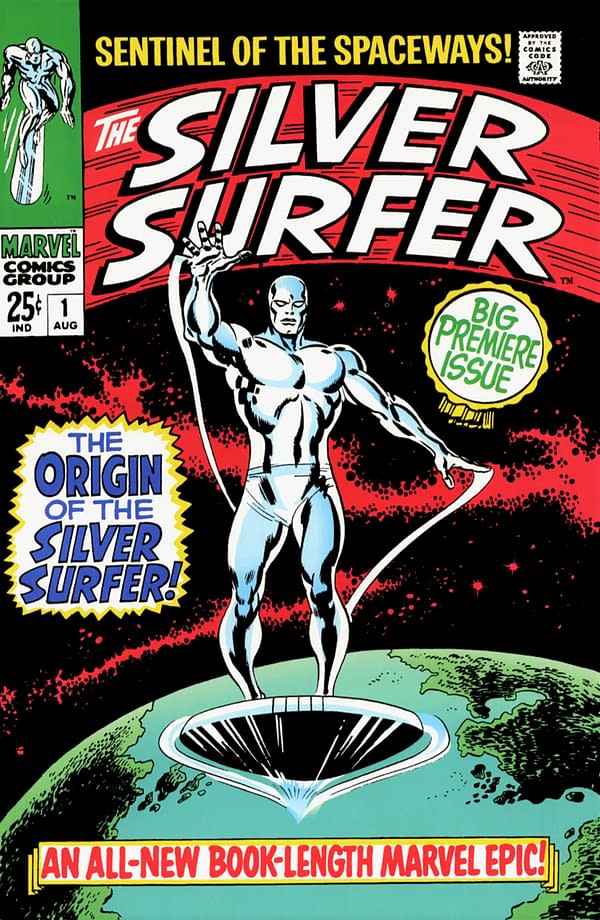 And the next Rick Remender comic that never was involves the Silver Surfer, and aims to bring the character back to his Stan Lee and Jack Kirby origins.
The story would have been set in the future after the Silver Surfer saved Earth from being eaten by Galactus and left Galactus as Earth's captive. Instead of being grateful for not becoming cosmic lunch, however, Mankind used Galactus to subjugate the galaxy. Now, the Surfer would have to ally with Galactus again to stop Mephisto, who is revealed to be behind everything humans have done. Check out the pitch below.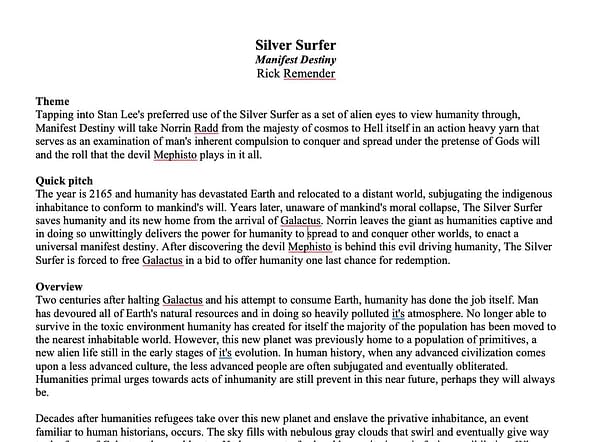 Sadly, if that pitch interests you, it's too late for it to ever happen.
Except, of course, in our imaginations. And for that, we thank Rick Remender and raise a tall glass of hobo piss in his honor. Cheers!