Rob Liefeld is Posting Cameo Videos and They're the Best Thing on the Internet
Cameo is a service where you can pay celebrities to record a personalized video message for you, and if you're thinking, "why would I waste my money on that?", well, let us tell you, we were right there with you… until today. Because today is the day we learned that superstar artist Rob Liefeld is one of the hundreds of celebrities available to record personalized video messages on Cameo. And they are, in a word… amazing.
Sadly, you cannot embed Cameo videos on another website. Believe us, we've tried. But you can watch a bunch of them at Liefeld's page, and we highly recommend you do. Sometimes, Rob is enthusiastically going off on tangents about sharing the same first name as someone, his Deadpool action figure collection, or whether or not Winter Soldier stole the concept of having a metal arm from Cable. Always, Liefeld is reminding viewers of all of the comic book characters he has created. Sometimes… he is wearing a Deadpool mask throughout the entire video.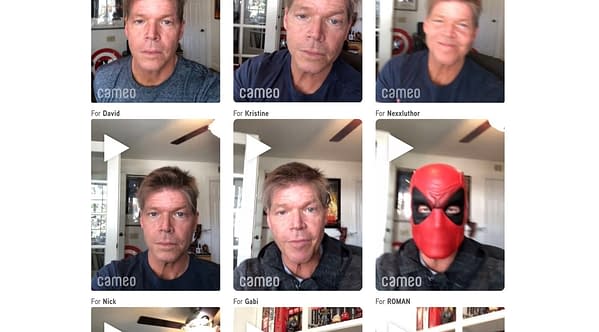 In case you think we're overhyping this, though we assure you we most definitely are not, we've transcribed a few select snippets from the videos for you.
"Hey! This is Rob Liefeld. This message is for Kamu. Ka-mu. Whatever," said Liefeld in a video recorded for comic creator Kamu Chandler. "You gotta tell me how to pronounce these things. But I'm gonna do both. Kaymu, Ka-mu, Mr. Chandler. Dude. Liefeld. I get Liefeld butchered all the time. Layfeld, L'field, Lie-field. Nobody ever says Liefeld. Nobody ever says it right."
Liefeld then went on to hype up the upcoming debut of one of Kamu's comics. In another video, Liefeld does a deep dive on boating and yacht rock.
"Rich, I am told to communicate to you, in no uncertain terms: it's a hard yes. Hard yes, for you, on fellowship weekend," Liefeld emphatically informed a very lucky gentleman named Rich. "This means, wherever you want to sit on that boat, it's yours. You got… you got the seat you want, Rich. Hard yes! Fellowship weekend! So much fun!"
Liefeld then went on to discuss the song Brandy (You're a Fine Girl) by the band Looking Glass. "Also, I'm asked to weigh in on a debate that you guys are having on Brandy. The song Brandy. Killer. I grew up in the seventies. Love Brandy. I am here to confirm for you, 100% — it is a yacht rock song. Anyone who tells you differently is crazy. It is a yacht rock song. James Gunn knows this. That's why he kicked off Guardians of the Galaxy 2 with it."
"Brandy. Baby. Yacht rock. Fellowship weekend. Sit wherever you want," Liefeld continues, and we want to once again assure you, we are not making this up and you can watch all of these wonderfully frantic videos for yourself or, even more amazingly, pay Liefeld to make one just for you. "Rich, you're the best. I gotta get back to making comic books with my good buddy Deadpool, Cable, Major X, Youngblood, all my comic characters. They're waiting for me right here."
Liefeld then pulls out a Deadpool keychain and holds it up to the camera. "Lil' Deadpool keychain says: 'sit wherever you want, Rich,'" Liefeld says, shaking the toy at the camera.
At this point, you are no doubt wondering how much money you would have to pay for one of these amazing videos. A hundred dollars? A thousand? Certainly, it would be worth it. But we want to blow your mind right now by telling you that Liefeld will make one of these videos for you for just twenty-five dollars. There is literally nothing worth spending your money on more than one of these.
Head over to Cameo before Liefeld realizes he ought to be charging 10 times this price for these videos, and hey, if you want to pay the Robster to record a personal message for your pal Jude Terror as a gift, please feel free. And remember: it's always fellowship weekend somewhere.