With Putin's alleged meddling in the American election still making headlines worldwide, fears of Russian-American hostility – or, with Trump soon to be in office, could that be collusion? – are reaching a fever pitch unknown since the height of the Cold War.
Who could have predicted such a strange and unexpected turn of events? Well, Matt Kindt and Trevor Hairsine, for one, who outline just what a Russified version of the West would like in Valiant's Divinity III: Stalinverse #1.
In the first issue of Valiant's winter event, we explore a world where not only did the Soviet Union never fall, it also managed to conquer America to become the globe's reigning superpower. And you can bet that they have their eyes on bigger fish than email hacks and rigged elections…
Beginning with KBG commando Komandar Bloodshot – an agent of the Kremlin that has no problems re-categorizing campus protesters as armed insurgents…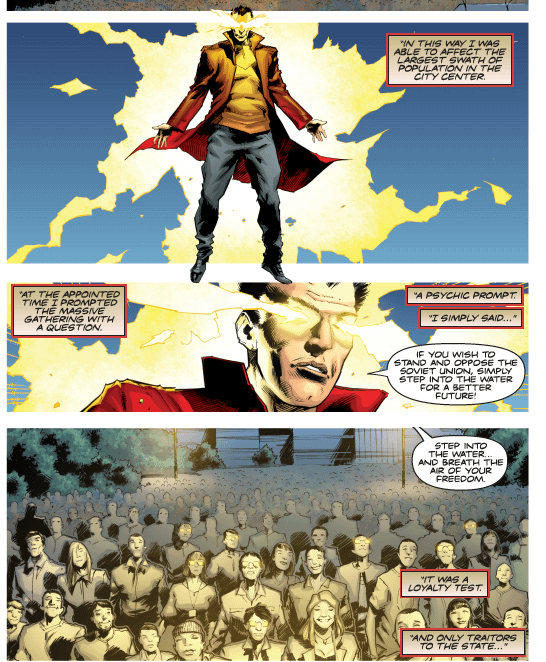 Or convincing a large part of the population of Shanghai that secretly harbors suspicions about the State's to drown themselves en masse, care of psychic interrogator Peter Stanchek…
And then escalating a war in the Middle East to take control of Afghanistan's oil fields…with Shadowman and X-O Manowar leading the charge, of course.
A glimpse of what could be…or what is to come?
Divinity III: Stalinverse #1 is on sale today from Valiant
Enjoyed this article? Share it!