ScamWatch: Fake GQ Mexico Editor Approaching Comics Artists
Afua Richardson is a major comic book artist, with work including being co- creator of Genius, artist on Black Panther. and regular comic book cover spotlights on Marvel, Image and Dynamite books. But this week, she posted a warning on Twitter about a fake GQ Mexico representative commissioning work from comic book artists. She writes;
WARNING TO ARTISTS – There is a fake Editor pretending to be Jose Forteza of GQ Mexico that has scammed over 20 professionals out of artwork. Do NOT give him your banking info. Mex.Vogue@Gmail.com is a fake account. They stole Hours of my life this week.
WARNING TO ALL ARTISTS

This is why you need a lawyer for EVERYTHING. I, along with dozens of other professionals were contacted by a fake Condé Nast account. They pretended to be Jose Forteza of GQ mexico and convinced me and MANY other artist to do work under a false contract and got free work and our banking information. Here was mine. I'm just…so tired. Maybe I'll sell the prints later. I just… im at a loss.
And posting images that she had created for this individual.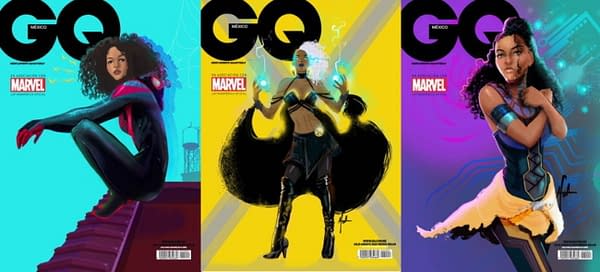 Adding to commentators;
yeah it takes some kind of sociopath to do this to so many people, it's hard enough for artist. but this.. has me super paranoid. But it shows a weakness in my business. I have to fortify.

my HEART hurts. I can't let this happen to other people. It makes you not what to draw anymore. They already stole enough
She's not the only person to be stung in this fashion. Anthony Piper and Ken Lashley were also reportedly approached and artist Ellie Maplefox was made aware of her identical situation by Afua's posts. Afua has also decided to make the images available as prints, to try and claw back some of the time spent. And also concluded,
I was saying yesterday on facebook that it's time I prioritized on that creator owned project I'd been working on for a while. There will never be a right time besides the time I have right now. :) I have to believe it will work
Which is definitely true. It's been a while since we have seen anything so brazen at Bleeding Cool, and smacks of the likes of Josh Hoopes, who also managed to con a number of publishers and creators. If you see anything else like this, please let us know at richjohnston@bleedingcool.com.