One of the best parts of any major convention from a collector's standpoint is walking around the booths of vintage comics dealers and checking out what they've got. It's not something that always gets the coverage it deserves amidst the spectacle of a show like the San Diego Comic-Con, and that's too bad. Even if you're not (yet) a collector of vintage comics, it's still very cool to see what the heroes on today's big screen looked like on the vintage paper of 70+ years ago. This year, Bleeding Cool sent out vintage comics expert Lauren Sisselman to find out who had what on display at the show.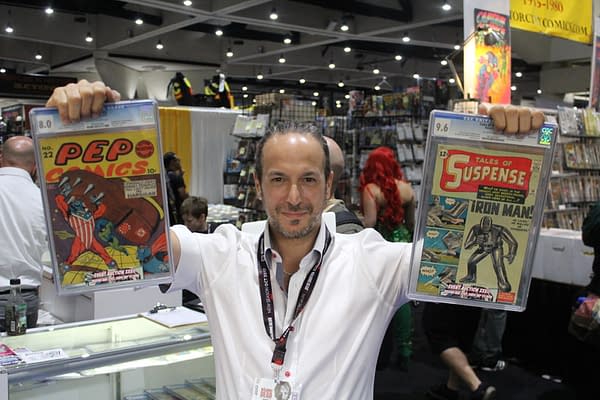 Metropolis Collectibles and its sister auction site Comic Connect are names familiar to most Bleeding Cool readers who collect vintage comics, for their impressive auction offerings and record sales. While co-founder Vincent Zurzolo and Lauren talk over major keys such as Tales of Suspense #39 (first appearance of Iron Man) and original artwork such as a Steve Ditko page from Amazing Spider-Man #6 (first appearance of the Lizard), Lauren — the world's biggest Archie fan — is about to get a good look at one of her favorite comic books in the world: the highest graded unrestored copy of Pep Comics #22, the first appearance of Archie, Betty, and Jughead. Enjoyed this article? Share it!