A new Wednesday, a new look at the reborn Marvel Universe, even as Secret Wars still plays out.
The new launch of Karnak by Warren Ellis and Gerardo Zaffino creates a new group of bad guys for the All-New All-Different Marvel relaunch, IDIC, the International Data Integration and Control. And chance it could be headed up by Dirk Anger? The final issue of Weirdworld, as well as showing us the end of the Battleworld, also shows us the beginning of the new world. And how, somehow, the Weirdworld survives. And where will it be located on the new Marvel Earth? The Bermuda triangle of course. But how did it get there? Invincible Iron Man #2 may have an answer, as Doctor Doom wields a magic artefact… Didn't you hear, Iron Man, they come in six packs. But how did it come to Earth? Could Weirdworld, Miles Morales, Old Man Logan, The Maker and more have come across in a similar fashion?
Oh and as for Iron Man having all his different suits in one suit, that also means, puffer frog style, that he's got the Hulkbuster in there too.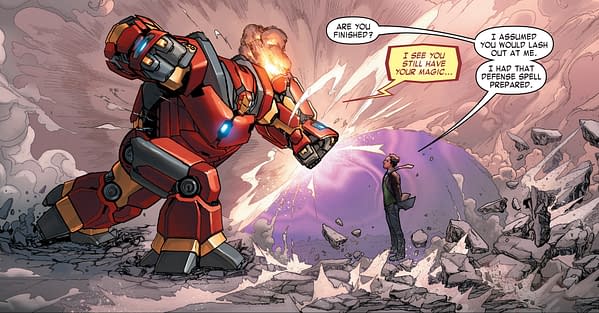 Sweet. So the Inhumans and others are after the skyspears, one that has landed in Central Park…. As they have an interesting effect on Inhumans… and possibly Chitauri too. Could they have also slipped through the cracks? Could be something the Power Broker might get involved in, as in the new Ant-Man comic book, he's got an App for that.
We know that Ant-Man is getting down and dirty with the bad guys again… and in this issue we see what eight months of that led to.
While in Amazing Spider-Man #2, we get a look at how else Peter Parker has changed the world in those eight months. Or basically creating a super secret state where everyone can spy on everyone else. Look for Spider-Man to increase the divorce rate worldwide… subconscious revenge for what happened with him and Mephisto perhaps? Maybe that slipped through the cracks too.
As may have also explained the return of the previously thought dead Rhino… and his own previously thought dead wife.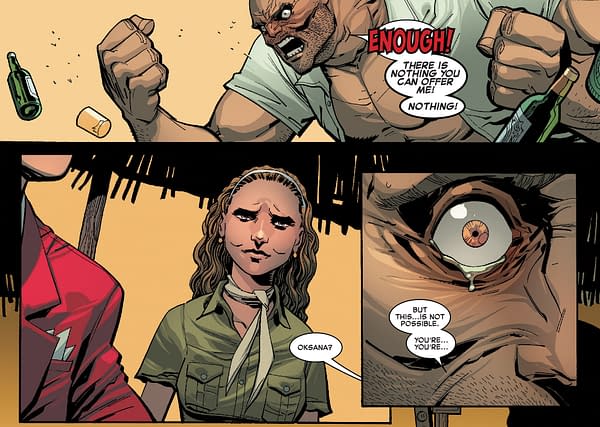 It's the All-New All-Different Marvel universe! Anything is possible!
Comics courtesy of Orbital Comics, London. Who have a Brooklyn Brewery Defend Comics event this Friday, with Brooklyn Defender IPA, Khary Randolph and Andy Oliver. £5 tickets with beer and limited edition glass, £10 to make it bottomless for the night. Tickets here.
Enjoyed this article? Share it!