Self Publishing Without A League Of Volunteers
July 1993 is when I first began my professional life in comics, humble beginnings in a flea market armed with my own collection from the past fifteen or so years. My only competition was Forbidden Planet as the other two shops in Dublin had recently closed their doors, but still in my early twenties, I had youth and positive energy on my side. A year later I moved from Zenith Comics in the market to Sub City on Exchequer Street just off a main thoroughfare, still learning the ropes as I went along. I had done a year's business course so at least had some notion of running a retail unit and I think the timing was very much on my side. The early nineties just after Lee and Claremont's X-Men and a year before the shit hit the fan with Marvel taking up their own distribution sending DC, Image and Dark Horse into exclusive deals with Diamond and essentially putting a lot of other distribution centres out of business.
Back home in Dublin people were ready for something new, a rebel force to the Planet's Empire or at least that's how I liked to view it in my romantic innocence!
So for many different reasons the store was an instant success and really we haven't looked back since. By the early noughties I began to question what it was I really wanted to do and for the first time put my energy into something besides the shop, a four year course in Social Science. That, mixed with a desire to do more than read comics but produce something whether as a writer or publisher led to my first venture in the guise of Freak Show, an ambitious fifty issue series set in New York during the 1950's. This is where I really began to learn about the world of comics, the one behind the curtain.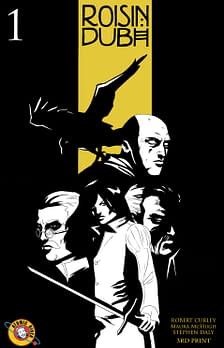 Publishing your own book requires a lot of attention and detail on many levels and it's rare that any one person will be a master of all areas of self publication, me included. What I had on my side more than most was my connection to the comic world in Ireland and my already established links with Diamond, an entrepreneurial spirit and some business know how. What I was lacking at this stage was the artistic skill required to pull off a fully professional book.
Freak Show was a full steam ahead example of one taking the reins in hand and running (albeit blindly) toward the finishing line. I wrote with excitement and enthusiasm, my head filled with a thousand ideas for my characters, mixing my love of Americana, history, pulp, comics, B movies and, well you get the idea. I have a great fondness for all the characters I created at that time and I intend to come back to them one day, this time with a better plan which places the finished product ahead of simply finishing the book.
I don't want to paint a bleak picture here. I'm proud of a lot of what was done on Freak Show, the characters themselves have depth and I learned a lot (even if I didn't realise it at the time) about what it means to become a genuine creator and self publisher and how important it is to know your own limitations and not expect to take over the world in one self published act. You may feel you have found your voice but that doesn't mean the world is ready to listen.
The biggest impact Freak Show was to have on the comic world was the artists involved over its three year lifetime, Declan Shalvey (Venom, Thunderbolts), Will Sliney (Star Wars, The New Defenders), Stephen Mooney (Angel) and Stephen Thompson, all of whom went on to break into the commercial world of comic books and work for the likes of Dark Horse, Image, Vertigo and Marvel so I guess at least I had a good eye for talent. My own personal highlights were working with Sean Phillips, Duncan Fegredo and Mark Buckingham all of whom did covers.
After two issues Diamond agreed to list our book in its previews catalogue and for the next year or so the future looked bright, between Diamond, self distribution and conventions each issue was selling around 1,000 copies which is no mean feat for a self published book with no major backing. After a year or so the steam began to run low and it was hard to keep up a monthly schedule and when I added all the costs up it began to become obvious that there was more money going out than coming in, printing, artist costs, shipping, flights and hotels to conventions all add up and quickly throw in the mix Diamond's cut on each comic and retailers 30 – 50%% take on your book and its easy to see how the rule of supply and demand comes crashing down around one's ankles.
Three years, twenty issues and five trades later and I decided to take a break from writing and publishing not sure where I was going next. This proved to be the best thing I had done to date, reassessing what it was I wanted from writing and publishing, why I was doing it and where I wanted to take it. And so, Phase two, Irish comics! All based in Ireland creating an expansive universe full of all kinds of characters and using Irish history and mythology as a backdrop.
I had been asked before why I never wrote about Ireland and the question stuck with me. In Ireland we have been spoon fed a diet of American culture followed by British and then a very one sided history of our own country, all maudlin songs and starving victims. I'm not against other people's cultures, I sell, read and collect American comics as a way of life but it's important to have a link to one's own identity.
I had scaled back what it was I wanted to achieve and who I wanted to reach and was happy to do a 500 issue print run and if it sold, great! If not it would not break the bank. I had decided to cut out expensive trips to England and concentrate all my funds on the actual books. This time around I approached the writing in a different manner, I took my time and edited the books! Finding a subject that people are interested in and something that you want to write about is a rare combination, if you want your book to sell beyond a few friends and fellow enthusiasts of said cult topic you do need to think about what appeals to an audience but still allows you to stay true to your own goals and ideals, that's not to say you cant happily go on producing whatever genre of work you like but it should be taken into account when considering commercial impact.
It's a difficult juggling act balancing exposure against basic economics, this is a funny business where you could be selling a thousand copies of your book through your own self distribution, breaking even or making a small profit or you could be selling two thousand through a larger distribution company but when all the costs are taken on board you're losing money even though from the outside it looks like you're doing better. The power of quantity only really comes into play if you're selling beyond a certain point which means your printing costs come down per unit. The last two years has seen League Of Volunteers sell close to 3,000 copies with Roisin Dubh and Jennifer Wilde selling around 1,000 each and new titles Crimson Blade and Noe selling well so far, most of these sales have been in Ireland with some through UK shops and the web site, it's enough to pay the bills and break even with the hope that the trades will bring the books to a wider readership through book stores and hopefully through Diamond.
My main advice to people who want to self publish (obviously wanting to make it big in the mainstream is something different) is to treat it as a life long or at least long term project, to expect ups and downs both from a business perspective and an artistic one. I give the same advice I was given a long time ago as a singer in a band, don't give up the day job!