Spawn #307 by Todd McFarlane and Philip Tan was originally planned for publication this past week but is currently caught up in the current global situation, and delayed indefinitely. This is the planned variant Francesco Mattina cover to the issue. Mattina has, in recent years, gained the reputation of showing his influences rather heavily on his sleeve. Some have seen something very familiar about this comic book cover as well.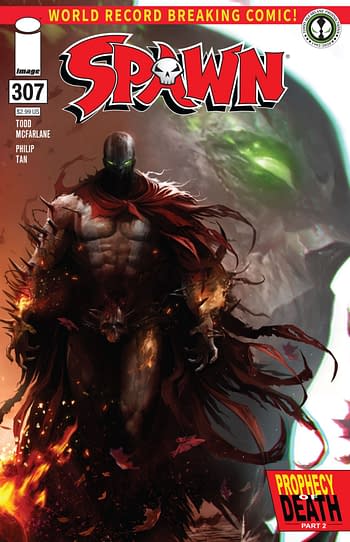 It was familiar to one Daniel Partouche, who commissioned the one-of-a-kind sketch cover on a blank Spawn cover of Spawn #265 by Johnny Desjardins a year ago. Partouche owns One Stop Comic Shop, and has had Johnny Desjardins create several store exclusive variant covers for his online store and eBay. He also offers sketch cover commissions by Desjardins through his site. The commission (below) was an acrylic spawn headshot on a blank cover was commissioned for Johnny to do in 2018. It was graded by CGC and then sold on eBay. It is currently being resold on Amazon by Arts N Sports.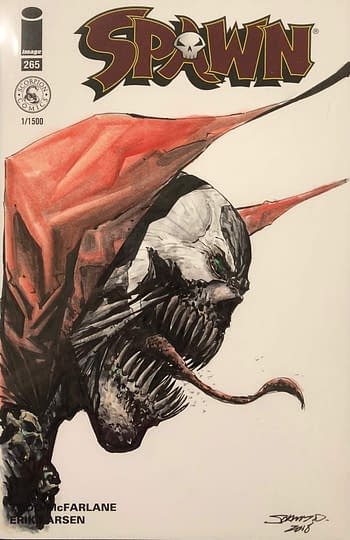 Partouche sees that the two covers line up together. But is there evidence of this? Well, it does need a little cutting and pasting. Breaking a jaw and rearranging it. Drawing a new eye socket. You know, the usual, and then lining one up against the other.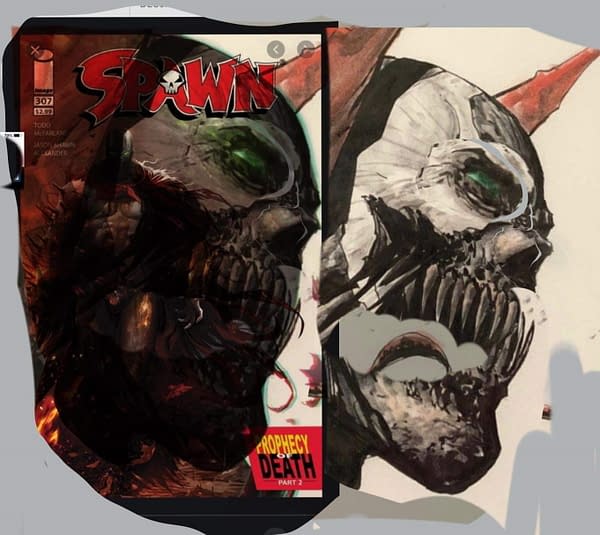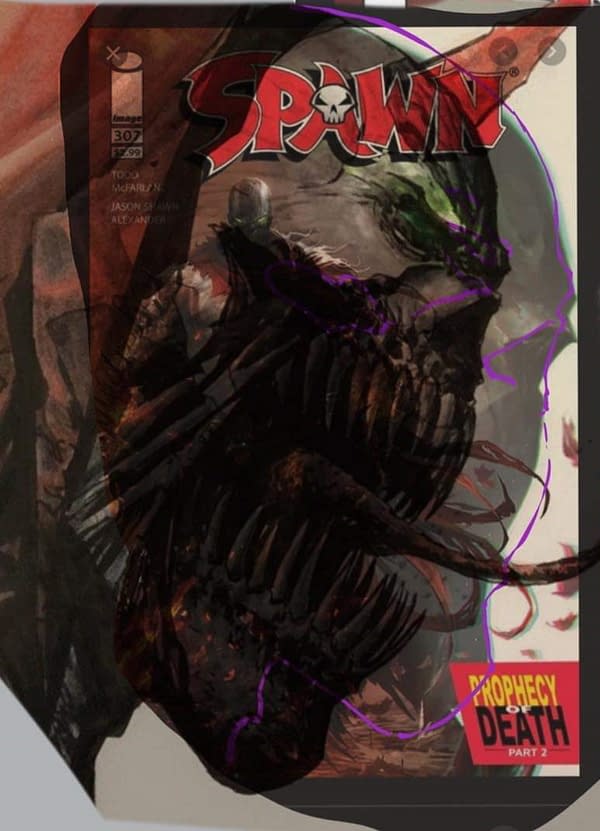 Do you see the similarity and line-up? The thing is, Francesco Mattina does appear to have form and Bleeding Cool has been collating and collecting a fair few examples over the years. But those were a bit more obvious and needed a lot less cutting and pasting. That is the kind of thing that might most put doubt into people's minds. Here's the solicitation for what would have been last week… and may be again when May comes around.
SPAWN #307
(W) Todd McFarlane (A) Philip Tan
"PROPHECY OF DEATH," Part Two: SPAWN like you've never seen it before! Fan-favorite artist PHILIP TAN and SPAWN creator TODD McFARLANE explore an epic tomorrow. The ramifications of Spawn's war with Heaven and Hell have created a nightmare future… A future that threatens to destroy everything Al Simmons has fought to defend.In Shops: Apr 15, 2020 SRP: $2.99
What is Separated At Birth?
Separated At Birth used to be called Swipe File, in which we presented two or more images that resemble each other to some degree. They may be homages, parodies, ironic appropriations, coincidences, or works of the lightbox. We trusted you, the reader, to make that judgment yourself. If you were are unable to do so, we asked that you please return your eyes to their maker before any further damage is done.
The Swipe File didn't judge; it was interested more in the process of creation, how work influences other work, how new work comes from old, and sometimes how the same ideas emerge simultaneously as if their time has just come. The Swipe File was named after the advertising industry habit where writers and artist collect images and lines they admire to inspire them in their work. It was swiped from the Comic Journal, who originally ran this column, as well as the now-defunct Swipe Of The Week website.
Enjoyed this article? Share it!