Literally a Shotgun Wedding in Action Lab's Going to the Chapel
David Pepose writes for Bleeding Cool,
What do a conflicted bride, her dysfunctional family, a gang of Elvis-themed bank robbers, and one relentless sheriff have in common?
They're all about to discover that love is the ultimate hostage situation.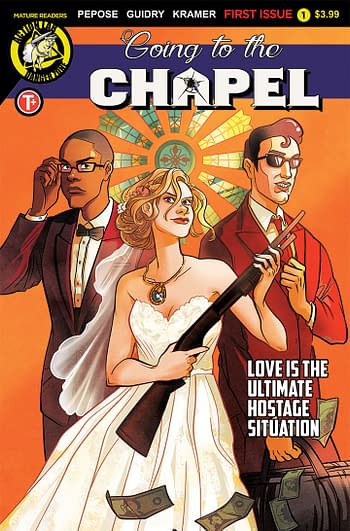 My name's David Pepose, and if you thought I ruined your favorite childhood comic strips in my Ringo Award-nominated series SPENCER & LOCKE, just wait till you see what I do to the institution of marriage in GOING TO THE CHAPEL, in stores this fall from Action Lab: Danger Zone. Because ladies and gents, this isn't your ordinary romantic comedy — this is a story of brides, bullets, bouquets, and big scores, and in a Direct Market filled with capes and tights, you'll never see anything as action-packed and wildly offbeat as this.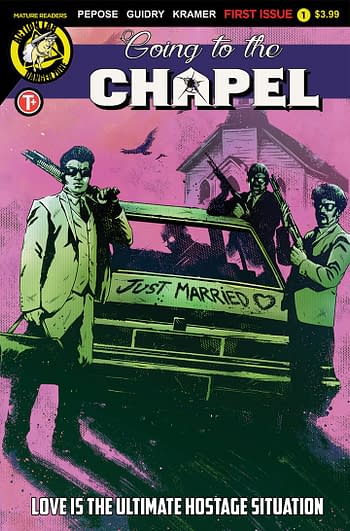 You see, the wedding was supposed to simple — the newspapers trumpeted the nuptials of heiress Emily Anderson and her longtime sweetheart, architect Jesse Moore. The only snag in this plan? This is a bride grappling with a serious case of cold feet — but before Emily can pull the trigger on her beau-to-be, the whole ceremony is hijacked by the bank-robbing bandits known as the Bad Elvis Gang. But when the heist is blown and the chapel is surrounded by the police, our bride is forced to become the unlikely ringleader of her own hostage situation to get everyone out in one piece.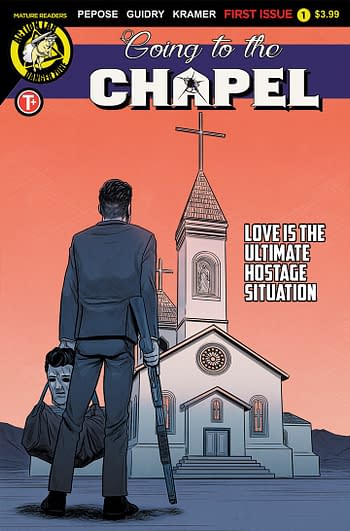 Teaming up with artist Gavin Guidry (The Death Defying), colorist Liz Kramer (Threader), letterer Ariana Maher (James Bond 007), and cover artists such as Lisa Sterle (Long Lost) and Maan House (The Devil Within), you might be asking how we wound up here. And the answer is simple… because nobody else had the stones to try it before. And in some ways, it makes sense — comics is an industry with limited margins that often leans toward nostalgia, returning to the safe and familiar touchstones rather than shaking the boat.
But we're not here looking to preach to the choir — we're aiming for new converts instead. It's why we're taking an irreverent, action-packed spin on an often-neglected genre in the Direct Market; it's why we're doubling down on a sprawling and diverse cast, with a female lead and two people of color as her romantic interests. Because at the end of the day, we're looking to bring as many readers to the table as possible — because comics need to be additive with their audiences if we ever hope to survive. Because diversity, innovation, and risk-taking is the only feasible path forward for comics, on a moral, financial, and creative level.
Yet beyond the creative challenge of locking 15 cast members in one singular setting, there's also a human interest to GOING TO THE CHAPEL, beyond the lofty industry aspirations. Because love isn't always as simple as fairy tales make it out to be — and neither is the promise of lifelong commitment. There is so much to be said about romance, heartbreak, and reconciliation, about navigating the pitfalls of family, and the leap of faith it takes to say "till death do us part." At the end of the day, GOING TO THE CHAPEL is the love story everyone can relate to — and that's before the gunfights, car chases, and things that go boom.
So if you're at Emerald City Comic Con or C2E2 this month, swing by me and artist Gavin Guidry's tables to get your convention-exclusive sneak preview of our first issue by cover artist Lisa Sterle — because like I said, this is a wild, action-packed event that you will definitely not want to miss the RSVP for. If you like action, comedy, romance and heart, be sure to sign the guestbook for GOING TO THE CHAPEL — and try to catch the garter, not a bullet.