If your alien ex-boyfriend showed up out of nowhere and started telling you about a secret Skrull conspiracy, would you believe him? If you're Kate Bishop in this preview of next week's West Coast Avengers #8, the answer is apparently no. In fact, Kate can barely keep her eyes open…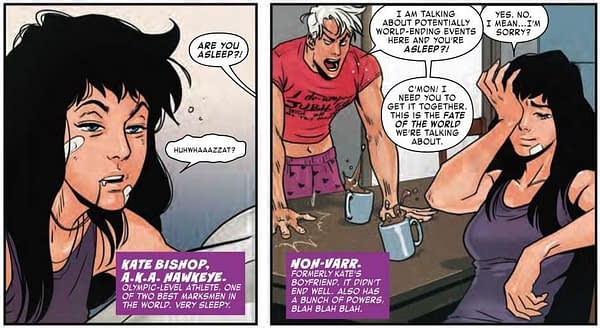 Marvel Boy, of course, is not pleased with this reaction. How many times have the Skrulls caused trouble for Earth's heroes? You'd think they'd be a little more concerned. Unfortunately, the West Coast Avengers appear to be a bunch of Skrull deniers.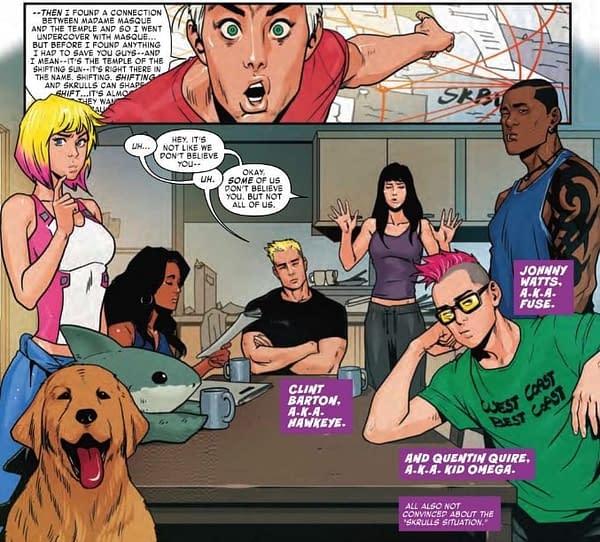 It seems that Kate and her team are willing to believe something is going on. But there's simply no evidence that it's Skrulls. All of this is just an illegal Skrull witch hunt!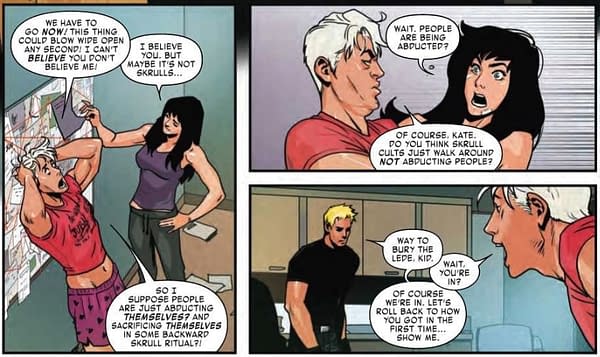 Come on, Kate. As a reality TV star, you'd think she'd be more aware of the power of synergy. The Captain Marvel movie is hitting theaters soon. Of course it's Skrulls!
West Coast Avengers #8 hits stores next Wednesday.
West Coast Avengers #8
(W) Kelly Thompson (A) Lim, Gang Hyuk (CA) Eduard Petrovich
• KATE BISHOP's ex NOH-VARR is back in town in a big way and needs her help with something weird. Do exes ever come back for normal reasons?! (They do not.)
• That's right, something foul is afoot in the City of Angels, and surprisingly, it's not the newly formed Masters of Evil West Coast (OR that Dutch Oven guy).
• No, this reeks of the Hollywood Elite with a seriously gross tinge of "cult," and it will take all of the West Coast Avengers working together – uncomfortable love triangles and personal problems be damned – in order to save the day. Sexy undercover mission, here we come!
• ALSO! Did GWENPOOL find and adopt a baby land shark? Why, yes, yes she did.
Rated T+
In Shops: Feb 27, 2019
SRP: $3.99
Enjoyed this article? Share it!