Skybound Finds Walking Dead Replacement in the Time-Traveling Adventures of a Doctor
Skybound's hit series The Walking Dead may have come to an abrupt end this month, but the comic book publisher has thankfully found a suitable replacement. Releasing Friday at San Diego Comic-Con, Skybound presents the adventures of a time-traveling doctor who accidentally ruptures the spice-time continuum and gets sucked into a portal, transporting him to different historic and futuristic eras. Of course, we're talking about Doctor Thaddeus Pepper, the man who created Dr Pepper soda.
This past April, Dr Pepper finally unveiled the man behind the can, Doctor Thaddeus Pepper, who combined 23 unique flavors that make up Dr Pepper way back in 1885. He was then sucked into a flavor 'pour-tal' and now travels through space and time, treating different characters with ice-cold Dr Pepper along the way.

The Adventures of Dr Pepper will be released to the comic book-loving masses tomorrow, July 19, at Comic Con in San Diego. Attendees can look for hard copies being handed out, and check their iPhones for a digital copy via AirDrop. Dr Pepper fans that are unable to attend Comic Con can check out a digital copy by visiting Dr Pepper's Instagram this Friday to download the PDF.
Dr Pepper (the beverage brand, not the time-traveler) sent us an advance copy of the comic, from the creative team of writer Kyle Starks, artist Luca Claretti, colorist Mike Spicer, and letterer Pat Brosseau. And it's an action-packed issue, eschewing traditional methods of comic book decompression as Dr Pepper travels to several different eras, meets his new companion, a beverage-cooling robot named 23, and develops his catchphrase: "so nice to treat you." And all of that in just 12 pages of story… can we get Dr Pepper to edit comics at Marvel and DC next?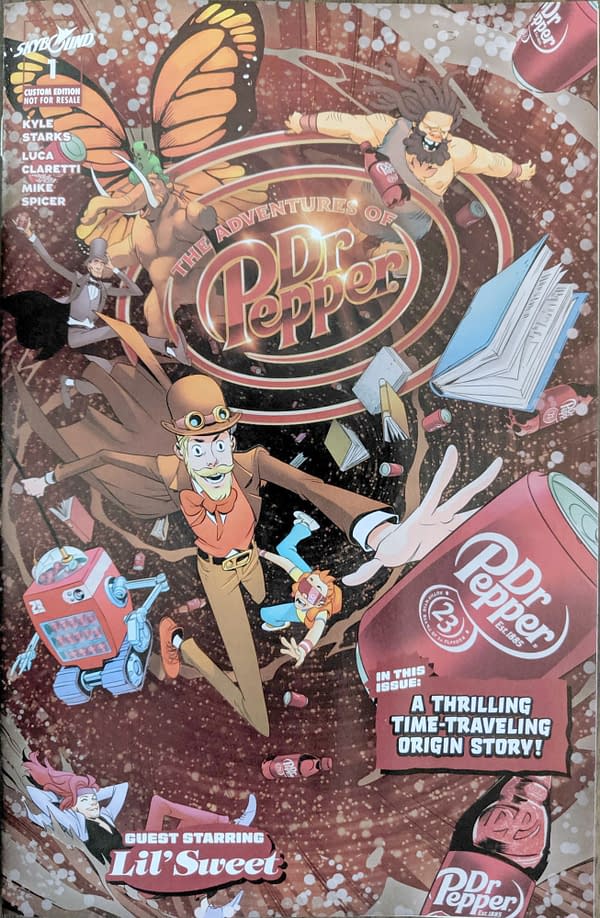 If you're at San Diego Comic-Con this Friday, you can pick up a copy of the book, but if you're not, you can download a digital copy on Instagram.