Why Can't The X-Men Sleep At Night? (X-Men #7, Giant-Sized X-Men #1, New Mutants #8, X-Force #8, X-Men/Fantastic Four #2 Spoilers)
Today's $4.99 X-Men #7 introduces a possible new issue to Krakoa. As we meet Melody Guthrie, waking up, with an issue.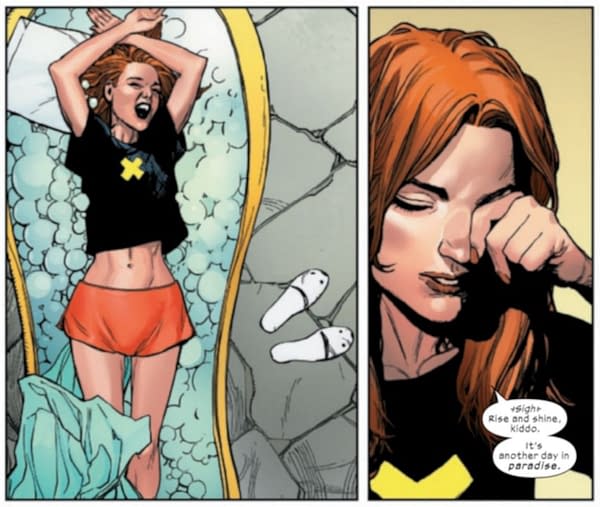 Not just that she was de-powered by M-Day. But that she can't sleep properly.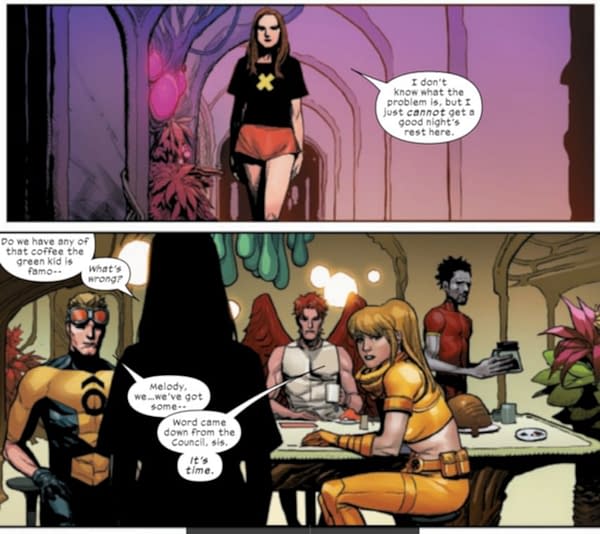 And it seems she is not alone. Over in X-Force #8, Colossus and Domino are discovering similar.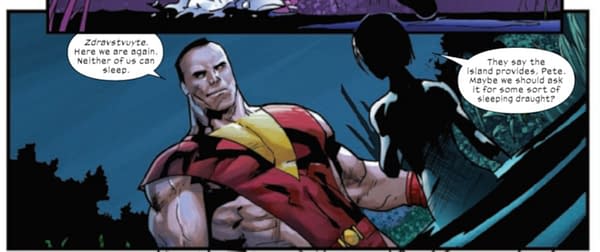 Could it just be the nightlife on the island keeping everyone up? New Mutants #8 know that the island always has a party going on somewhere.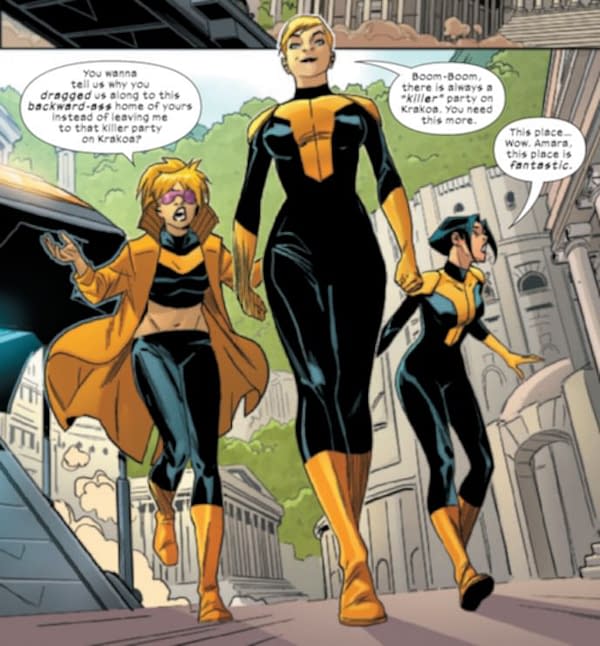 Over in X-Men/Fantastic Four #2, Doom's get-togethers are far more civilised.
But Piotr has rather an extreme solution.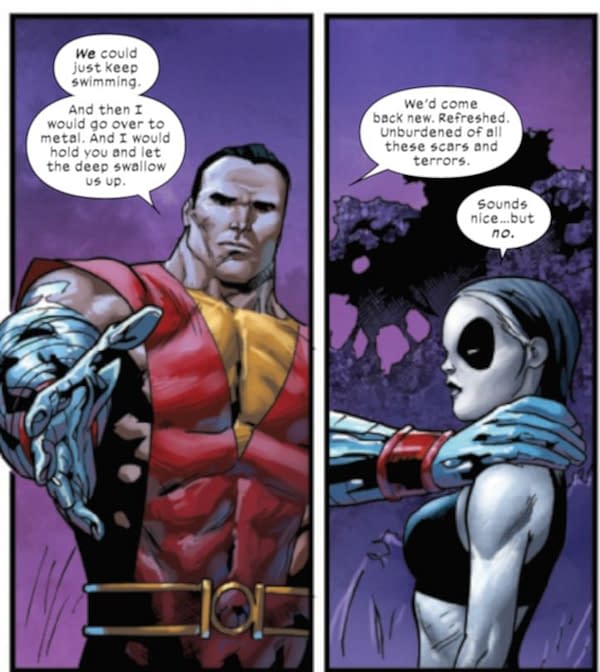 Suicide is painless, Piotr? What if everyone just killed themselves to get a fresh start? X-Men #7 knows that's a problem as well…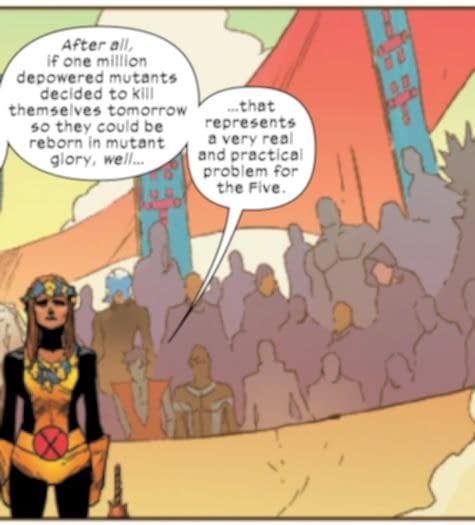 Or you could just go with Storm's solution of being attacked by the Children of The Vault…
That'll get everyone to shut the hell up.
X-MEN FANTASTIC FOUR #2 (OF 4)
(W) Chip Zdarsky (A/CA) Terry Dodson
The world has been re-shaped by the X-MEN. But you can't reshape a world without encountering its true master … DOOM..
Rated T+In Shops: Feb 26, 2020
SRP: $3.99

X-MEN #7 DX
(W) Jonathan Hickman (A/CA) Leinil Francis Yu
MUTANTS ARE FOREVER!
The Resurrection Protocols have changed everything for Mutantkind. NO MORE can humans' hate and fear take their lives from them. But… what ELSE has it changed?
Rated T+In Shops: Feb 26, 2020
SRP: $4.99

NEW MUTANTS #8 DX
(W) Ed Brisson (A) Marco Failla (CA) Rod Reis
Deep in Shi'Ar space, the NEW MUTANTS have found themselves dead in the middle of an intergalactic power struggle. They're probably equipped to handle that, right? And back on Earth, the young mutants of Krakoa look forward to the future…whatever it may hold.
Rated T+In Shops: Feb 26, 2020
SRP: $3.99

X-FORCE #8 DX
(W) Ben Percy (A) Oscar Bazaldua (CA) Dustin Weaver
MISS FORTUNE STRIKES!
Domino's luck seems to be changing… Can she find the source of her misfortune before it costs lives all over the world? And has Colossus healed enough to help her… or even himself?
Parental AdvisoryIn Shops: Feb 26, 2020
SRP: $3.99

GIANT SIZE X-MEN JEAN GREY & EMMA FROST #1 DX
(W) Jonathan Hickman (A/CA) Russell Dauterman
The first of five essential X-tales specially designed to showcase some of Marvel's best artists! First up, Russell Dauterman, superstar artist of THOR and WAR OF THE REALMS! When Storm is in danger, it's going to take two of the most powerful telepaths on Earth working together to make things right. Jean Grey and Emma Frost, together again for the good of Krakoa!
Rated T+In Shops: Feb 26, 2020
SRP: $4.99
Giant-Size X-Men Jean Grey & Emma Frost #1, X-Men #7, New Mutants #8, X-Force #8 and X-Men/Fantastic Four #2 are out today from Marvel Comics… I bought mine from Piranha Comics in Kingston-Upon-Thames. Piranha Comics is a small south London comic store chain with a small south-east store in Kingston-Upon Thames's market centre, which runs Magic The Gathering nights on Fridays, and a larger south-west store in Bromley, which also runs Magic nights and has an extensive back issue collection and online store. If you are in the neighbourhood, check them out.