Yesterday, we reported on Marvel's big announcement that J.J. Abrams will co-write a Spider-Man comic with his 20-year-old son Henry Abrams, in September, with artist Sara Pichelli and colorist Dave Stewart. Or, as we put it:
It can take decades of hard work to make a name for yourself in the comic book industry, rising through the ranks until you finally have a chance to produce stories about one of the industry's prestigious flagship characters. Or, you could just be a famous movie director and his 20-year-old son and skip right to the big time. *cue America the Beautiful*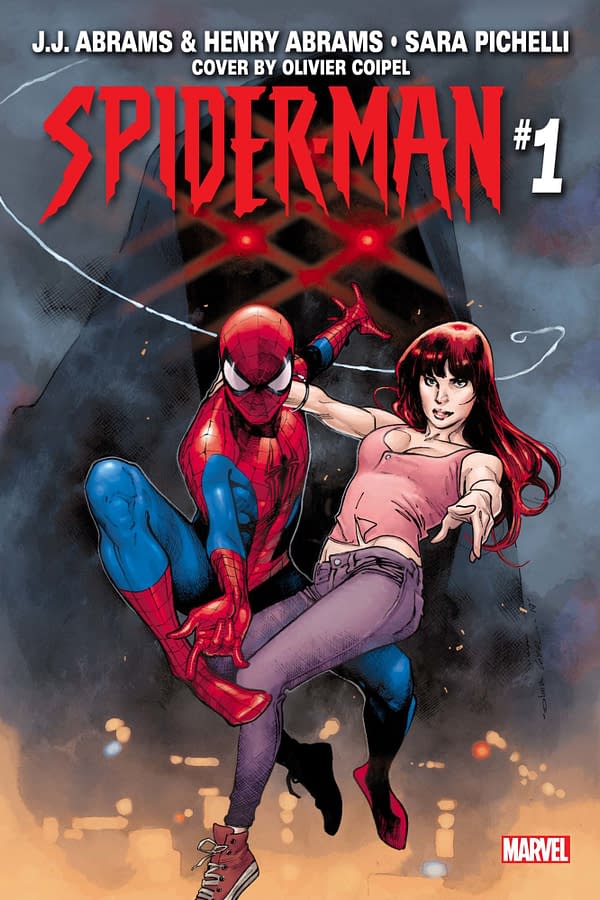 While Marvel is clearly excited to get J.J. Abrams' name on a comic, something they've been chasing down for at least ten years, Abrams appears to be simply discussing the outline with his son, who will do the actual writing of the comic.
It's been wild for me from having worked with writers for many years to work with my son on something and to get pages back after we've talked through an outline.
Henry Abrams has no comic writing experience and even acknowledged the "undeniable privilege" of getting a highly coveted gig writing one of the most popular characters in the world for the number one comic book publisher purely because of who his father happens to be in his interview with the New York Times.
That undeniable privilege hasn't gone unnoticed by some veterans of the comic book industry, with John Layman writing on Twitter:
Making comics since 1995. Deliver quality scripts on time & hassle free. Have two Eisners & seven (comic book) NYT's best sellers. Pursued Marvel work since mid-2016 & was told this year, credible source, "Marvel won't hire you."

Congrats to JJ Abrams' kid on new Spidey gig!

— LAYMAN (@themightylayman) June 20, 2019
And receiving replies, such as from Comic Spit's Tim Midura:
Have you tried being the son of a famous director?

— Tim Midura (@timmidura) June 21, 2019
Or Joseph P. Illidge:
You know how the world works, my friend.

— Joseph P. Illidge (@JosephPIllidge) June 20, 2019
Only too well, Joe!

— LAYMAN (@themightylayman) June 20, 2019
Or Paul Jenkins:
Yup. Because as it turns out, quality and professionalism are not the requisites for employment.

— Paul Jenkins (@mypauljenkins) June 20, 2019
To which Jamal Igle replied:
Oh, come on.. do you really think it's who you know that gets you hired? what about proven comics writers like CM Punk and Max Landis?

— Jamal Yaseem Igle (@JAMALIGLE) June 20, 2019
And the conversation continued:
Don't forget Ron Zimmerman!

— LAYMAN (@themightylayman) June 20, 2019
Be glad.

— Jamal Yaseem Igle (@JAMALIGLE) June 20, 2019
Peehaps you are right, Patrick. However, we are in a "golden" age of TV/streaming because the high quality of the work is the focus of that business. Quality should be the primary driver of entertainment. Alas, it's not always the case in comics.

— Paul Jenkins (@mypauljenkins) June 21, 2019
Layman notes:
I've done a fair amount at Marvel in past, Gambit and Cyclops and House of M: FF, Marvel Zombies Vs. Army of Darkness. Just not recently, under new editorial management.

— LAYMAN (@themightylayman) June 20, 2019
And:
I'm pretty happy with the management, not-working-with-Layman aside.

— LAYMAN (@themightylayman) June 20, 2019
And:
Both the publisher and EIC are people I've considered friends for decades, which makes it all the more inexplicable. Publisher was even my old WildStorm boss!

— LAYMAN (@themightylayman) June 21, 2019
And said that Marvel hardly ever even returns his emails:
No, nothing is explained. I rarely merit a returned email.

— LAYMAN (@themightylayman) June 20, 2019
But while Layman was the comic creator who went most in-depth on Abrams' hiring, he wasn't the only one. In addition to those who replied within Layman's threads, Gerry Conway also weighed in:
"J.J. Abrams Is Writing a Spider-Man Comic"

No, he's not. Not how Nick Spenser writes a Spider-Man comic, or how any writer writes a comic. He's going to talk over an idea with his son and his son will do the actual writing.

I hate stunts like this.https://t.co/pO6xMQyRlD

— Gerry Conway (@gerryconway) June 20, 2019
As did Christopher Sebela:
JJ Abrams and his kid writing Spidermans is the best example of how Big 2 comics isn't a meritocracy and never has been.

— Christopher Sebela (@xtop) June 20, 2019
Support creator-owned comics. They're gayer and better.

— Christopher Sebela (@xtop) June 20, 2019
Who also garnered some replies:
I'm shocked.

— Gabriel Hardman (@gabrielhardman) June 20, 2019
But dude are you sure they didn't win a bake-off against people with cool indie books?

— Frank J. Barbiere (@atlasincognita) June 20, 2019
And one more post from PJ Holden:
Trying to secure a drawing gig for my 10 year old with @2000ad… I figure if it's good enough for JJ Abrams…

— PJ Holden (@pauljholden) June 20, 2019
Meanwhile, fan reaction, judging by the replies to Marvel's tweet about the announcement, which followed a four-day teaser countdown, is mixed at best, with many expressing disappointment that the announcement wasn't… something people would actually care about.
🕸️ The secret's out! This September, @jjabrams and Henry Abrams team up with artist @sara_pichelli for a #SpiderMan miniseries featuring a deadly new villain: https://t.co/kFXztvCosC #MarvelComics pic.twitter.com/m5Drg3rrq9

— Marvel Entertainment (@Marvel) June 20, 2019
But it did get about fifteen times the number of likes as a normal Marvel tweet, not to mention that New York Times interview, so if nothing else, it did seem to accomplish Marvel's most like goal: to get attention for Marvel. But Marvel has never really had much trouble getting attention. It's getting comic book sales that vexes them of late. Will this make a difference?
Post your thoughts in the comments.
Enjoyed this article? Share it!