Something Is Killing The Children Stops Something Killing The Adults
So, what face coverings are the fashionable comic book readers wearing this pandemic season? Given that Eve Slaughter is consistently wearing a notable teeth-smile bandana in Something Is Killing The Children, wouldn't an official version be apt at this time? James Tynion IV wrote on his newsletter this week
HEY! WHY AREN'T SOMETHING IS KILLING THE CHILDREN BANDANAS AVAILABLE ON YOUR WEBSTORE?!

Because they have been officially been licensed to the amazing folks at THE AFFIRMATIVE CLOTHING COMPANY!

But they are on sale now, and available to order! These are a little more functional than the Bandanas we gave out at NYCC last year. So if you're looking to be decked out like Erica Slaughter while you move, masked through this bizarre year, we've got you(r face) covered.

From what I understand, these will be available through Diamond, too, if you're a shop and want to put in an order. Stay tuned for more news from Boom! Studios.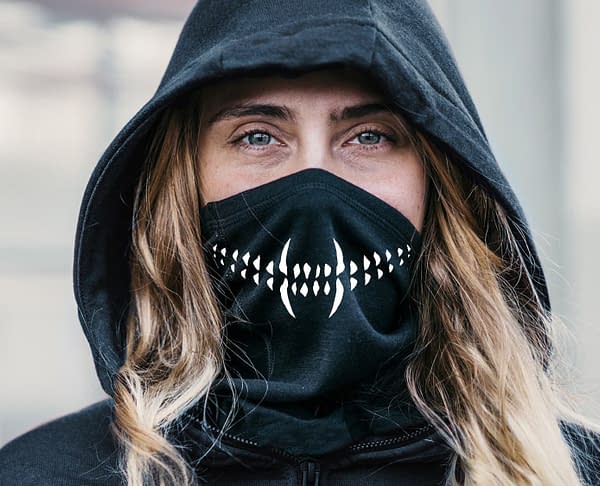 SOMETHING IS KILLING THE CHILDREN (BOOM! STUDIOS) NECK GAITER
Regular price$ 19.99

As worn by Erica Slaughter from the comic book Something is Killing the Children by James Tynion IV, Werther Dell'Edera, and Miquel Muerto, published by BOOM! Studios. All profits made from purchases will be donated to the Book Industry Charitable Foundation (BINC), a 501(c)(3)nonprofit dedicated to assisting booksellers in need.

™️ & ©️ 2020 James Tynion IV & Werther Dell'Edera

Can be worn more than 12 different ways, from a cap to a balaclava to a hair tie, for a personalized style and perfect fit.

100% recycled Performance Microfiber
4-way ULTRA-STRETCH
UPF 50 Sun protection*
Recommended by The Skin Cancer Foundation
Multifunctional – 12+ ways to wear
100% Seamless
Moisture-wicking, quick-drying, breathable
One-size-fits-most adults
Specs

Product Dimensions: (approx.) 20.5 (L) x 9 (W) inches
Weight: 1.2 ounces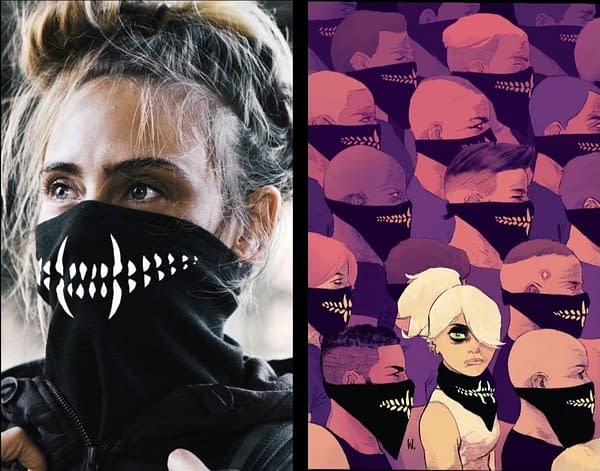 *Disclaimer:

*Wearing a cloth face covering is is not only good for and you and your neighbors during the pandemic, it's now recommended by the CDC*
*Cloth face masks are not intended for medical use or considered personal protective equipment. We make no warranties, either express or implied that these face masks prevent infection or the transmission of viruses or diseases. CDC guidelines can be found here.
Handy for the next convention season? We must get another one day…