Speculation Over James Gunn's Creature Commandos And DC Studios
How has the Creature Commandos announcement for a seven episode animated series by James Gunn from DC Studios affected comic book sales?
---
Creature Commandos is to be a DC Studios seven-episode animated show in which Amanda Waller creates a black ops team out of monstrous prisoners. James Gunn wrote all seven episodes of the first season. From left to right below, that's Rick Flag, Sr who will also appear in the Waller TV series. Then "Nina Mazursky. Doctor Phosphorus, Frankenstein—Eric Frankenstein, specifically. The Bride of Frankenstein, who's the lead. Finally, G.I. Robot and Weasel." So how have comic book collector and speculator sales kicked off since the announcement yesterday? And keep an eye on other marketplace reports with the DC Studios tag.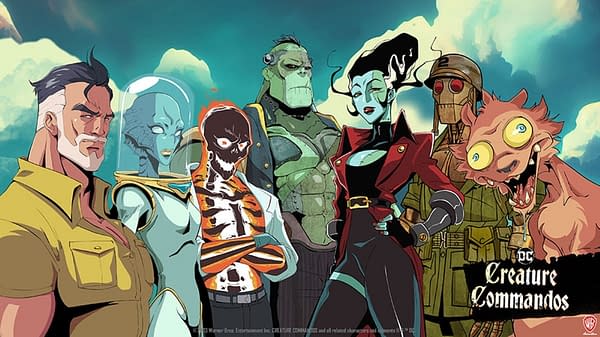 Weird War Tales #93 (1980), by J. M. DeMatteis and Pat Broderick. A VF/NM copy just sold for $150. and a CGC 9.4 slabbed copy currently has bids over $500. And there is a brisk trade in subsequent issues. Creature Commandos #1 (2000) by Tim Truman and Scot Eaton has bids over $20 but subsequent issues can still be picked up at or close to cover price. An out-of-print trade paperback of the original series has sold for over $50.
Richard Flag, Sr. was created by John Ostrander and Luke McDonnell, first appearing in Secret Origins #14, which also contained the origin of Amanda Waller. A bargain at $2 right now.
Legends #1 (1986) first appearance of Amanda Waller, created by John Ostrander, Len Wein and John Byrne, has sold for $25 raw, and $80 in 9.6 CGC, and they are asking $200 for a 9.8.
Frankenstein, Agent of S.H.A.D.E. #1, first appearance of Nina Mazursky, and The Bride, created by Jeff Lemire and Ibraim Roberson has sold for $55 in CGC 9.8, but around $5 raw.
Frankenstein #1 with the first appearance of the modern DC Frankenstein, created by Grant Morrison and Doug Mahnke has sold for $7,
Detective Comics #469 (1977) first appearance of Doctor Phosphorus, created by Steve Englehart and Walt Simonson, sold for $8 but is listed for more.
Star Spangled War Stories #101 from 1961, first appearance of the first G.I. Robot created by Robert Kanigher, and drawn by Ross Andru, has sold for $30 but it might be hard to find copies with covers right now.
The Fury of Firestorm #35 ( 1985), first appearance of Weasel created by Gerry Conway and Rafael Kayanan, is selling for $2 to $5.