Spider-Man Swings 8 Years Into The Future In Jody Houser And Nick Roche's 'Renew Your Vows' For Marvel Legacy
When Marvel said that Legacy would look to the future, no one could have predicted they meant this far into the future!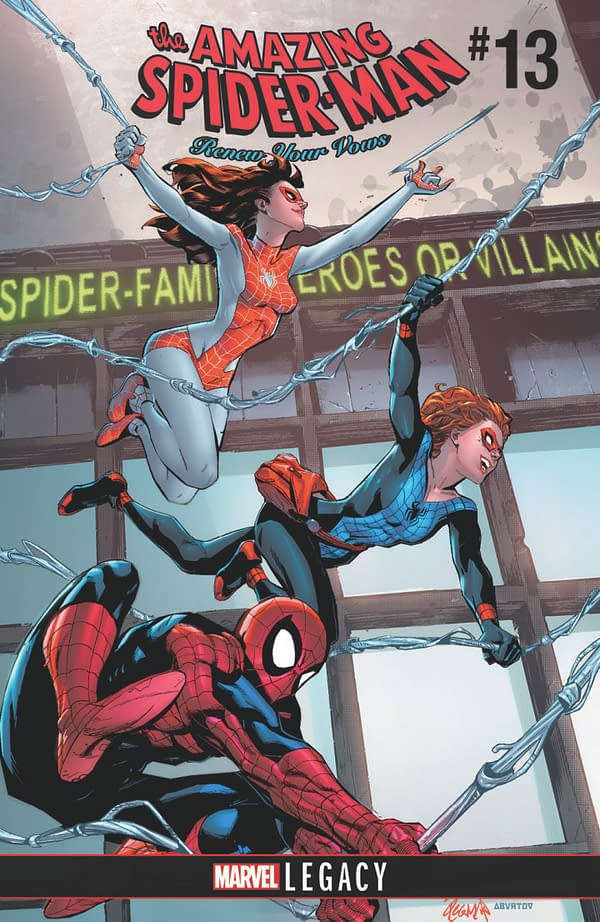 Amazing Spider-Man: Renew Your Vows is getting some big changes for Marvel Legacy. For starters, they're getting a brand new creative team, with Jody Houser jumping on as writer and Nick Roche taking over art…for three issues, at least:
But more importantly, as the comic's story arc title implies, the book is headed for a time jump. An eight-year time jump, to be precise. Check out the solicitation:
AMAZING SPIDER-MAN: RENEW YOUR VOWS #13
JODY HOUSER (W) • NICK ROCHE (A)
Cover by RYAN STEGMAN
EIGHT YEARS LATER Part 1
Jump eight years into the future with the web-slinging and wall-crawling Spider-Man family! Peter Parker and Mary Jane's super-powered daughter, Annie, is now in high school. But when this teen isn't in class, she's swinging through the streets with her parents. After all, keeping New York safe from super villains is a family affair! But what new threat has emerged to menace the wall-crawlers?
Roche EXCLUSIVELY visited IGN to talk about the book, and to make a long story short, it's about parenthood:
"It's all about Power And Responsibility: The Next Generation, with all the benefits and drawbacks that come with those burdens. I'd like to think it'll be a book that helps parents figure out their kids, and vice versa."
And when asked about a series villain, Roche replies:
"'Villain' singular? I've drawn at least six already…"
Six, you say? That's such a sinister number.
Look for Amazing Spider-Man: Renew Your Vows #13 in stores in November.