Next week's Unbeatable Squirrel Girl #41 guest-stars Spider-Man, which means Unbeatable Squirrel Girl gets to partake in one of comics most storied traditions: retelling the origin of Spider-Man! It happens as a matter of recap at the beginning of the preview for next week's issue.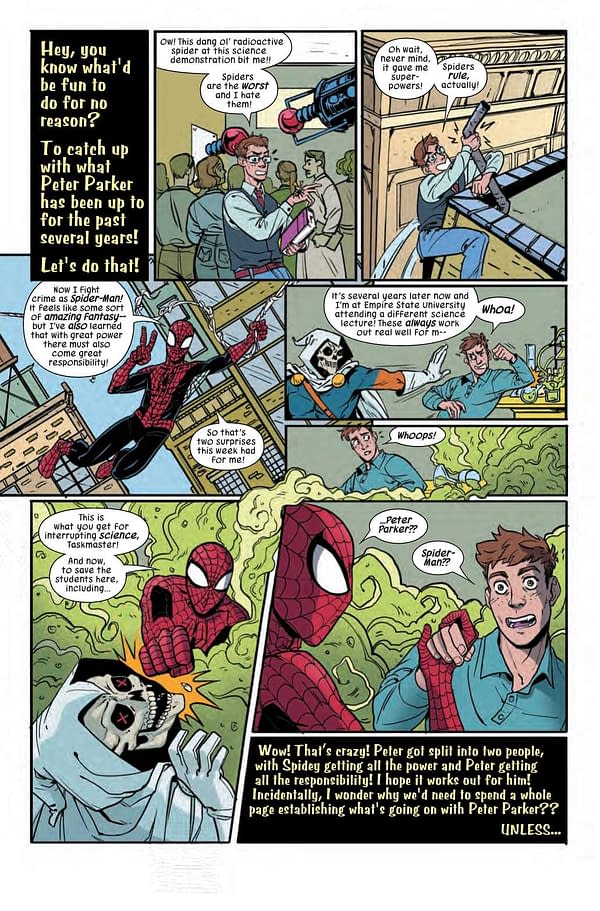 Hey, wait a minute! That all happened last year! Spider-Man and Peter Parker haven't been split for nearly 10 issues now!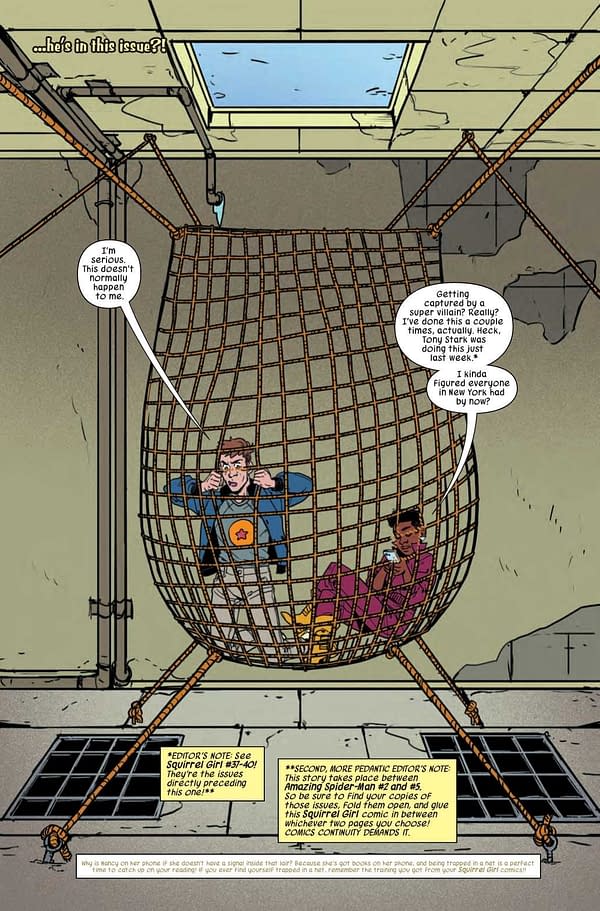 Well, at least someone in Marvel editorial is paying attention for once.
Unbeatable Squirrel Girl #41 hits stores next Wednesday.
Unbeatable Squirrel Girl #41
(W) Ryan North (A) Naomi Franquiz (CA) Erica Henderson
• In the past months, Squirrel Girl has battled Kraven, rescued NYC from supernatural silence, kinda-maybe died and also fought Skrulls! So now it's time for a nice break…which is why in THIS issue, Squirrel Girl does nothing but watch public domain movies on television!
• That's right! She just sits there! You can kinda see the TV screen over her shoulder in a couple of panels, but that's it! It's really quiet and relaxing and nothing much happens.
• …
• …THAT IS, UNTIL NANCY WHITEHEAD AND ANOTHER ESU STUDENT BY THE NAME OF PETER PARKER ARE TAKEN HOSTAGE BY A SUPER VILLAIN INTENT ON PROVING THAT SHE'S THE SMARTEST PERSON ON THE PLANET!
• Then it's super hero battles featuring THOR and SHE-HULK on a DATE! SQUIRREL GIRL matching wits against MS. QUIZZLER! And MORE!
• Artist Naomi Franquiz makes her MARVEL DEBUT in a stanalone adventure you won't want to miss!
Rated T
In Shops: Feb 13, 2019
SRP: $3.99
Enjoyed this article? Share it!