SPOILER Sees Mighty Morphin Power Rangers #50 Sell Out Before On-Sale
Boom Studios has been promising a big return in Mighty Morphin Power Rangers #50, going so far as to share the big secret with retailers weeks ago so they wouldn't be short on copies when the spoilers were finally revealed.
We broke down the potential options recently and I'm fairly certain we got it right… but whatever the truth is, it was big enough for retailers to increase their orders nearly 300% to over 43,000 copies. And that wasn't enough, as I'm hearing that Mighty Morphin Power Rangers #50 has already sold out at Diamond, one day before the issue hits comic stores on Wednesday, June 24. I'd expect a second printing to be announced soon and for speculators to be flocking stories for copies of every cover, given how hot Power Rangers has been with readers AND collectors lately.
Retailers might want to double-check their orders on the Power Rangers: Ranger Slayer #1 one-shot, which we've been hearing is also part of setting up a new HoXPoX style era for Power Rangers later this year, as we told you back in February. Remember, Mighty Morphin Power Rangers #1 had over 120,000 orders in the direct market and outsold every comic from Marvel and almost every comic from DC except for Batman #50, coming in #2 that month – so there's a huge fan base hungry for the way Boom and Hasbro are expanding the Power Rangers mythos. And this might be the year it gets even bigger, if this event impacts Power Rangers sales the way HoxPox did for X-Men.
Mighty Morphin Power Rangers #50 is on-sale tomorrow, June 24th, in comic shops everywhere – unless it's sold out.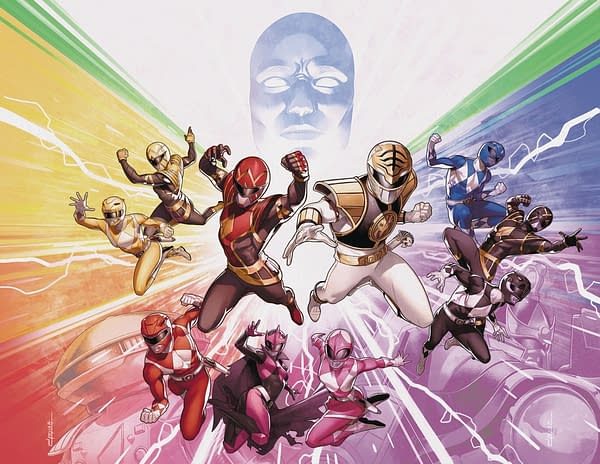 MIGHTY MORPHIN POWER RANGERS #50 50 COPY LEE INCV
(W) Ryan Parrott (A) Daniele Di Nicuolo (CA) Inhyuk Lee
The MIGHTY MORPHIN POWER RANGERS & the OMEGA RANGERS – along with surprise new allies – versus The Anointed in the conclusion to NECESSARY EVIL! ? Everything has been leading to the shocking return of a fan favorite character so big that we needed a LAST PAGE GATEFOLD to contain it! ? But what does it mean now that [SPOILER] is back? In Shops: Jun 24, 2020
SRP: $4.99