By Shawn Perry
Sup Bleeders!
Once again I have finally completed reading a big stack of indie comics and am ready to make like a rolling stone and shine a light on some of the great books you may not be aware of like The Committee by James B. Emmett from one of the most ambitious and diverse small-house publishers today: Wayward Raven Studios (The Ascendant, Horsemen, Signed C). The Committee by Emmett features colors by Nimesh Morarji and letters by Zakk Saam and follows a group of underground demon fighters as they prepare for the impending apocalypse in this sharply written first issue. The art is beautiful and gives texture to the world filled with demons, heroes and super-powers. The demon is a work of minimalist art while the characters are all well-drawn, no pun intended, and have unique personalities that immediately drew me into the story and me care.
That said, my personal favorite element of the book – aside from the tantalizing intrigue of the impending-apocalypse – is the pacing and artistic prowess on-display by Emmett during the action sequences which I must say are reminiscent of the work of Mark Bagley (Ultimate Spider-Man) with it's ability to bring to life an otherworldly sequence of events in a manner that is suspenseful, exciting and most-of-all believable. As this train is really just getting off the tracks I do not want to say much more other than it is one of the most potent black feathers to fly off the wings of imagination at Wayward Raven and that's saying something so keep an eye out for a copy and I will be back with more info when future issues are published. Until then, don't miss your chance to meet the creative team behind this series at Boston Comic Con this weekend! Speaking of revisiting great finds I really enjoyed reading Book #3 of Nowhere Man from Forward Comix. As covered in previous spotlights, Jack Maguire is a man out of time with a deeply-rooted moral code and badass list of technophobia-inducing 'superpowers' caught up in an dangerous game of cat-and-mouse with an time-displaced shadow organization of super-human operatives. This book is written and drawn by Jerome Walford who, as he explained during our interview at last year's New York Comic-Con, is a passionate artist who loves telling stories of heroes with a sense of realism.
[youtube]https://www.youtube.com/watch?v=OQ87vme1QjQ[/youtube]
Along with his partner and love-interest Yancy, Jack is the only thing that stands between the citizens of New York and a lot more trouble than the massive amounts of property damage already accrued as the sci-fi action gets amped up and we finally see Jack's true power put to the test… but there is no need for me to go any further than that so I will just hold the tease button and say that the ending of this book is one that brings the series to new levels of awesome and left me begging for more.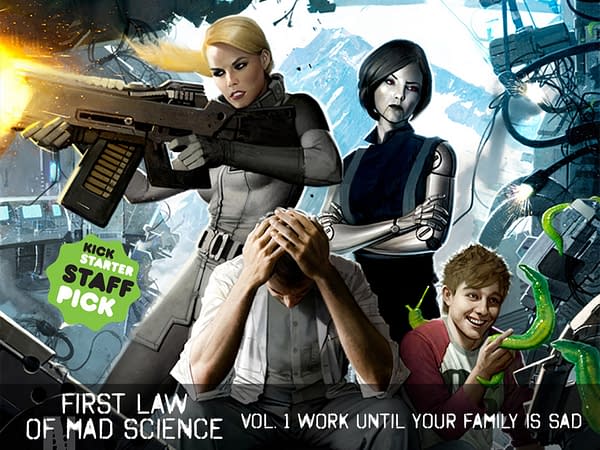 As discussed in previous editions, one of my favorite books on the self-published scene is First Law of Mad Science by Mike Isenberg and Oliver Mertz. The story explores the ramifications of a new retinal-based form of technology being implemented by almost half the world's population and then causing all sorts of problems when users start seeing shit that isn't there. Imagine if after everyone purchased an iPhone back in 2000-whatever everyone discovered that they were actually infected with some weird sort of alien radiation thing and turned us all into schizophrenic zombies and you'll start to get the level of hysteria this event could cause.
The heroes of the book are lead by the scientist who created the cyber eyes and his family who have to figure out what's going on before the mass public freaks the frick out, as co-creator Isenberg explains;
Once the creators discover that the first test subjects are seeing little creatures everywhere that no one else can see they have to figure out if this a hallucination, is it a problem with the technology or are these creatures a real thing they've come in contact with and – whatever the case – they have to figure out before the problem spreads to everyone with a pair of cyber eyes causing world-wide panic and massive hysteria…
At the core of the story are the relationship between the scientist and his family including; his young son who is the first test subject and thus the first to see the green creatures, his wife who is basically a female Indiana Jones and his daughter who is your typical teenager girl-robot and my favorite character in the book. All of them have to work together in order to divert this world-crisis; as Mertz explains:
The mystery pulls the scientist and his whole family into a globetrotting, high-stakes adventure where they come into contact with sinister cults, corporate conspiracies, killer robots and everything else we love. It is a tense mystery and hopefully a good read. I like it.
There is a lot going on in this ambitious book and it is all brought to life in vivid color with a suspiciously sharp-eye for style by Daniel Lapham who is going to be auctioning off his original artwork on the book as part of a Kickstarter campaign to help cover printing costs for the series first trade paperback: First Law of Mad Science Volume One: Work Until Your Family is Sad. The upcoming collection will include the first five issues as well as an anthology book entitled First Law of Mad Science: Science Club Mixtape that will feature stories and artwork by a talented group of creators telling stories set in the First Law universe. That's it for this edition of B.C.I.S but I will be back soon with coverage of an number of books including; Bullet Gal by Andrez Bergen, Boots & Pup by John Yuskaitis Jr. and an great new book called Gamer Girl & Vixen by Kristi McDowell and Sean Ian Mills featuring art by Gemma Moody about two super villains in love. The book is a favorite of Jennie Wood (Flutter) and you can learn more about on its Kickstarter page here.
Before I sign off I want to give one last shout-out to Tony Sedani from Stockpile Comix who recently published an excellent TPB collection of his epic Return to Randor that will be available, along with the third issue of Forever Winter by Joel Lolar and copies of Rian Miller's modern cult-classic Man-Gull, next weekend at Boston Comic Con.
Peace Out, Bleeders!
Shawn Perry is a proud geek striving to be here now. He currently resides in East Hartford, Connecticut. Tweet him @thesperry and email him at Shawn.Perry88@gmail.com.
Enjoyed this article? Share it!